Yamaha RX-V6A 7.2-channel A/V Receiver Review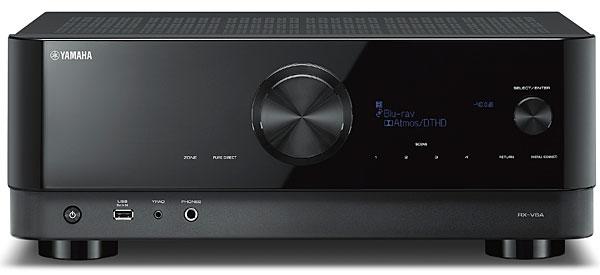 PRICE
$600
AT A GLANCE
Plus
HDMI 2.1-ready (via firmware update)
Versatile speaker switching
Built-in phono preamp
Minus
Small front panel and onscreen displays
Lacks analog video connections
THE VERDICT
Yamaha's latest mid-priced A/V receiver promises—and delivers—cutting-edge features at an unprecedented price.
The big car companies refresh their lineups on a pretty regular schedule. Honda, for example, brings out all-new versions of its models every four to five years, and it makes smaller upgrades and improvements in the years between the big changes. How many people know that the A/V receiver manufacturers do pretty much the same thing? Much like a car, an A/V receiver is built on a platform, one that can be upgraded and modified over time as new features are added. But there eventually comes a point where the only practical way forward is to start fresh with a clean-sheet design. That's where Yamaha's latest mid-priced RX-V receiver line comes in.
Launched with just two models, the RX-V4A ($440) and the subject of this review, the RX-V6A ($600), these all-new receivers offer a fresh design aesthetic, with just two major controls visible on the shiny black plastic front panel, which has rounded side corners to soften the look. A huge central volume knob dominates the front, with a smaller multi-function knob on the right side. No display is visible until you turn on the power, when an LCD display screen lights up. A row of hidden touch switches running along the lower edge gives instant access to programmable scene settings and other minor controls. The main power switch, a 1/4-inch headphone output, A USB type-A port, and a socket for the supplied YPAO room correction microphone round out the front panel's feature set.
Features
Designing a $600 A/V receiver is a delicate balancing act where you have to determine the best blend of performance and features to meet the needs of users. It's also important to be forward-thinking and anticipate what future tech developments are headed down the pike. The RX-V6A shows a lot of this type of planning, with several highly anticipated features promised through upcoming firmware updates.

The goal for any mid-priced receiver is to deliver a big dose of the features you'd expect from a fancy flagship model, but at a more reasonable cost. Yamaha made some bold decisions to get there with the RX-V6A. For example, with seven channels of onboard amplification but a total of nine speaker connections, you can set up a rig that handles both 7.1 surround and 5.1.2 Dolby Atmos with added height speakers, and then let the receiver automatically select the appropriate speakers to use based on the source material being played. Adding to the versatility, the two configurable channels can be used to power a second zone, or to bi-amp your main left and right speakers.
Another bold decision Yamaha made was to dispense with all analog video inputs and outputs. Sure, pretty much every modern source component has an HDMI output, but some people really like their retro gaming consoles, or will occasionally dust off the old camcorder to watch home movies. With the RX-V6A, you would need to use some kind of analog-to-HDMI converter to do that. Ironically, the RX-V6A does accommodate a few even more ancient legacy formats with its analog AM/FM radio tuner and back-in-style phono input for a turntable. One plus is that with all those composite- and component-video connections gone, the ridiculously overstuffed A/V receiver back panel of the past is now history, with plenty of real estate left for the RX-V6A's connectors.
As you would expect from an A/V receiver built on a new platform, the RX-V6A's potential feature set is bang-up-to-date. The reason I say "potential" is because, as I write this, many of the RX-V6A's more cutting-edge features exist only as future firmware updates. As it stands, the RX-V6A's video support covers 4K/60, 4:4:4 at 18Gbps, and Dolby Vision and Hybrid-Log Gamma HDR. Promised firmware updates will upgrade three of its seven HDMI inputs with HDMI 2.1 features including 4K/120Hz and 8K/60 video pass-through, as well as gamer-centric VRR (variable refresh rate), ALLM (auto low latency mode), QFT (quick frame transport), and QMS (quick media switching). Other promised updates will add HDR10+ HDR support and Dolby Atmos Height Virtualization.