Pioneer VSX-LX504 A/V Receiver Review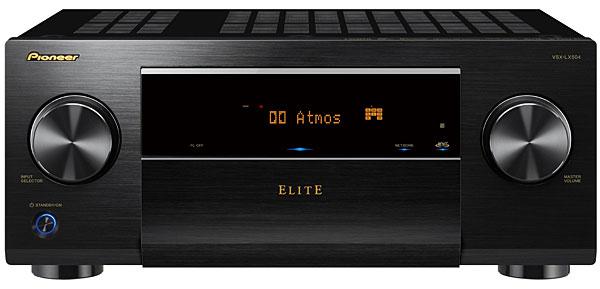 PRICE
$999
AT A GLANCE
Plus
IMAX Enhanced certified
Nine channel amp for flexibility
Extensive wireless options
Minus
Limited crossover control
Non-illuminated remote
THE VERDICT
Pioneer's first A/V receiver to carry IMAX Enhanced certification offers fine sound and bang- up-to-date technology at a mid-level price.
More than any other category of home theater gear, A/V receivers are subject to an ever-evolving list of "must have" technologies. The required logos for each of these licensed features now forms a long row extending the full width of most receivers, with IMAX Enhanced counting as the latest logo gunning for real estate on any AVR that wants to be up-to-date. But figuring out just what IMAX Enhanced means can be a bit tricky, because it's really more like an ecosystem that encompasses a number of different enhancements and requires the participation of several different product categories.
First and foremost, IMAX Enhanced is a certification program covering both source material and hardware, so along with A/V receivers, TVs, projectors, and even content on Ultra HD Blu Ray and streaming services can carry the IMAX Enhanced logo. Unlike other certification programs—THX, for example—IMAX Enhanced is a bit vague about the technical requirements for certification. One key difference that sets it apart from THX, however, is the way the various components work together when combined in a system. For example, when you play an IMAX Enhanced movie through an IMAX Enhanced A/V receiver, a flag in the disc or stream's metadata will automatically adjust settings like bass management and speaker levels while unlocking an additional cinematic mix that's not available to users of non-IMAX Enhanced hardware. The same automated control can extend to a certified video display, where the picture and other display settings, will be, to quote IMAX, adjusted to "provide the sharpest 4K HDR images...as the filmmaker intended."
IMAX teamed up with DTS to develop the audio part of IMAX Enhanced, and it's built around the DTS:X immersive audio codec with its added height speakers. On the video side, HDR10 high dynamic range enhancement is used rather than Dolby Vision or HDR10+. While IMAX Enhanced sounds pretty cool, the firmware update needed to activate it on the VSX-LX504 wasn't available in time for my test, though it should be ready by the time you are reading this. Furthermore, available content is limited to two older IMAX documentaries on UHD Blu Ray, Journey to the South Pacific and A Beautiful Planet. I grabbed a copy of Journey to the South Pacific just to check it out, and while it looked and sounded great, I eventually realized I wasn't getting the full benefit of the IMAX Enhanced experience. Oh well, a follow up at some point in the future may be required. Streaming will be the other source of IMAX Enhanced content, with FandangoNOW planning to offer movies such as Venom and Alpha in the third quarter of 2019.
Looking beyond its IMAX Enhanced features, Pioneer's VSX-LX504 is similar to last year's VSX-LX503. With nine channels of onboard class-D amplification, you can configure the receiver multiple ways to meet your needs. While you could go with a 7.1.2 setup with rear surrounds and a single pair of overhead speakers, I chose to instead connect a 5.1.4 speaker layout, which allowed me to more fully evaluate the receiver's immersive potential. If you really want to have it all, you could build a 7.1.4 system by connecting an external two-channel amplifier to the receiver's preamp outputs and then add rear surround speakers. Unlike some flagship receiver models, the VSX-LX504 tops out at 7.1.4 processing for Dolby Atmos and DTS:X and doesn't include provision for the center height speakers required by surround formats like Auro-3D.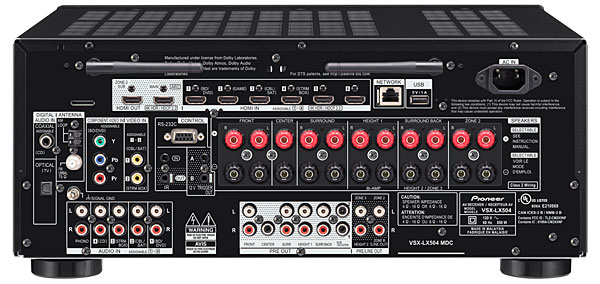 Connectivity on the VSX-LX504 is up-to-date and comprehensive, with seven HDMI inputs, a host of wireless options, and a smattering of legacy connections including a phono input for a turntable. Onboard apps are provided for many popular network streaming services including Tidal, Pandora, Amazon Music, TuneIn Radio, and Spotify. Other wireless devices can also be connected to the receiver using Bluetooth, Wi-Fi, Chromecast built-in, AirPlay2, DTS Play-Fi, and FlareConnect.
Pioneer's efficient Direct Energy class-D amplifier modules allow the VSX-LX504 to pack a hefty punch while keeping the receiver's size and bulk manageable. With a real-world power rating of 120 watts per channel, it can drive all but the most power-hungry speakers properly.