Pioneer VSX-LX505 Elite 9.2-Channel A/V Receiver Review
PRICE
$1,499
AT A GLANCE
Plus
Dirac Live and Pioneer MCACC room/speaker correction
9 powered channels for driving a 5.1.4 Dolby Atmos or DTS:X system
HDMI 2.1, 8K-ready with variable refresh on all inputs
Minus
Small, unlit remote
Cheesy speaker-out terminals
Can't store Dirac and MCACC "runs" simultaneously
THE VERDICT
The Pioneer VSX-LX505 provides a lot of bang for your buck, including nine channels for powering a full Dolby Atmos or DTS:X setup and two excellent auto-EQ options.
Pioneer's VSX-LX505 Elite A/V receiver represents a new generation of reasonably priced AVRs that boast up-to-date technology and enough channels to rock a full 5.1.4 Dolby Atmos or DTS:X surround setup with four height speakers without having to rely on an outboard amplifier to power "extra" channels. And that's not its only marquee feature: The LX505 is Roon Tested to ensure compatibility with the music-management/streaming software, supports HDMI 2.1/4K passthrough on its main HDMI inputs and outputs, and is certified to work with Sonos systems. It also supports 8K video and incorporates Dirac Live room/speaker-correction EQ technology along with Pioneer's proprietary MCACC (Multi-Channel Acoustic Calibration) system.
Like most of today's AVRs, the list of features is long and varied and includes a set of 11.1-channel preamp outputs and 11 physical speaker outputs, nine of which can be powered simultaneously. Having nine channels of power on hand also makes for plenty of Zone-2/3 options, among them the ability to use the "height" speaker outputs to power a remote listening zone and send stereo audio from the main zone to a dedicated pair of "Zone B" line-out jacks.
The LX505's HDMI 2.1 implementation supports 40 Gbps-capable 4K on only three of its six HDMI inputs—though unless you have more than three of the latest-gen game consoles I don't see this as a constraint, especially since the remaining ins and outs are 8k-capable and support 4K /120, HDR, and variable refresh rates. The LX505 shares this minor limitation with several current-gen AVRs, including the Onkyo TX-NR7100 I reviewed in the April/May 2022 issue (also on SoundandVision.com ), with which it also shares a similar back-panel layout (Onkyo and Pioneer share corporate ownership).
A few more noteworthy items include pass-through compatibility with Dolby Vision, HDR10+, and HDR10 high dynamic range (HDR) processing and the ability to facilitate voice commands from Alexa (Amazon), Google, and Siri (via Apple AirPlay 2). The receiver also supports playback via Chromecast and DTS Play-Fi in addition to the previously mentioned Sonos and Roon, the latter only as a wireless Chromecast/AirPlay endpoint and, therefore, limited by the resolution of those protocols. The Pioneer also supports two-way Bluetooth with high-resolution signal transmission enabled by aptX HD, which means it can serve up a very decent listening experience to wireless headphones or speakers.
Despite all of this functionality, the LX505's front panel is refreshingly clean thanks to a drop-down door that conceals one HDMI and one USB port, a headphone output, and a number of direct-access buttons for controlling remote listening zones, cycling through surround modes, recalling personal presets, and much more. And we're just scratching the surface here in terms of features so a trip to Google is warranted if you want to dig deeper.
Setup
My first order of business was hefting the almost 29-pound Pioneer atop my component rack. Some may mourn the decline of the foot-tall, 75-pound, class AB-powered A/V receiver: not I. Hookup was the usual matter of shifting HDMI cables, running a long RCA line to my subwoofer, and wiring in (and keeping track of) nine loudspeaker cables—though I must point out that the LX505's cheap plastic multiway binding posts are what you expect to find on a $199 house-brand receiver, not a $1,500 AVR.
My 5.1.4 speaker array is a hybrid — mongrel, if you prefer — of three different brands with a proven track record of providing excellent performance together. The main left/right positions are occupied by a pair of stand-mounted three-way speakers with near full bandwidth capability and low sensitivity, which makes them a fair workout for any amplifier. Rounding out the setup is a powered subwoofer, center speaker, two rear surrounds, and four height speakers—a pair of ceiling-bounce models up front and two mounted high in the back of the room.
With everything set up and ready to go, it was time to put the Pioneer's room/speaker equalization systems to the test. I began with Dirac Live, which unlike most competing acoustical calibration systems, requires an outboard device to run its software—in this case, Pioneer's Remote App (iOS or Android), which I ran on my Pad mini 5. Following the same process used for my review of the Onkyo TX-NR7100, I chose Dirac's "Detailed" setup, which averages nine microphone positions; there's also a "Quick" option that uses three mic positions but the Pioneer implementation does not include the standalone Dirac Live Bass Control feature, which can integrate multiple subwoofers.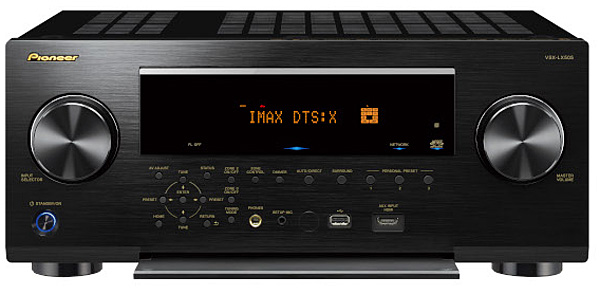 It took about 45 minutes for Dirac Live to perform its magic with my 5.1.4-channel layout. The results were excellent with a dramatic tightening and smoothing of perceived bass and a more focused midrange. The system recognized my 9.1 speaker layout and set correct levels and distances (delays), imposed equalization "cuts" to address my room's two most egregious modes (around 85Hz and 135Hz), and dialed in my preferred "house curve" with a gentle drop-off of 2dB or so over the top three octaves.
Next up was Pioneer's MCACC system, which performs the same basic functions as Dirac Live: It analyzes room acoustics and compensates for any low-frequency peaks imposed by room modes (Pioneer breaks this out as "Standing Wave Control"), observes speaker response and "corrects" any adjudged deficiencies, and balances channel levels and delays to achieve ideal loudness and phase performance from all nine speakers—10, if we count the subwoofer.
MCACC is a three-tier system with basic, Advanced, and Pro versions. Although the LX505 is the current flagship in Pioneer's AVR lineup, it incorporates the Advanced version, which is mostly distinguished from Pro by the lack of dual subwoofer outputs and EQ calculation and distance-compensation to a hair-splitting 1 millimeter precision. I have to wonder where one can find MCACC-Pro—I couldn't. With MCACC engaged, the receiver cycled through the usual series of noises bursts and clicks but, unlike other systems, Pioneer provides a basic onscreen display to keep you apprised of what's happening.
The test mic was missing from the well-travelled test sample we received from Pioneer so I used one I had on hand from an earlier Pioneer model, which appeared to be suitably calibrated given the audible results. Like Dirac Live, MCACC can accommodate up to nine microphone positions. For the initial mic position, it took about 10 minutes for the system to work its way through all 10 (9.1) channels but measurements taken from subsequent mic positions took only 5 minutes or so each. Though Pioneer doesn't specify how it manipulates data collected from multiple mic positions, I presume they are averaged to optimize corrections for all measured listening positions.