JBL Synthesis SDR-38 16-channel A/V Receiver Review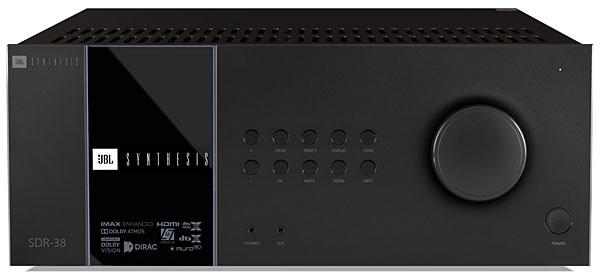 PRICE
$8,550
AT A GLANCE
Plus
Excellent A/V performance
Processes up to 16 channels
HDMI 2.1 connections support 4K/120, 8K/60 video pass-through
Minus
Expensive
Complex Dirac Live setup
Onboard amplification limited to seven channels
Glitchy operation
THE VERDICT
The JBL SDR-38 is expensive, but offers exceptional A/V performance. The effects of its Dirac Live room EQ are rewarding, though the setup process can be frustratingly complex.
Up until a few years ago, the heart of a JBL Synthesis installation was the brand's Synthesis SDP-75—basically a rebadged Trinnov Altitude surround preamp-processor. But in 2017, JBL's parent company Harman International bought British audio manufacturer Arcam, and the lights went on. Could they take the already well-regarded Arcam line of AVRs and A/V processors, alter their cosmetics, maybe add a bit of Synthesis secret sauce, and rebadge them as JBL Synthesis models at prices dramatically lower than the nosebleed-level Trinnov?
In 2019, JBL Synthesis answered with the introduction of the SDP-55 preamp-processor ($6,000) and SDR-35 A/V receiver ($7,500). A couple years later, the brand released updated versions of those original products, the SDP-58 pre-pro ($6,900) and SDR-38 AVR ($8,550). The only obvious change from their predecessors is the addition of HDMI 2.1 connectivity, making this newer pair compatible with 8K video at 60Hz and 4K at 120Hz. Both these benefits (4K/120Hz in particular) are currently significant only for a limited selection of video games and consoles. Features
The SDR-38 can process up to 16 channels (to accommodate speaker configurations such as 9.1.6), but only provides seven channels of on-board amplification. I find the lack of at least nine internal amp channels to be a notable omission in an AVR at this price. For the most common type of Dolby Atmos setup (five main speakers, four Atmos height speakers, and one or more powered subwoofers) you'll need to add two outboard amplifier channels driven by two of the JBL's preamp outputs. The latter are rated for a peak level of 5Vrms, which should be enough to drive any outboard amp.

Along with the SDR-38's seven speaker-level outputs it has RCA preamp outputs for all channels, but as with other AVRs, no balanced preamp outputs. Also similar to most other AVRs, the SDR-38's onboard channels can't be re-assigned. So, while you can add a more powerful three-channel amp for the front three speakers if desired, the internal amps intended for those channels will remain unused. The AVR can feed two operating zones. We'll deal with only the main zone here, but zone 2 is also compatible with sources offering high resolution audio and up to 4K video.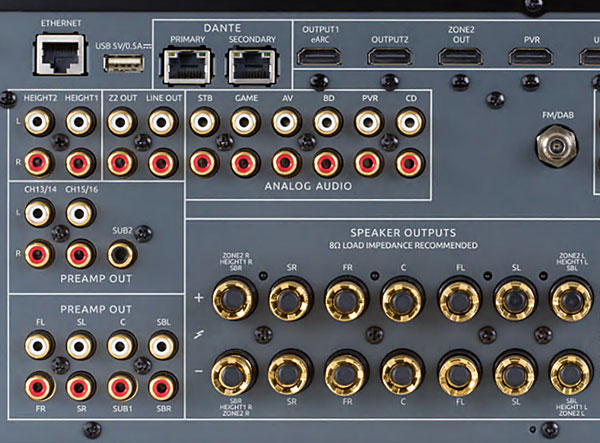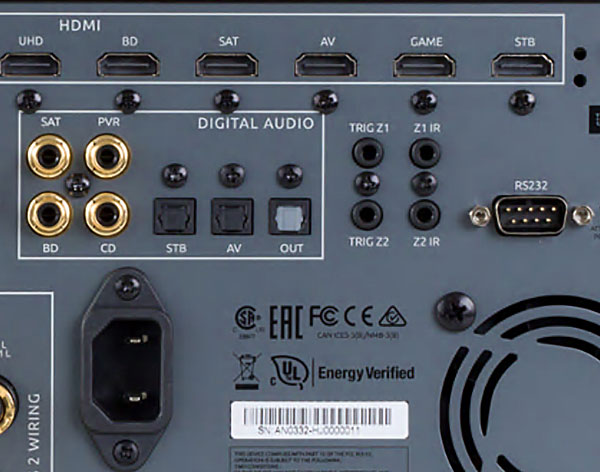 The JBL's amplifiers are all class-G. This is not digital amplification but rather class-A/B with two voltage supply rails, one low and one high. In normal use, the lower rail provides sufficient drive for most loudspeakers, but the high voltage rail is also engaged when more power is needed. The SDR-38 doesn't run abnormally hot, but you should nevertheless allow for adequate ventilation. There's a small exhaust port in the rear, though I never heard a fan operating.
A large volume control plus an aux input and 32-ohm headphone output are located on the front panel along with a range of buttons for navigating menus. A large display screen shows the volume level plus information on the currently playing source. It also shows the setup options (when selected). The latter are far too small to read at more than a foot or two from the screen, though most Synthesis system installations will offer better readability plus control on an external computer, smartphone, or tablet.
The SDR-38 includes the usual suspects under the hood—and some not so usual ones as well. All A/D and D/A conversion is performed by 24-bit/192kHz ESS Sabre 9028 Pro devices. The JBL is also compatible with HDMI eARC (enhanced Audio Return Channel), though I was unable to engage it with a connection to my older but still excellent LG E7 OLED. This issue is as likely to be TV-related as it is to be JBL-related, however.
The most widely used object-based surround modes, Dolby Atmos and DTS:X, are fully serviced for up to 16 channels. More basic audio sources, such as lossy or lossless 5.1- or 7.1-channel Dolby Digital and DTS, can be upconverted to a simulation of object-based surround via JBL's Harman Logic 16 processing. The latter can be selected for any source, even mono, with the upmix routed to all the system's installed channels. Auro 3D is also supported, along with IMAX Enhanced.
Wireless streaming is possible via Chromecast built-in, Apple AirPlay 2, Harman's Music App, and Bluetooth aptX HD. The SDR-38 is also Roon Ready, MQA-compatible, and features built-in DAB and FM radio reception. JBL's AVR also includes Dirac Live, one of the most highly regarded consumer room correction systems. I'll have a lot more to say about Dirac Live further on.
The SDR-38 features support for Dante with two Dante Ethernet ports. A new and relatively rare feature, Dante can replace a multitude of audio connections using Ethernet cables and a computer network. It wasn't used for this review.
The remote control that comes with the SDR-38 is adequate, but as with all remotes designed for near-universal operation, it has its quirks. For instance, when you change inputs you must hit the AMP button again to unlock access to the setup menus (though the main volume setting remains usable at all times). Many of the buttons access useful features, but those features are typically unrelated to the label on each of the buttons.
Most AVRs offer a selectable volume adjustment range of either 0-99 or –79.5 to +18. The zero setting in the latter is Dolby reference, making it perhaps the most popular volume adjustment option. The JBL's volume range is 0-99, with volume steps limited to 1dB, not the finer-resolution 0.5dB steps that many AVRs offer. This difference will perhaps be irrelevant for many users, but to me it's a significant omission, particularly at this price.
I was unable to connect the JBL to my home's Wi-Fi, but I've had similar issues with other AVRs so I can't blame the SDR-38. For Dirac Live setup I used a Wi-Fi link from my computer to my router, and an Ethernet connection from the router to the AVR. Apart from that I was able to reliably stream music wirelessly from my iPhone via either Bluetooth or AirPlay 2 (no surprise that the latter sounded distinctly better).
Setup
My listening "room" is an open area in a very large acoustic space. It's moderately live, though not overly so, and dialogue intelligibility has never been an issue. Sources consisted of a Marantz UD-7007 disc player and an Oppo BDP-203 Blu-ray player (the Marantz for stereo music via a coaxial digital connection, the Oppo for movies via HDMI). Speakers were Monitor Audio Silver 10s at the left and right plus a Monitor Audio Silver C350 center and two SVS PB-3000 subwoofers, driven together as one. To keep the main channel count at seven, the limit of JBL's internal amps, I used four small PSB Alpha Series P3 speakers, one pair for surrounds and the other for front overhead effects.