Marantz CINEMA 50 AV Receiver Review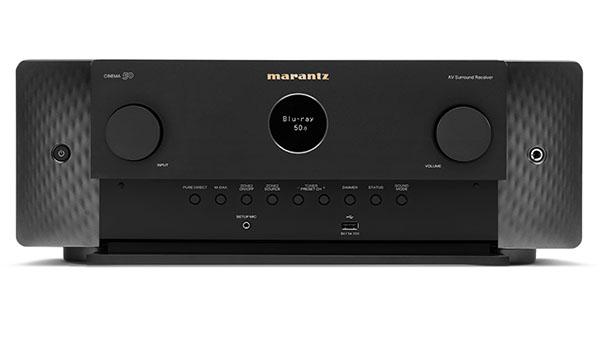 PRICE
$2500
AT A GLANCE
Plus
Audyssey room correction (Dirac Live coming soon)
9 powered channels for full Atmos/DTS:X
Precisely integrate up to four subs via Audyssey
Full compatibility with Marantz/Denon's HEOS
Two-way Bluetooth (for wireless headphones, speakers)
Minus
Native streaming mostly requires HEOS app
No affirmation of surround mode (Atmos) when streaming from TV
THE VERDICT
A refined AVR offering 9-channel power for a full Atmos or DTS:X setup. It has excellent room-correction capabilities with an innovative multiple-subwoofer option.
With the advent of features such as room correction, object-oriented surround, and networked/wireless streaming (to name but three), AV receivers have become more elaborate than ever. So much so that just to enumerate all the features and functions of the Cinema 50, the next-to-top model in Marantz's newest AVR lineup, would easily exceed the column inches allotted to this entire report; pity the poor AV reviewer! (I know you all do.)
Such an embarrassment of riches leaves little choice but to hit the high spots and leave the rest to our readers' googling (or duckduckgo-ing), saving at least a bit of airtime for impressions of performance, component presence, and usability.
So, the basics: The Cinema 50 is, as alluded to above, the second in line of Marantz's new Cinema AVR range. In a throwback to how Marantz used to name models, the model numbers go backward: the top model is the Cinema 40 ($3500), which gets you slightly more power and a few more inputs, including legacy video. The lower models are Cinema 60 and 70. Marantz dubs the Cinema 50 a "9.4-channel" receiver because, in addition to nine powered (100-watt) channels, it features four independent subwoofer outs, about which I'll of course have more to say. The 9-channel-power item is important, as this is enough to drive a 5+4-channel Atmos setup—like mine—without resorting to an additional outboard amplifier for any height speakers. If you do add an amp, it also offers 11.4-channel processing.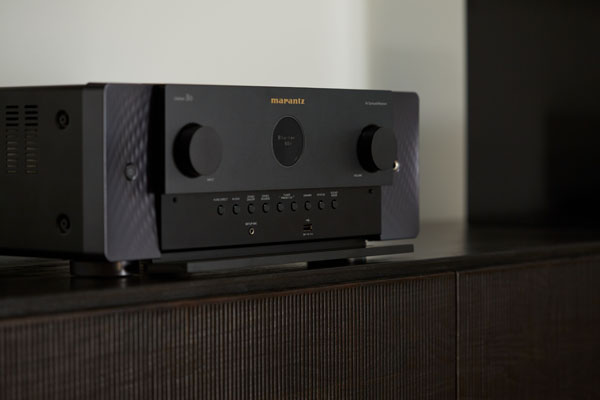 The next salient item is room correction. Here, the Marantz delivers Audyssey's MultEQ XT32, which is the U.S.C.-bred firm's top onboard flavor, with the greatest number of filters and highest precision. Audyssey's $199 MultEQ-X is an outboard Windows program that ups the adjustability ante with considerable user-input options and the ability to interface with Room EQ Wizard, the free, de facto standard in-room measurement. But MultEQ-X is an extension of XT32's capability, not a replacement for it, and the built-in automated XT32 gets us much of the way there, hands-off.
The Marantz can also interface with Audyssey's $20 outboard MultEQ Editor app for additional user customization, including bandwidth limits and custom "house" curves.
Per Marantz's product sheet, Dirac Live, a competing system from Sweden's Dirac, is an "optional upgrade" (I imagine the Audyssey folks would prefer this to be called a "side-grade…") The cost, if any, is not mentioned. According to Dirac's website, support should be available about the time you read this via a firmware upgrade to the receiver. I have a lot of experience with both Dirac and Audyssey. Both can be good, but I don't want to get into the Dirac vs. Audyssey debate here. And anyway, the Dirac firmware update was not in evidence by the conclusion of this review.
The Cinema 50's remaining must-mentions include the full complement of Dolby Atmos and DTS object-based surround modes, plus IMAX Enhanced and Auro 3D; six HDMI inputs, all with 8K video support and upscaling up to 8K, compatibility with all major HDR flavors including Dolby Vision and HDR10+, and gamer-friendly tech like ALLM and VRR; full participation in Marantz/Denon's HEOS multi-room streaming ecosystem, and voice-assistant integration with Google, Alexa, and Apple HomePod gizmos. Of course, there's a whole lot more, but see my opening statement above…
Visually, The Cinema 50 is decidedly different, with carbon-look end panels and a cantilevered center fascia. The receiver is a bit smaller than the microwave-sized flagship AVRs of yore, and Marantz eschews the usual full-width display and zillion-button front panel in favor of the firm's signature "porthole" display and two large knobs (input-select and volume: a drop-down door reveals a mere nine additional buttons). For everything else, you need the supplied remote or a smart device running Marantz's free AVR Remote iOS/Android app.
Let me pause to commend Marantz for recognizing that front-panel displays are superfluous: most of us can't read them from the listening/viewing position anyway, unlike on-screen displays. I think the round porthole design is goofy-looking, but that's probably just me. Someday, some courageous manufacturer will introduce an AVR in a plain black box: no display, no knobs, no buttons, just a remote and an app.
Setup
The Cinema 50 is firmly in the Class A/B amplifier camp: hefting the 29-pound receiver up atop my rack was, though not exactly challenging, decidedly more aerobic than a typical Class D AVR, most of which run 10 or so pounds lighter. Physically connecting any AVR in my system is easy: swap a few HDMI cables, nine speaker cables—mine are all terminated in locking banana plugs, making life easier—the single long RCA cable from my subwoofer (there'll be more about Marantz' multi-sub options), and Ethernet cable. Marantz's on-screen menus and setup guide are pleasingly clean and direct, though not the snappiest I've encountered.
Room correction was next: anyone who buys a receiver like the Cinema 50 and skips this step because they "don't really need it" is making a mistake. The Audyssey XT32 on board the Cinema 50 takes a bit more time than lower-level Audysseys or most of the proprietary systems found on several competing brands, but it's worth the effort.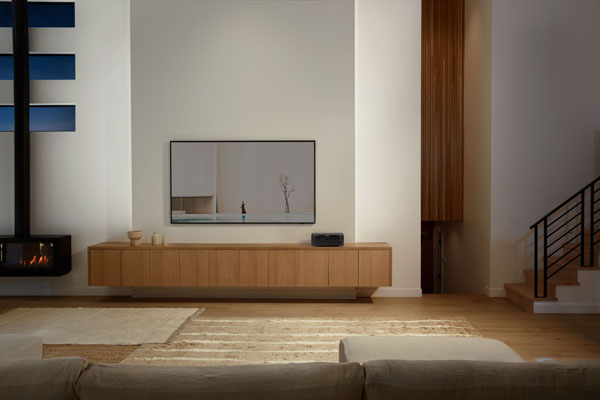 Audyssey has been amply covered in S&V, and the XT32 flavor is truly excellent, with greater filter precision and performance than seen from earlier and lower-range Audysseys. I ran a complete XT32 calibration routine, which employs eight different mic positions and takes about a 40 minutes. (Marantz includes a clever, die-cut cardboard mic stand you can assemble, though I used an actual tripod.) Unsurprisingly, XT32 got my channel IDs, levels, speaker "sizes," and listening distances right on the money. In fact, all of these were aligned as closely to my manual, hand-held-meter results as any automatic setup I've used, including nailing what I consider optimal crossover frequencies for my center and surround channels—a unique achievement, as best I can recall, among the many auto-setup systems I've tried.
In a brief comparison on music listening, XT 32 worked the familiar magic—common to all successful correction systems—of dramatically leveling up and tightening bass and subtly focusing, or perhaps "solidifying" is a better word, some lower midrange elements. (This last, I theorize, by reducing the interference of in-the-room modal resonances, but I digress...) Audyssey XT32 provides three different modes: Reference imposes a mild "room curve" that rolls off the top octaves just a bit, which many (myself included) prefer for most film sound; Flat corrects without the "room-curve" roll-off, and L/R-Bypass applies the Reference correction to all channels save—you guessed it—the front left and right.
Despite all of the above, and as always, I performed most of my auditioning with room correction disabled, on the theory that every room/system is different, and I want to keep as level a playing field as possible as I move from component to component in my reviews. On the other hand, I do retain the two narrow filters, implemented in Roon's DSP, that more or less tame my room's two most egregious modes for my closest listening, with the thought that in this critical-listening phase, I want to hear as clearly into the component under scrutiny as possible.