Onkyo TX-NR787 9.2-Channel Network A/V Receiver Review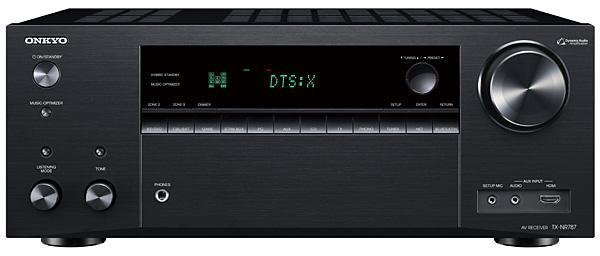 PRICE
$699
AT A GLANCE
Plus
Powerful, full-bodied sound
5.1.4 and 7.1.2-channel surround options
AccuEQ Advance room calibration
Minus
No multichannel preamp outputs
Basic remote control
THE VERDICT
Onkyo's versatile nine-channel receiver delivers an impressive blend of performance and features at a middle-of-the-pack price.
It's easy to get overlooked when you're in the middle. A middle child misses out on both the attention that's lavished on the first born and the doting care parents give to the baby of the family. The same thing can happen with an audio company's product lineup. Onkyo makes more than a dozen A/V receiver models at varying price points, but most of the acclaim inevitably goes to the flagship with its flashy bells and whistles, while models at the entry level get lots of love for providing good value.
Often, however, the real value sweet spot lies somewhere between the two extremes, where you get something like 80 percent or more of the flagship's performance and features for a small fraction of its price. For Onkyo, that means the TX-NR787, a model at the top of its consumer-oriented NR receiver line, but below the more advanced RZ models aimed at the custom installation crowd.
When it comes to features, the sweet spot here means a 9 x 100-watt amplifier, bang up-to-date surround processing including Dolby Atmos and DTS:X, THX Certified Select performance, a host of wireless and streaming options, and automated speaker setup. All of that in a 30-pound package priced well south of a kilobuck.
Onkyo rates the TX-NR787's power amplifier section at 100 watts per channel using FTC standards, but then bumps that up to a hefty 220 watts after tossing in a bunch of what I call "tailwind" factors (one channel driven at 1 kHz into 6 ohms with 10 percent distortion). Still, 100wpc should be plenty for a typical home theater with reasonably efficient speakers in a moderately sized room, although you may find the TX-NR787 running a bit short of puff in a big room with difficult-to-drive speakers. Notably, the Onkyo's amplifier section is a true class-AB design with a linear power supply, not the class-D type found in many lower-cost receivers these days. THX says Certified Select is suitable for rooms of around 2,000 cubic feet, with a 10- to 12-foot viewing distance. That almost perfectly describes my own home theater room.
To take full advantage of the TX-NR787's nine channels, you can choose to run a full 7.1 surround setup with a single pair of ceiling-mounted or upward-firing Atmos speakers, or to ditch the rear surround speakers and add a second Atmos pair in their place. I decided to go with the second option to maximize Atmos performance. (Unfortunately, there are no preamp outputs, so you can't add a separate two-channel amp to have it all.) Of course, you can also use the TX-NR787 in a regular 5.1 surround setup, freeing up the extra amp channels to drive speakers in up to two additional audio-only zones, or to bi-amp your front left and right speakers.
Now that I've mentioned preamp outputs, Onkyo describes the TX-NR787 as a 9.2-channel model, but I think that's kind of cheating since its two subwoofer jacks deliver identical signals, with no individual level, distance, or EQ adjustments. Even in the setup menus, the configurations are labeled 7.1.2 and 5.1.4, with no mention of a second subwoofer channel. The point? My pedantic brain thinks it would be more accurate to call this a 9.1-channel receiver.
Built-in streaming on the TX-NR787 is limited to services such as Spotify, Tidal, Pandora, TuneIn Radio, and Amazon Music, but you can also stream to it from other devices using Chromecast, AirPlay, and DTS Play-Fi. If you happen to own a Sonos system, the TX-NR787 can integrate with it through the Sonos app, though you'll need to use a Sonos Connect.
The TX-NR787's looks are in line with other recent Onkyo A/V receivers, with a single, large volume control knob dominating the faceplate's right side, and a long row of input selection buttons below a central green display window. On the left side, two smaller knobs allow you to select the surround mode and tone settings, while a small ring of buttons on the display duplicates the main control ring on the remote. Front-panel connectors include an HDMI input, a headphone output, and an input for the AccuEQ Advance setup microphone.
The lack of analog RCA multichannel inputs or outputs around back leaves plenty of real estate for other connections, including a decent assortment of analog and digital audio and video inputs for legacy equipment. Given the recent uptick of interest in vinyl records, I wasn't surprised to also find a phono input.