Onkyo TX-NR787 9.2-Channel Network A/V Receiver Review Page 2
The days of massive receiver remotes with zillions of buttons appear to be over, so it makes some sense that Onkyo's clicker is a simple affair with no light-up buttons or display, and only a limited number of control buttons. One reason for this change is app-based control, and the app for the TX-NR787 lets you locate most of the receiver's functions quickly and easily. But I still like to use a dedicated remote while watching in a dark room, and the Onkyo's simple layout made it easy enough to operate by feel alone.

Setup
Hooking up the TX-NR787 didn't present any unusual problems, although making sure all nine speakers were wired up with proper polarity required some focus. The receiver's nine pairs of speaker binding posts are the type best suited to either stripped wire or banana plug speaker cable terminations. I recently rewired my entire home theater with Canare four-conductor speaker cable terminated with banana plugs, so getting everything sorted out wasn't too difficult. I used my PSB Synchrony speaker system for the main 5.1 setup, with two pairs of ceiling-mounted PSB Imagine Minis for the Atmos overhead speakers and my oldie-but-goodie M&K MX-350 THX subwoofer handling the LFE channel.
Onkyo's onscreen GUI is intuitive enough to make navigating through the setup easy, although the somewhat dim and murky text made it hard to read at times. I updated the firmware at the start of the review process without a hitch, although the receiver locked up before finishing when I repeated the process near the end of my review period. Luckily, powering it off and then on again cleared the problem without creating any new issues.
Onkyo dropped the popular Audyssey automated speaker calibration on its receivers a few years back in favor of its own proprietary AccuEQ Advance room calibration system. A new addition is AccuReflex, which compensates for the extra distance the sound needs to travel if you're using upward-firing height speakers. As with Audyssey, the AccuEQ system sends a series of noises and tones to each speaker in turn, but unlike Audyssey, most of the measurements are done with the supplied microphone in a single position. Two additional positions are used, but these are shorter tests designed to correct for standing waves only. Once AccuEQ had gone through its paces, I compared the results with my own manual setup and found that it was able to get distances and levels pretty much spot-on. Tonally, I found it was thinning out the lower midrange and boosting the high frequencies, although the effect was subtler than what I'm accustomed to hearing with Audyssey MultEQ XT32 calibration. As usual, I did the bulk of my evaluation with AccuEQ and other sound enhancers switched off.
Performance
I started out by streaming two-channel music using built-in apps and from my iPhone using both AirPlay and Chromecast through the Synchrony One towers with no subwoofer. The Onkyo was not happy when I attempted to stream high-res audio from Qobuz via Chromecast, stuttering and locking up at time. (I'll put this down to the fact that the service hasn't officially launched yet in North America, and I was using an overseas-based press preview account.) Other music streaming services worked fine via Chromecast. Listened to on Tidal, Joe Cocker's superb cover of Bob Dylan's "Seven Days" recorded with Sly and Robbie on drums and bass revealed a nicely fleshed out, punchy sound, with plenty of bottom-end kick. Any lingering concerns I had about the amp's ability to drive the Synchrony towers were quickly put to bed, and I was able to crank the music up nice and loud without having the sound turn raw and thin.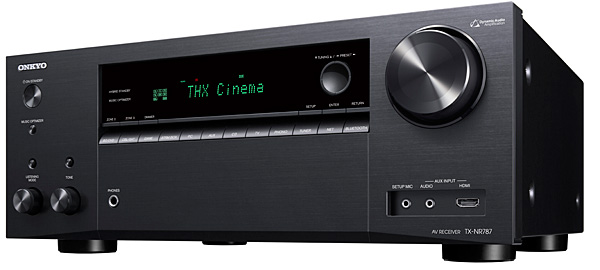 To ensure that this unexpectedly brawny sound didn't come at the cost of the Onkyo's ability to deliver subtle detail, I played a live SACD of Dvorak's Slavonic Dance #2 with Ivan Fischer conducting the Budapest Festival Orchestra on my Oppo UDP-203 universal disc player. This wonderful multichannel recording put me right in the concert hall, with the burnished glow of the lower strings balanced by the bright clarity of the violins and wind section.
Of course, you're going to want to put any Dolby Atmos-equipped receiver through its paces with Atmos soundtracks. Normally I would play an Ultra HD Blu-ray like Gravity, but this time I streamed a few episodes of the Amazon series Jack Ryan from my Amazon Fire Cube. Figuring out how to get the Atmos-enabled audio stream to work turned out to be a bit of a challenge, but that was due to Amazon's non-intuitive settings, not the Onkyo's. Near the end of the first episode, the rebels attack a CIA Black Site in Yemen in an attempt to spring one of their own. Here again I was struck by the power and weight delivered by the TX-NR787: the dynamics of explosions and gunfire were more like punch in the gut than a slap in the face, and the sound seemed to expand beyond the confines of my room.
Conclusion
I was genuinely surprised by the performance of Onkyo's TX-NR787. The word I'd heard on Onkyo A/V receivers was that their presentation is detailed, but the sound can be a bit bright at times. In my listening, I found the TX-NR787 to have an impressively rich, powerful sound that required no apologies. The receiver's well-chosen feature set will also tick off most boxes on a shopper's want list. Here's hoping the TX-NR787 gets the respect it deserves despite being a middle child in Onkyo's lineup.