Denon AVR-X8500H AV Receiver Review
PRICE
$3,999
AT A GLANCE
Plus
Clear, punchy sound
Beefy 13 x 150W class-AB power amp
Dolby Atmos, DTS:X, and Auro-3D decoding up to 7.2.6 or 9.2.4
Minus
No HD Radio
Flagship price to go with flagship performance
THE VERDICT
Denon's latest flagship receiver checks off every box on the A/V receiver feature wish list, and it provides plenty of brawn to back up its brains.
Some people get weird about anything with a 13 in it. Fear of this seemingly innocuous number, otherwise known as Triskaidekaphobia, has brought us buildings with no 13th floor, and even the renaming of the 13th Space Shuttle mission. But Denon has shown us they don't have time for silly superstitions by delivering the world's first A/V receiver with 13 channels of onboard amplification.
Physically, the AVR-X8500H marks a return to the monster receivers Denon was known for in the past, such as 2008's massive AVR-5308CI. You won't find any class-D amplifier modules or wimpy switched-mode power supplies here. A glance through the perforated cover of this 52-pound beast reveals that two-thirds of the real estate is dedicated to the huge transformer and 13 individual class-AB amplifier cards. Four fans are mounted under the heat sinks to keep things cool when the going gets loud.
Up front, the AVR-X8500H has Denon's familiar front-panel layout with two large knobs, one for volume and the other for source selection, flanking a large display that indicates the status of various functions. A drop-down door directly under it conceals a multi-function cursor for menu navigation and zone and source selection buttons, along with an HDMI input, USB port, and a headphone output jack. As with most receivers, the remote control is required to gain access to less-used functions.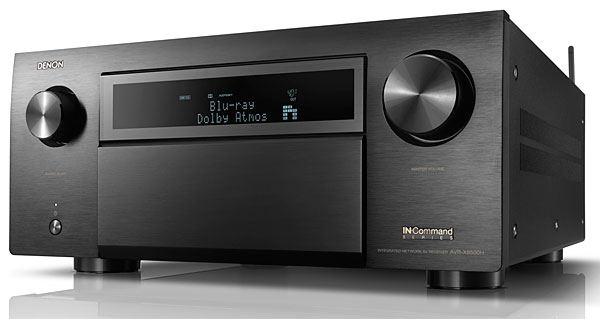 While new object-based surround sound formats like Dolby Atmos, DTS:X, and now Auro-3D have expanded home theater setups into the vertical dimension, most receivers only have a limited number of amp channels. Do you want both front wide and back surround channels along with your height speakers? With most receivers you will run out of channels and be forced to make choices. The AVR-X8500H, however, is the first receiver with 13 amp channels. Do you want a 7.1.6 setup with six height speakers along with a full complement of ear-level speakers? No problem. How about a 9.1.4 setup with front wide speakers? The only Atmos combination you can't do with the AVR-X8500H is 9.1.6, but I think most of us would be abandoned by our spouses or evicted by our landlords before reaching that point.
Some immersive surround sound formats require different speaker placement configurations, and the AVR-X8500H is versatile enough to accommodate that. There are connections for 15 speakers on the back, which allows you to connect both the center-mounted ceiling speakers used by Auro-3D and the height or elevation speaker pairs used for Dolby Atmos and DTS:X. With just (just!) 13 amplifier channels, the receiver of course can't drive all 15 speakers at once, but it will automatically switch to feed a proper 13-speaker configuration to match each surround mode.
Bleeding-Edge Features
As you would expect from a new flagship receiver from one of the big boys, the AVR-X8500H is loaded to the gills with the latest tech. All eight (one front/seven rear) HDMI 2.0b inputs support 4K/60p and HDCP 2.2, along with Dolby Vision, HDR10, and Hybrid Log Gamma high dynamic range. Next-gen HDMI 2.1 connections aren't available yet, but Denon has promised a future HDMI 2.1 hardware upgrade option (cost hasn't yet been specified) for the AVR-X8500H. On a similar note, only standard ARC (audio return channel) is supported at present, but a free firmware upgrade to eARC is promised for late 2018. A new, enhanced version of HDMI's ARC feature, eARC among other things enables lossless multichannel audio to be routed back to the receiver from sources connected to an eARC-equipped TV.
The Denon's wireless connections include Wi-Fi, AirPlay, and Bluetooth, and there's a pair of supplied rear-mounted antennas to ensure good range. Naturally, Denon's own HEOS wireless multiroom streaming protocol and control app are also supported, which gives you access to music streaming services like Spotify and Tidal plus any DNLA music server running on your home network. The receiver can also be controlled with the Denon AVR app, and you can even add voice control via Amazon's Alexa.
Along with its eight HDMI inputs, the AVR-X8500H has a pretty complete array of legacy connections, including six pairs of stereo analog audio inputs, a 7.1-channel analog audio input, coaxial and optical digital audio inputs, and a full complement of composite- and component-video inputs and outputs. There's also moving magnet phono preamp input for connecting a turntable, and a full 15.2-channel set of preamp outputs in case you ever want to connect even bigger amps to your speakers.