Pioneer VSX-LX504 A/V Receiver Review Page 2
The supplied remote control is a simple affair, but with a bunch of similar-looking non- illuminated dark gray buttons, it takes some getting familiar with before you can operate it by feel in a darkened room. That problem can be overcome by using Pioneer's Remote app, however, which lets you control the receiver with a phone or tablet. Three single-button scene memories let you preset more complicated configurations, and a control port is also provided to integrate the receiver with a third-party control system.
Setup
With key A/V receiver brands including Pioneer, Denon, Marantz, Onkyo, and Integra all now existing under the Sound United corporate umbrella, unpacking and reviewing a receiver is starting to remind me of Yogi Berra's famous "it's Déjà vu all over again" quip. The process of setting up the VSX-LX504 seemed awfully similar to other receivers I've reviewed recently. Ultimately, that could be a good thing, because many of the configuration headaches of the past may now be behind us.
Pioneer manages to still set itself apart from its sister brands via its Advanced MCACC automated setup program. This guides you through the setup steps, measuring your speakers with the supplied test microphone using a series of noises and sweeps through each channel in turn. Anything from one up to nine listening points can be measured, so I went with the full nine to get the most accurate results. The receiver's measured distances and level settings were spot on, but its single one-size- fits-all crossover point proved troublesome with my speaker combination. I use a mix of different PSB models in my reference surround sound system, and while MCACC accurately set the little Alpha P3 height speakers with a 150-Hz crossover, MCACC's inability to use a different, lower crossover point for my Synchrony One tower, center, and surround speakers meant that they were all set for full-range output. That might be okay for the big towers, but the Synchrony center and surrounds are definitely not full-range speakers. As a compromise, I manually lowered the crossover point to 100 Hz, feeling that the little P3 height speakers could still handle that setting without any issues. Many higher-end receivers allow individual cross- over points to be set for each speaker position, which lets you better tailor the setup for the exact speakers being used.
Connecting various sources, both wired and wireless, to the receiver was simple and intuitive. Also, unlike some recent experiences I've had, linking up to streaming services proved fast and glitch-free. My sources included an Oppo UDP-203 Ultra HD Blu-ray player, an Amazon Fire TV Cube for video streaming, and the receiver's onboard Tidal app plus Qobuz on my iPhone connected via Chromecast built-in for music streaming. I even spun a few records on my Technics SL-1200 turntable using the VSX-LX504's phono input.
Performance
As usual, I did most of my listening with the MCACC corrections turned off, which let me hear what the receiver sounds like through my familiar speakers and not some tweaked and room-corrected version of them. Starting out with stereo music, I streamed "Words Of Wonder" from
Keith Richards' Main Offender album. In my experience, some class-D amps can sound a bit threadbare at times, but here the Pioneer was able to maintain a good grip on the PSB towers' bass, delivering Charlie Drayton's growling lines with power and authority. I have long been fascinated by the amount of snap and pop drummer Steve Jordan gets from his snare drum on this and other albums, and that quality was presented superbly by the VSX-LX504. (I recently saw a documentary where Jordan's drum tech explained that he swaps out his snare after every song when playing live, which could help to explain a few things.)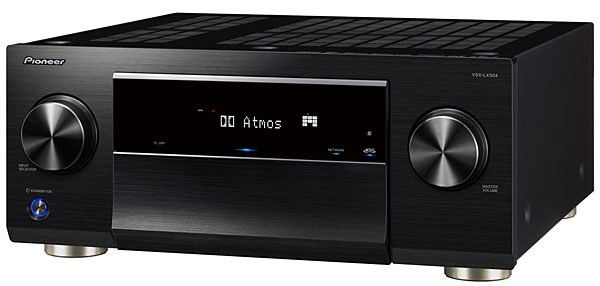 To check the purity of the Pioneer's midrange presentation, I played "Guantanamera" from the classic The Weavers Reunion at Carnegie Hall, 1963. Ronnie Gilbert's silvery voice sounded pure and gorgeous, even if the sound didn't quite match the dimensionality and depth I can sometimes get when using much more expensive and exotic electronics. As with the Keith Richards track, the bass was impressive, with subtle on-stage foot-stomping coming through clearly.
Immersive surround is the main benefit of object- based formats like DTS:X and Dolby Atmos, and the DTS:X soundtrack on the Apollo 13 Blu-ray takes full advantage of the height channels to place you within the tight confines of a capsule. The result was a sensation of space defined more by sound than by visuals. The movie's launch sequence, on the other hand, is set in an expansive soundscape, with the thunderous sound of the rocket set against a sweeping music score. In my medium- sized, 13- by 16-foot room, the Pioneer was able to handle this scene as loudly as I would ever feel comfortable playing it, and I never got the sense that it was about to run out of steam. Sticking with the space theme, I next played the Dolby Atmos track on the Diamond Luxe Blu-ray edition of Gravity. The immersive effects here are more about creating contrast between the sound inside and outside the capsule. You are placed within each environment, with a seamless blend between the listener-level and overhead speakers providing soundfield continuity. The Pioneer's presentation here really helped to draw me into the movie and make me forget that I was sitting on my couch at home.
Conclusion
In the rush to stay ahead of the curve, manufacturers are now releasing AVRs before all of their features are fully operational. Patience has become the watchword of the day, but that's definitely preferable to buying something that will quickly become outdated. An evolution of last year's VSX-LX503, Pioneer's VSX-LX504 delivers many of the features you'd expect from a top-of-the-line model, but at a mid-level price. Add in powerful and detailed sound, and the result is a well- sorted receiver that I can recommend as the hub of a forward- thinking home theater.