Samsung QN65Q80R LCD Ultra HDTV Review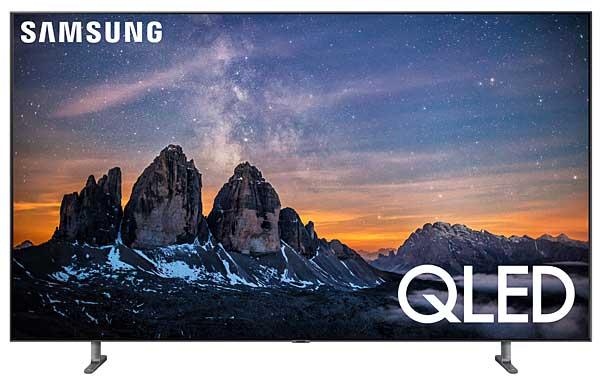 PRICE
$2,800
AT A GLANCE
Plus
Brightness to spare
Good off-center viewing
Superb HDR
Minus
Blooming
No Dolby Vision
Small, non-backlit remote
THE VERDICT
Samsung's new QN65Q80R may not be the company's flagship TV, but it offers an ample helping of that model's features, design, and performance.
It wasn't long ago that a buying a premium UHDTV demanded your first-born in exchange, or at least a sizeable portion of his or her college tuition. At $2,800 (and widely available for less), Samsung's new QN65Q80R "QLED" TV isn't exactly the lowest-priced entry in the growing category of affordable UHDTVs, but it's certainly a welcome one. Samsung also sells 55-, 75-, and 82-inch versions of the Q80R, the latter priced under $5,000.
Features
The 65-inch Q80R sits on two legs spaced 41 inches apart. If you plan on a table mount, make certain the table is wider than that with room to spare—I'd recommend at least 48 inches. Setup was simple, with the legs snapping into place with no need for screws. The thin bezel around the screen is nearly invisible, and while the set is moderately thick for a modern design (2.4 inches maximum), its gently arched back has an attractive, sculpted look.
The Q80R has no component or composite video inputs, so if you require those legacy formats for lower-resolution sources you'll have to buy separate component- or composite-to-HDMI adapter (these aren't expensive, but we can't vouch for how well they work). Unlike Samsung sets that employ the company's "One Connect" box, The Q80R's inputs are located on its back panel. A One Connect box separates the inputs from the main chassis on the current flagship Q90R (also on Samsung's 8K models) and offers at least a little reassurance of future hardware upgradability (though there's no such thing as total future-proofing).
Among the most notable features of the Samsung Q80R is its Ultra Viewing Angle. The image quality on LCD sets that use a Vertically Aligned (VA) LCD panel (including Samsung's and many others) deteriorates rapidly as you move away from the screen's center. Not so here. The Q80R can't quite match the off-center screen uniformity of an OLED TV, but it comes close enough that most buyers at any practical seating position will be satisfied. And as far as I could determine, it achieves this without noticeable side effects such as compromised black levels and a visible loss of contrast. Another welcome screen upgrade on the Q80R, albeit one that's not as dramatic as the improvement in off-center viewing, is a significant reduction in screen reflectivity.
The Q80R's backlight features full array local dimming (FALD). There's no menu option to turn it off, though I can't imagine why you'd want to. The available settings include Low, Standard, and High. Low and Standard look virtually identical most of the time, though of the two only the Standard setting goes totally black when required by the source. The High setting is far brighter than either. I used the default settings for all of my testing: Standard for SDR and High for HDR.
The Q80R's backlight also uses Quantum Dots (thus the "Q" in QLED). Samsung claims "100% Color Volume," but doesn't specify which color volume. The appearance of "Quantum" on other Samsung features including "Quantum Processor 4K" and "Quantum HDR 12X," prompted me to steal a line from Ant-Man and The Wasp: "Do you put the word Quantum in front of everything?"
Four picture modes are available in the Samsung's setup menu. I steered clear of all but Movie. There's also a Game Mode, but it's oddly located in the General menu and isn't usable for normal TV viewing.
The Q80R offers both 2-point and 20-point white balance adjustments, plus a full color management system (CMS). Samsung's motion compensation feature, Auto Motion Plus, has both Auto and Custom settings, the latter providing separate adjustments for Blur and Judder. There's also an LED Clear Motion option (black frame insertion) that improves motion resolution but makes the image darker. A range of other adjustments (some of them in the General menu rather than in Picture) offer various fixed or auto features, including a form of AI (the current hot acronym for consumer electronics) said to "optimize" the picture and sound in various ways. I left the motion compensation and AI features switched off, and also did the same for the Eco settings.
All of the usual Smart TV options are, of course, present on the Q80R. Samsung's are as good as any and better than some, with a full array of apps for popular streaming sites and other options. You also get AirPlay 2 support and the AppleTV app, the latter built into the set's interface. The only downsides to the otherwise crisp-looking Smart TV menu is that it covers nearly half the screen, and with HDR enabled in a dark room it appears annoyingly bright.
Samsung's remote control (small, not backlit, and irresistibly drawn to gaps in your sofa cushions) includes three buttons directly below the remote's volume and channel controls that can call up Netflix, Amazon Prime, or Hulu. They're easy to hit by accident, however, and more than once sent me to one or another of these sites when I had no plans to go there.
The Q80R is compatible with vocal assistants from Amazon and Google. Samsung's own Bixby voice assistant is also provided and functions similarly to the Bixby found on Samsung's smartphones. By speaking into the remote, Bixby can send you directly to, or near, a desired menu setting. This voice feature was definitely useful for accessing the set's picture calibration controls, particularly since the calibration readings were severely affected by the presence of the adjustment menu at the bottom of screen. (During my setup, this required dropping out of the menu to take an accurate reading, then repeating the back and forth trip multiple times until the desired result was achieved.)
The Q80R also offers a so-named Ambient Mode. According to Samsung, this will "Enhance your living space with decorative content that matches the surroundings or view essential real-time information such as weather, time, and news on the TV screen…." In other words, if you'd like to use your TV as an art gallery 24/7, Ambient Mode can make it happen.
Samsung's TV is compatible with three of the four current HDR formats: HDR10, HLG, and HDR10+. It doesn't do Dolby Vision (no Samsung set currently does), but Samsung uses its own algorithms on the static metadata in HDR10 (or on the base layer of Dolby Vision sources) to generate dynamic tone mapping, adjusting the results scene-by-scene. HDR10+, of which Samsung is a prime promoter, includes dynamic metadata embedded in the source material. But with HDR10+ content currently thin on the ground, the only HDR format used in this review was HDR10.