Sharp LC-60UD27U LCD/LED HDTV Review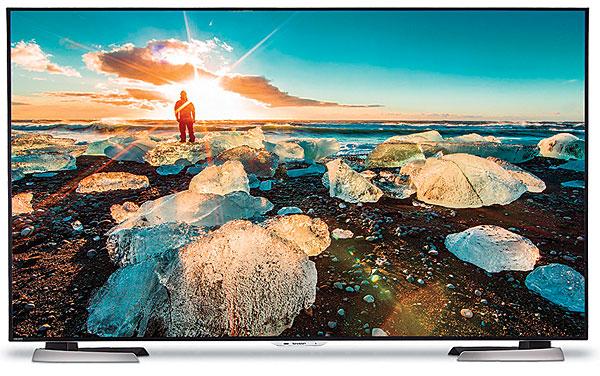 PRICE
$2,000
AT A GLANCE
Plus
Accurate color
Crisp, noise-free images
Eco-friendly Wallpaper mode
Minus
Below average contrast
Poor picture uniformity
Unimpressive Smart GUI and streaming options
THE VERDICT
Sharp's 4K THX Certified UHDTV gets many things right but some key things wrong.
The only TV-tech buzzword with any legs to it in 2014 was 4K, aka Ultra HDTV. So a TV manufacturer without new 4K-resolution product had better start thinking about packing it in. Sharp previewed a pair of UD27 series Ultra HDTVs last June, and the company finally squeezed out those models just in time for the holiday shopping season. What do the new 60- and 70-inch Sharps have to recommend them over other, similarly priced offerings? Let's check things out.
Sharp's UD27 series is 4K THX Certified. This means it has, in Sharp's own words, "passed more than 400 rigorous tests, meeting the highest standards in picture performance." Also, its THX 4K Movie Mode preset "delivers the best possible pre-calibrated video setting according to tests and measurements performed in THX labs for viewing Ultra HD and upconverted movies right out of the box."
UD27 TVs feature a native 120-hertz, 10-bit display panel (which remains of questionable value in today's absence of 10-bit content) and an edge-lit LED backlight. There's no hardware-based local dimming; instead, sources up to 1080p res benefit from Aquo- Dimming, Sharp's pixel-based contrast-enhancement processing. (AquoDimming isn't available for Ultra HD input sources.) Sharp also touts something called Spectros Rich Color Display for the UD27 series, which enables the set to come close to matching the DCI color standard, a wider color gamut than is currently used for 1080p. Here again, there are no available video sources encoded in DCI Standard color at present, nor any clear guarantee today that the television's input will recognize such content, so any such extended color space can be considered overkill on a TV for now.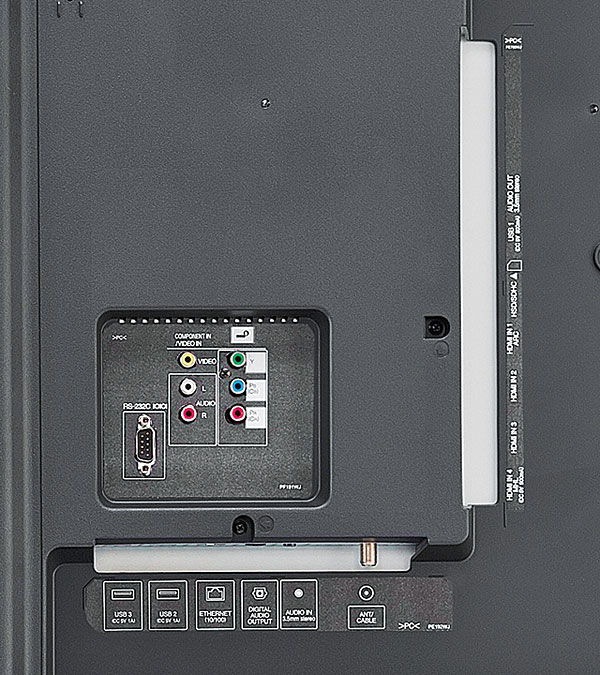 Fortunately, the sets' THX picture preset displays images in the regular old Rec. 709 color space that's an accurate match for current HD and Ultra HD content. Incidentally, the UD27 series TVs aren't equipped to display 3D images.
Along with providing Ultra HD resolution, any new high-end TV these days needs to be smart. Sharp's own spin on smart TV is called SmartCentral 3.0. This provides a Smart Guide with content search capability, along with Miracast for wireless screen mirroring of content from tablets, smartphones, and laptops. Compared with the sophisticated interactive GUIs found on TVs from LG, Samsung, Panasonic, Vizio, and perhaps others, Sharp's smart offerings are, frankly, unimpressive. At least you get 4K Netflix streaming capabilities, along with a cool, eco-friendly feature called Wallpaper mode that lets you run image slideshows from an attached USB drive or pre-installed image bank when the set is powered off. Any photo over 8 megapixels in size will be displayed at full Ultra HD resolution.
While it may not be all that smart, the 60-inch LC-60UD27U that Sharp sent me is pretty to look at. Its screen is bordered by a black, barely-there 0.4-inch bezel. The company's appealing "Scorpion" stand design has an inward arc that firmly supports the display while taking up only a minimum of surface area. Unlike the other UHDTVs I tested in 2014, the LC-60UD27U provides not one but four HDMI 2.0/HDCP 2.2-compatible inputs. There are three USB ports and an SD card slot to feed media to the TV, and it can play content from a computer or NAS over a wired or wireless home network.
Sharp's remote control is serviceable, though it's loaded with small buttons and lacks a backlit keypad. The good news: It's got a big red button that sends you directly to Netflix. Sharp also offers a remote control app for smartphones and tablets. I had difficulty getting this to work, however, and I could find no documentation to guide me—onscreen, in print, or anywhere else.
Setup
I made picture adjustments to the LC-60UD27U in its THX Movie mode with Dark Room setup selected. The advanced settings available in that mode include 2- and 10-point color temperature calibration, a full color management system (with Hue, Saturation, and Value adjustments), and multiple gamma presets. Additional settings include a Resolution menu for fine detail adjustment, Motion Enhancement (with Sharp's AquoMotion 480 backlight scanning), and the AquoDimming pixel-based contrast enhancement.
At the default THX Movie mode/Dark Room settings, the Sharp's gray scale had a distinct bluish bias, though color points and gamma measured reasonably close to the desired targets. Although Aquo- Dimming processing couldn't be applied to 4K signals, it did serve to double the Sharp's otherwise below-average contrast and black-level performance for 1080p sources. Edge enhancement and ringing proved to be issues at the default THX settings, though their effects could be minimized by reducing the Detail adjustment slider in the Resolution menu to zero.
Curiously, none of the pre- sets provided in the LC-60UD27U's AquoMotion menu helped to boost motion resolution when I was viewing test patterns on the TV. Such settings are usually accompanied by a serious dose of soap-opera effect, however, so I wasn't concerned.
Performance
The combination of the Sharp's accurate color and high brightness made most programming I watched on it look pretty good. The Xbox One games I played had a punchy appearance, and there was only a minimal level of input lag. At my typical 8-foot viewing distance, 4K Netflix content such as Breaking Bad episodes and a nature documentary that I streamed looked crisp and noise-free, but at the same time, there didn't appear to be much of a picture quality advantage over regular 1080p programs—at least not on my test sample's 60-inch screen.
I streamed the acclaimed British TV series Broadchurch from Netflix and was impressed by how natural the landscape of the quaint English seaside community looked. Skin- tones of the Detective Inspector (David Tennant) and the various townies he questions during his investigation were perfectly pasty and spot-on, while picture detail was exceptionally good for streamed 1080p content.
Next, I moved on to even darker content. With Joe, a recent Blu-ray release starring Nicolas Cage as a work crew supervisor in the Deep South who has trouble keeping himself out of jail, I began to be less impressed with the Sharp's performance. This film is a Southern Gothic in the best sense of the genre, with blood rivalries and squalor, and it features plentiful scenes of people drinking and smoking in shadowy living rooms and bars. Such scenes proved to be a challenge for the LC-60UD27U: Shadows lacked depth, and the set's uniformity issues gave the image a mottled effect, with some areas of the screen looking lighter than others. Basically, whenever dark content in the picture passed a certain threshold, the image flattened out, and the illusion of depth was broken.
Off-axis viewing was typical for an LCD display, with picture contrast fading when I moved about 20 degrees off from a center seat. Multipixel Drive, a feature meant to provide a wider viewing angle, helped to improve things somewhat, though the results weren't as good as what you'd get with an In-plane Switching (IPS) LCD panel. (Or a plasma TV, for that matter!) The Sharp's screen has a glossy coating, but screen glare was less of an issue than what I've seen with other sets when viewing in a bright room.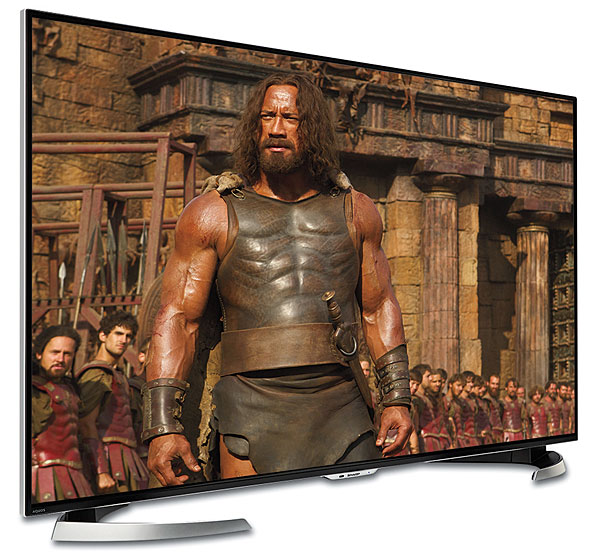 Conclusion
Sharp's 4K THX Certified LC-60UD27U can be counted on to provide accurate color and detailed, noise-free images. And it does so at a price that's affordable compared with that of 60-inch UHDTV offerings from other manufacturers. Where Sharp's set comes up short is in its lackluster contrast ratio and picture uniformity; I had trouble getting through a movie without seeing numerous spotlight effects. And then there are the smart GUI and streaming options, both of which come up short compared with those of other leading UHDTV brands in this price range. So is the LC-60UD27U worth a look? Yes, but I'd advise making a careful survey of its competition before taking the jump.