Samsung UN75ES9000 3D LCD HDTV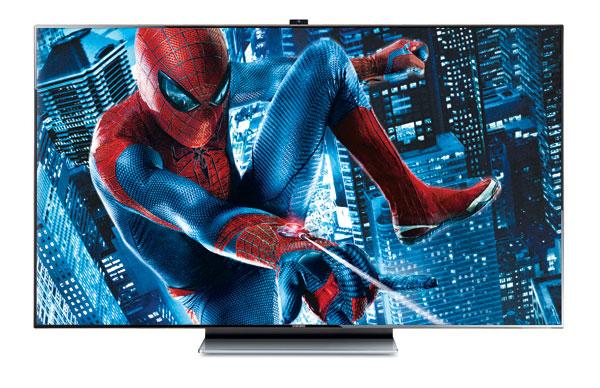 Price: $9,000 At A Glance: Superb resolution and color • Impressive blacks • State-of-the-art 3D
If last year was the year of thin in flat-screen HDTVs, 2013 promises to be the year of big. Seventy may well be the new fifty, and we're not talking birthdays. While this year's models are still remarkably thin, now your friends can ooh and ahh while viewing them from the front and not just the sides.
Not everyone will welcome this trend. Interior decorators nationwide will turn catatonic, mumbling incoherently in complementary colors. And consumers will have to dig deeper into their wallets.
Some of this big-screen trend is clearly preparing the public for 4K Ultra HD, but for now, most of the jumbo-HDTV action will continue to be in ye olde 2K/1080p. Samsung has jumped into the fray with its biggest consumer 2K HDTV to date: the UN75ES9000.
Around the Horn
The UN75ES9000 has all the inputs and outputs you're likely to need, though HDMI 1.4 and USB 2.0 connections predominate. There is no analog RGB computer connection.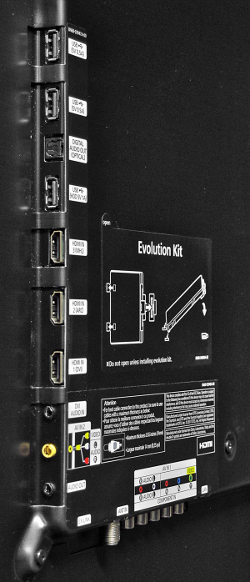 The Samsung provides not only standard two-point white balance controls but 10-point adjustments as well (2D only). The two may be used in tandem; the best approach is to use the two-point settings first, then fine-tune the result with the 10-point. The set also has a complete color management system (CMS) in its Color Space menu. Other important controls include multi-step gamma and Color Tone (prior to calibration, Warm2 was the most accurate for 2D).
Samsung's Smart LED selection activates a combination of edge-lit (not back-lit) zone dimming and Samsung's Micro Dimming Ultimate feature. The latter is said to process the image at the pixel level, adjusting the brightness of each pixel to prevent the LED dimming from unduly darkening bright areas of the image. A separate Cinema Black control (2D only) can further darken the black bars above and below a widescreen, 2.35:1 source, though its effect is subtle.
This native refresh rate for this Samsung is 240 hertz. The extra frames needed to convert the lower refresh rate of video sources to match this are either repeated or interpolated. The latter is the function of the set's Auto Motion Plus feature. Frame interpolation produces smoother motion but also gives movies that soap-opera, "video-ish" look. Auto Motion Plus, however, offers several modes. The Custom mode offers separate controls for blur and judder. When the Blur control is used alone, it eliminates the video look, though Blur settings by themselves appeared to have little visible effect, even at the maximum setting. A separate feature, LED Motion Plus (not available in 3D), progressively scans the LED lighting from top to bottom to further reduce motion blur. Some viewers will find these controls useful, but I turned both of them off for this review. (According to Samsung, LED Motion Plus is always on in 3D and non-defeatable, but on our sample, its control is grayed out and reads "Off" with a 3D source.)
The Samsung's screen is highly reflective, but that's common these days. If a matte screen is on your must-have list, your options in a new HDTV, either plasma or LCD, will be very limited.
A 3D menu offers settings to optimize the 3D experience. There's also a 2D-to-3D conversion mode, which was more effective than average.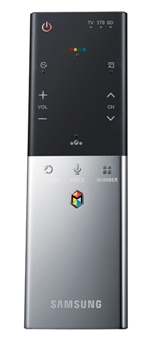 The set comes with two different remotes. The so-called Smart Touch Control (right) is the smaller and designed to do the job with a minimum of buttons combined with a small touchpad and voice recognition. It also comes with an IR blaster that allows it to control two sources. It's a clever device, but apart from controlling a cursor for use with the set's Smart TV features, I preferred the more conventional, multi-button, backlit remote (below). The set also offers hand gesture control in conjunction with a built-in camera that pops up from the top of the set when needed (the same camera can also be used for Skype). Unfortunately, I was unable to get our sample to recognize my hand gestures.
The UN75ES9000 comes with four pair of rechargeable active 3D glasses, model number SSG-3550CR. Extras cost about $50/pair. If you need more, however, the model SSG-3050GB, at under $20 (still available but recently replaced by the similarly priced SSG-4100) is battery powered but equally effective. They all operate on RF Bluetooth.
To keep your set more or less current, Samsung's Smart Evolution Kit, available optionally starting this year, is said to offer annual updates for enhanced performance and features. In addition, more routine firmware-only updates can also be downloaded from the Internet as is common practice today. But be sure to keep a record of all your control settings before you install an update. The update I downloaded returned all of my settings to their factory defaults!
The set's audio, while hardly jaw-dropping, is a bit more palatable than in the usual flat-screen HDTV. But it's still no match for even a modest outboard sound system.
The Samsung includes most of the expected Smart TV features and apps, including Amazon Instant Video, Hulu Plus, Netflix, Facebook, YouTube, and much more. You can also enjoy your photos, videos, and music on the set, either directly or through your home network. There's a Web browser option (and an optional keyboard, not tested), but I find surfing the Net far easier and more flexible via a dedicated computer than on any HDTV I've yet seen, including this one.
Almost Priceless
The UN75ES9000 passed all of our video processing tests apart from 3:2 SD. It passed both of our MA (Motion Adaptive) tests, though the set's performance on them was slightly inferior to the processing in our Oppo BDP-103 Blu-ray player.
The Samsung's picture goes to full black with a totally dark source, which causes the LED lighting to shut down. The minimum black level becomes visible, while remaining satisfyingly dark, when even a small point of light (such as a pause bug on a Blu-ray player) triggers the LEDs to light up slightly. Overall, the set's ability to render blacks in typical dark scenes is impressive, though not quite as striking as we've seen from the best plasmas, even though the latter might turn in a marginally worse full-black field measurement. I was able to verify this on a direct, side-by-side comparison with the Panasonic TC-P65VT50. On bright scenes, the Panasonic's picture was subtly richer. And on dark scenes with minimal bright highlights, the black backgrounds were also deeper on the Panasonic. An obvious example is the onscreen logo for Oppo Blu-ray players, with the bright white letters surrounded by a field of black.
The Panasonic was also very slightly sharper, though that's likely due primarily to the Samsung's larger size—a whopping 33 percent bigger by area.
But these differences were subtle. And the Samsung's ability to go totally dark on fade-outs between scenes, which the plasma cannot, is dramatic. It draws you into the program material in a way you might not expect—particularly in a darkened room.