Sony KDL-55HX850 3D LCD HDTV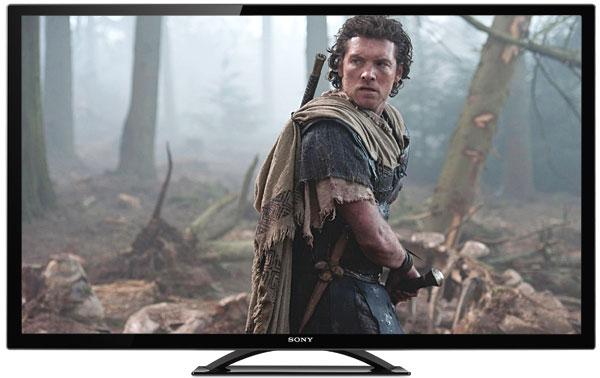 Price
: $2,600
At A Glance
: Deep, uniform blacks • Superb out-of-the-box color and crisp detail • Head-tilt 3D crosstalk
The most popular, current approach to designing an LCD HDTV with LED lighting is to position the LEDs around the periphery of the screen and rely on diffusors to spread the light out uniformly. Sometimes (but not always) the brightness of the LEDs is also altered dynamically to help the LCD pixels create deep blacks, where needed.
The edge-lighting LEDs may even be brightness-modulated by location, determined by the scene-by-scene characteristics of the source. We normally object to applying the term local-dimming to zone dimming of edge-lit HDTVs, as it suggests equivalence to backlit LED local-dimming designs. The latter is the most sophisticated form of LCD HDTV and offers far more LED clusters and thus more precise control over how the dimming is performed. But it's hard to quibble with the use of that terminology here. With the KDL-55HX850, Sony has hit an edge-lit, local-dimming home run—in the bottom of the ninth.
Around the Horn
With its swiveling, slightly tiltable stand and frameless, Gorilla Glass front face (reflective, in the manner of most modern sets), the KDL-55HX850 could easily double in looks for one of Sony's top-of-the-line XBR models. And at just a hair under 1.5 inches thin, those looking for a stylishly thin design are unlikely to complain.
The set offers a numbing variety of Picture modes, most of which are unnecessary. To keep the options in each of these modes under control, a separate Scene Select menu offers its own range of choices, each one of which limits the selection of Picture modes to a shorter list. I left Scene Select in its default (Auto) setting and chose the Custom Picture mode for all of my calibrations and viewing, both 2D and 3D (the modes are separately adjustable for 3D). Out of the box, the set also has overscan engaged. In that configuration, the pixels in the source do not translate 1:1 to the pixels on the screen due to the extra processing required. This lack of pixel perfection can slightly reduce resolution. To defeat the overscan, you must go into the Picture and Display menu, select Screen, turn off Auto Display, and set Display Area to Full Pixel. These quirks are typical of the set's thorough but sometimes confusing menu design.
In addition to the usual video controls, there's the typical flood of bells and whistles here, most of which I left off. The Gamma control, however, was definitely useful; I alternated between its zero and –1 settings, depending on the program material.
Sony's Motionflow, Smooth Gradation, and CineMotion adjustments (the latter is a film-mode control) are used together to produce varying degrees of motion smoothing via frame interpolation. If you like this sort of thing, knock yourself out with all of the possible combinations of these three adjustments. For me, frame interpolation, no matter how sophisticated, kills the look of movies by giving them a soap-opera-like smoothness that film does not have. I left Motionflow and Smooth Gradation off for all of my 2D viewing but set Motionflow to Standard in 3D for reasons I'll discuss in the 3D section.
The KDL-55HX850 includes White Balance controls with both high (Gain) and low (Bias) calibration adjustments for red, green, and blue. There is no color management system (CMS), but it wasn't missed, as the set's out- of-box color gamut closely matches the Rec. 709 HD standard (see HT Labs Measures).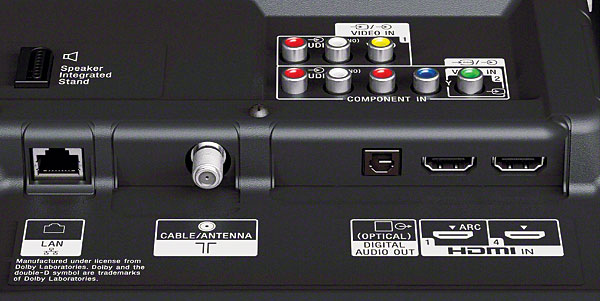 The set's 3D features include a 2D-to-3D conversion mode, automatic sensing of the Blu-ray 3D format, manual switching to other 3D formats, and controls to tweak both native 3D and converted 3D, if desired. There's also a 3D Glasses Brightness adjustment. I left all of these 3D controls in their default settings.
Sony's new, lightweight (1.2 ounces), open-sided, titanium 3D glasses (rechargeable via a USB connection to the set) are an extra-cost option at $99 a pair. Sony's last generation of 3D glasses, with their plastic frames, also work on this set. That older design, while clunkier and nerdier-looking, blocked stray room light from entering through its sides and causing reflections. They also fit better than the new ones over (my) prescription glasses; in the new design, the frames of the double set of glasses tended to snag.
The remote control is back-lit and reasonably intuitive. Downloadable apps (not tested) also enable the use of either a smartphone or PC as a remote.
Like most modern, high-end HDTVs, the KDL-55HX850 is loaded with Internet features from the usual suspects (Netflix, Amazon, YouTube, Hulu Plus, Skype, etc.—though not Vudu). These—along with news, weather, and sports—may be accessed either through a wired LAN connection or wirelessly via the Sony's built-in Wi-Fi. You can also play back videos, photos, or music either directly from a USB storage device or from your home net- work, and download firmware updates for the set.
TwoD
Apart from a small rolloff in the highest-frequency chroma resolution burst, resulting in a borderline score on that test but producing no visible effect on normal program material, there were no surprises in the Sony's video processing. It was solid, although CineMotion had to be set to Auto 2 to score a passing grade on the 3:2 HD test.
When a source goes completely black, the Sony's picture drops smoothly to jet black. Nothing new there—LED backlighting can be turned off nearly instantaneously. But when there's a dim but not totally black image, most edge-lit sets we've seen run into trouble, particularly in a totally darkened room where black uniformity issues have no place to hide. These problems can vary from blotchiness in areas of the picture that should be uniformly black or dark gray, to (at worst) the illusion that tiny gnomes with flashlights are hiding behind the screen frame.