Samsung QN65QN90A NEO QLED LCD Ultra HDTV Review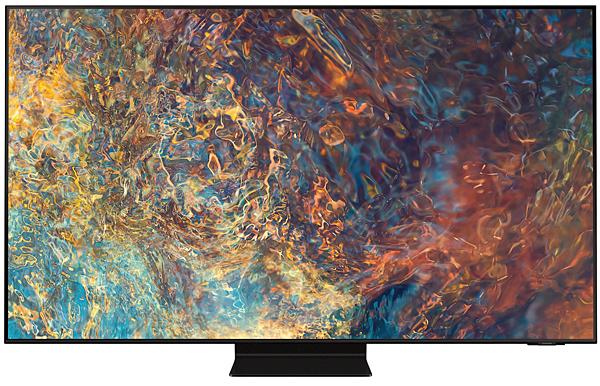 PRICE
$2,600
AT A GLANCE
Plus
Standard-setting HDR performance
Wide viewing angle for LCD
Deep blacks and strong shadow detail
Minus
Lacks Dolby Vision
Occasional blooming artifacts
THE VERDICT
The price for Samsung's latest sets may be up from last year's equivalent models, but if you're in the market for a new TV, the improvements to be found in the new QN90A series make it worth serious consideration.
In 2020, Sound & Vision tested Samsung's 65-inch Q90T series TV, an LCD model that lacked some of the features and refinements found in the company's flagship sets from the previous year. But at $1,900, it also struck us as a solid deal given the overall price-performance ratio and received a Top Pick. Samsung's new Neo QLED QN90A series LCDs, available in 55-, 65-, 75-, and 85-inch screen sizes, are pricier than the Q90T models they replace, though the higher prices in this case come with marked performance upgrades.
Features
The QN65QN90A model that Samsung sent us to test features a center-positioned stand that offers an easy fit on a wide range of furniture in a table-top setup. It's sturdy, heavy, and provides enough space under the screen for a slim soundbar. (Wall-mounting, of course, is also an option.)
The QN90A's built-in speakers fire audio outward from all sides of the screen, a design Samsung calls Object Tracking Sound+ (OTS+) because it follows the trajectory of the onscreen action. OTS+ is also designed to work in conjunction with an optional Samsung soundbar (not tested here). By itself, without the soundbar, OTS+ audio performance is fine, as long as you don't expect miracles.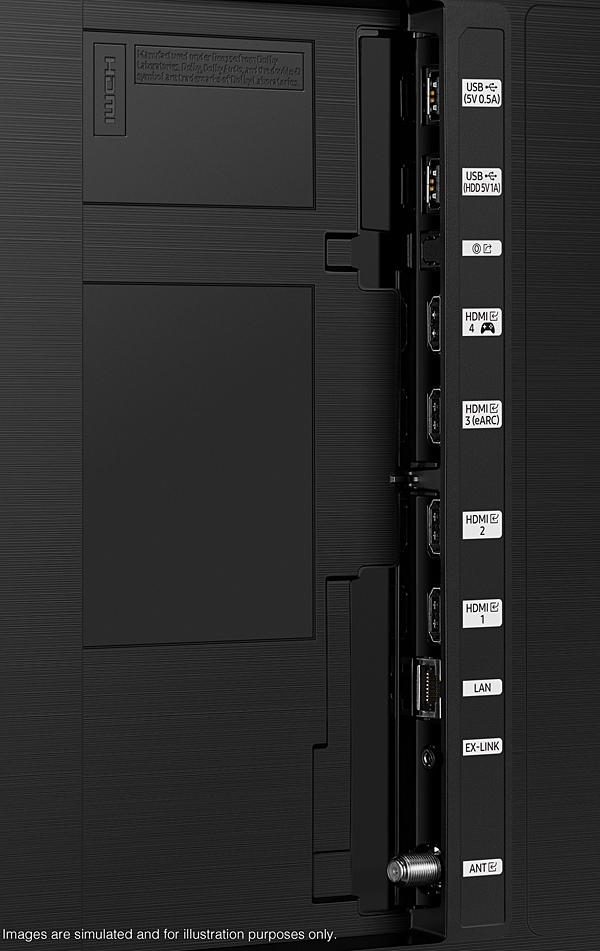 Lossy Dolby Digital 5.1 sound is accessible via the set's optical digital output, but DTS sources were limited to 2.0 via this link. Samsung's HDMI eARC feature functioned with a Dolby Atmos source in my 5.2.4 speaker setup, but only after exhaustive period of trial-and-error of both the Samsung's settings and the Denon AVR I used it with it. Hint: I had to enable Samsung's Anynet (HDMI-CEC) prior to selecting the Auto HDMI-eARC Mode and turning on the Dolby Atmos Compatibility setting.
As with all flagship Samsung TVs made since the cows came home, the QN90A features a full-array local dimming backlight. But the number of zones here have increased dramatically over past designs. I counted 741 (43 horizontal rows and 17 vertical columns), though that number that could be off by a bit. (According to Samsung, the QN90A has a total of 792 local dimming zones.)
The reason why the QN90A provides that many zones is because for the first time Samsung is using Mini-LED backlighting, the hot new thing in premium LCD TV designs. Unlike with conventional LED backlighting, where the LEDs are limited in number due to their size, the number of Mini-LEDs can be in the thousands. That doesn't mean the number of local dimming zones is that high since even today's sophisticated microprocessors can't control thousands of individual Mini-LEDs (at least not at a price that's remotely affordable). But Mini-LEDs can be controlled in clusters, and those can, as here, number in the hundreds.
Samsung has made significant advances in recent years toward solving an issue endemic to most LCD TVs: picture fade when viewing from an off-center seat. The QN90A isn't quite up to the level of OLED TVs in this regard (OLEDs don't have any visible off-center fade), but off-center picture quality is satisfying at any practical viewing angle.
The QN90A's anti-reflective screen coating offers benefits but isn't perfect, generating occasional rainbow-like arti- facts that spread out across the screen. But most of the time it's an improvement over a mirrorlike screen finish.
Like other Samsung TVs, the QN90A doesn't offer Dolby Vision, though it does support the HDR10, HDR10+, and HLG high dynamic range formats. Available HDR10+ programs, which include metadata that triggers the set to produce dynamic tone mapping, are far less numerous than HDR10 or Dolby Vision ones. While Dolby Vision also includes dynamic tone mapping, the QN90A will ignore that metadata with a Dolby Vision source, instead relying on the Dolby Vision format's base HDR10 layer, which only offers static tone mapping. To further improve picture quality, however, the QN90A applies a dynamic tone mapping algorithm to the HDR10's static metadata.

Whatever processing Samsung is applying, it appears to be effective. More to the point, the need for tone mapping is most acute with HDR displays that deliver a lower peak brightness than the Samsung, which has a maximum white level of just under 1,500 nits—see Test Bench. (Few HDR10 sources like streamed movies exceed 1,000 nits.)
The QN90A employs Quantum Dots for color and Samsung calls its HDR capabilities Quantum HDR 32x. A Quantum Matrix controls the set's Quantum Mini-LEDs, while the premier microprocessor central to all of this is Samsung's Neo Quantum Processor 4K. (That's a lot of Quantum!—ed.) The processor's Artificial Intelligence capability works to enhance images frame-by-frame in all picture modes apart from Filmmaker. (According to Samsung, AI enhancement processing is minimized in Filmmaker mode to ensure as much as possible that that the creative intent of the filmmakers isn't altered.)
HDMI 4 is the set's only HDMI port offering the full suite of HDMI 2.1 features, including support for the 4K/120Hz output of the latest generation of game consoles. But all the HDMI ports support some HDMI 2.1 features, including High Frame Rate (HFR), Variable Refresh Rate (VRR), Auto Low Latency Mode (ALLM), and dynamic metadata (when present in the source).
The QN90A's MultiView feature lets you watch multiple sources on the screen simultaneously. The set also includes FreeSync Premium Pro, a synchronization technology from AMD designed to reduce tearing and stuttering during gameplay that's certified for HDR.
Samsung's Tizen Smart TV features let you access most of the popular streaming services. As with last year's Q90T, I found the interface a bit clunky at first. That annoyance smoothed out as I became more familiar over time, but I never completely warmed to its ergonomics. The QN90A offers both onboard Amazon Alexa and Samsung's Bixby voice assistants, plus compatibility with Google Assistant. Voice commands can be routed to the set through a microphone on the remote control, though to use this feature you must sign up for one of these services, something a few of us (me included) might decline to do.