Samsung QN65QN90A NEO QLED LCD Ultra HDTV Review Page 2
Samsung's non- backlit remote control is relatively simple, with a unique battery that can be recharged from either the light sensor on its backside or its USB-C connection. I found that the remote's flat buttons were easy to engage by accident: More than once, after a gentle graze, I was spun off to a place I didn't plan on visiting, such as a free Samsung TV Plus "channel" that seemed perpetually tuned to one of chef Gordon Ramsay's cooking shows.
Setup
Of the set's various picture modes, I chose Movie for HD/ SDR and Filmmaker for Ultra HD/HDR setup. But after completing my calibrations, I discovered that if you choose different picture modes for HDR and SDR on the same input, the set won't automatically change picture modes (along with their calibrated settings) when you switch from SDR to HDR and back. Instead, I had to switch modes manually, which was a nuisance. I recommend using the same picture mode on the Samsung for both SDR and HDR, with appropriate picture adjustments for each. (This might be an issue for gamers if they use the same disc console/ player—and thus the same input—for both games and movie discs/streaming.)
Both 2-point and 20-point white balance (grayscale) controls are provided in the Movie picture mode, but only 2-point in Filmmaker mode. The QN90A also has a color management system (CMS) adjustment menu labeled Color Space. Motion compensation is available under the Picture Clarity submenu, with separate Blur and Judder settings plus LED Clear Motion. The latter offers black frame insertion, which can smooth motion blur somewhat without the soap
opera effect common with other motion compensation controls, though with a reduction of brightness. Lastly, the Brightness control is what some sets call a Backlight control—that is, it adjusts the overall luminance level of the Mini-LED backlighting—while a separate Shadow Detail control adjusts the level of the dark range of the displayed image.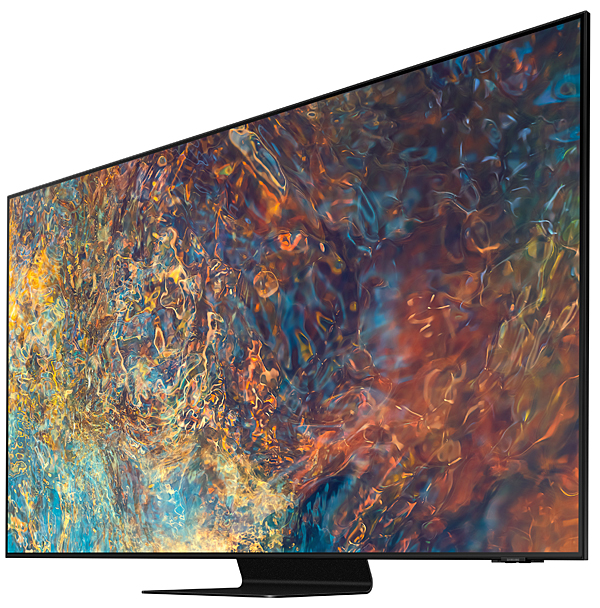 Ultra HD/HDR Performance
I used Ultra HD discs played on an Oppo UDP-203 player for most of my HDR viewing in this review. Image quality with these varied from impressive to spectacular on the Samsung. While the QN90A's absolute blacks weren't as deep as those you'd get with a good OLED TV, the overall level of HDR punch and contrast available was unequalled in my experience.
Harry Potter and the Deathly Hallows Part 2 is a go-to disc for deep blacks and shadow detail. From the deep, dark nighttime scenes of Hogwarts' spires surrounded by Dementors, to Voldemort and his minions perched on a rise as they prepare to attack, each shot revealed solid blacks and excellent shadow detail.
Both recent Jumanji releases (Welcome to the Jungle and The Next Level) looked so good on the Samsung that I watched both nearly all the way through. The Next Level especially was a revelation and more fun than a barrel of Marvel movies. Highlights in its nighttime village scenes were standouts, as were the bright desert shots early in the film.
A new 4K Indiana Jones movies disc collection I watched, particularly the first and third entries (Raiders of the Lost Ark and The Last Crusade), also looked stunning on the Samsung. My only reservation was that the skin tones on these discs came across looking a little sunburnt, but since none of the other discs I watched had this issue I can only assume that these were intentionally mastered that way.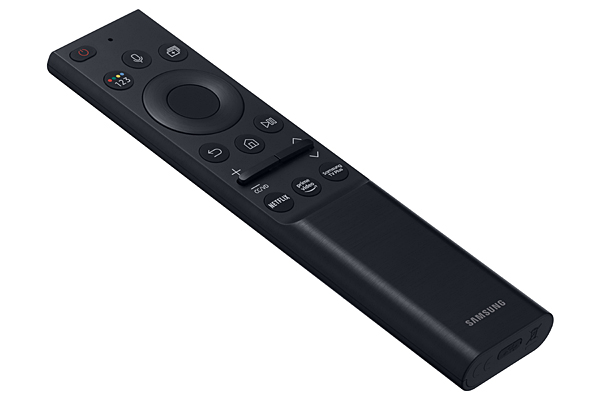 was never distracted by false contouring (an artifact that creates rough, visible gradations in flat patches of color) or screen uniformity issues (dirty screen effect) in any movie I watched in either HDR or SDR. Nor did I see any white clipping, something certainly helped along by the Samsung's high light output capability.
If the QN90A does have a weakness, it's blooming—an artifact that will appear around bright objects pitched against a black or very dark background. Blooming can also show up in the black bars of widescreen films when a bright object appears close to the edge of the active image area. This may bother some viewers accustomed to OLED TVs, but for me the QN90A's blooming proved only a rare distraction in the many hours I spent with the set and didn't come close to negating its positives. I also did most of my viewing in a fully darkened room, where blooming will be most visible (it's much harder to spot in normal room lighting).
The Samsung TV clearly looked punchier with most movies than any OLED model I've tested, but the one type of image where OLED beats any LCD set, including this one, is a dense starfield. Even with the Samsung's nearly 800 local dimming zones, it can't compete with a 4K OLED's 8 million pixels, each one self-emitting. I clearly missed that on the Samsung. But unless you live on a steady diet of sci-fi space operas, how often do starfields turn up in your viewing?
SD/SDR Performance
Jumanji: The Next Level looked almost as impressive in SDR on the Samsung but in a different way. While 4K/HDR delivered that format's bright highlights and richer color (though the latter benefit was subtle), SDR offered such a consistently bright, punchy image that I didn't feel the need for a return to the Ultra HD disc, though overall I preferred the latter.
The historical dramedy Victoria and Abdul on Blu-ray has a gorgeous transfer. From the brilliant colors in the banquet scene, particularly reds, to the natural skin tones and pure green foliage in outdoor shots, it ended up being complete eye-candy on the Samsung. Details were also crisply rendered, from the textures of costumes to the elaborate sets.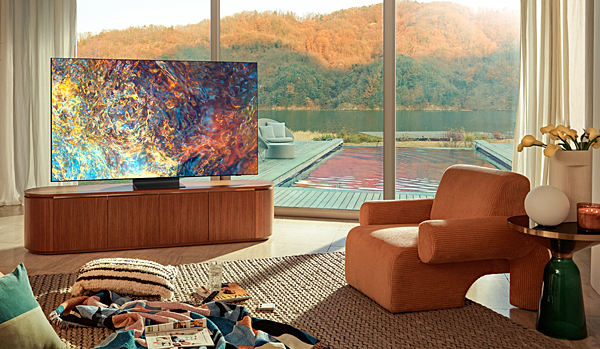 The QN90A's black levels for SDR viewing turned out to be slightly better than those for HDR. Shadow detail remained good, and blooming was also less noticeable than in HD—not a surprise since HDR's added punch typically brings with it greater challenges. I also watched a wide range of HD/ SDR programs from my collection of testing and sampler discs, and these all looked as good as or better on the QN90A as ever.
Conclusion
Some others have dubbed Samsung's QN65QN90A Neo QLED LCD Ultra HDTV as the perfect set for a bright room, better suited to that environment than any OLED model. Yes, the Samsung will look good in a bright room, whether screening a football game or the news. But it can also get down and dark for nighttime movie- watching, offering up solid blacks and plentiful shadow detail. No TV is perfect, but all things considered, I have yet to test an Ultra HDTV that offers better overall performance with a wide range of sources and viewing conditions than Samsung's QN90A.