Sony XBR-55HX950 3D LCD HDTV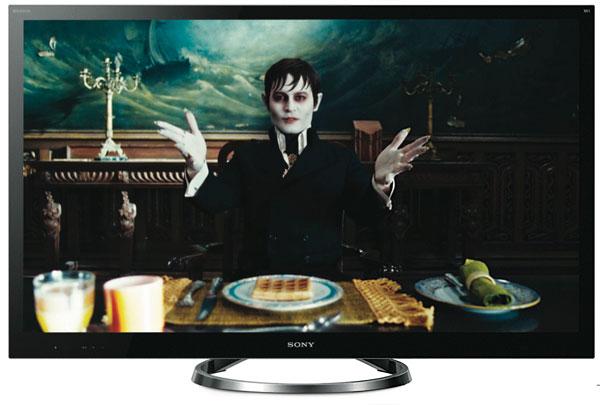 Price
: $3,500
At A Glance
: Plasma-quality blacks • Near flawless color • Bright, vivid 3D
All LCD HDTVs require some form of backlighting. The LCD panel's pixels modulate the light and provide filtered color, but without backlighting to shine through the panel, you'd have no picture. Recently, LEDs (light-emitting diodes) have replaced the fluorescent backlights used in older flat-screen LCD sets. LCDs aren't perfect in blocking light (which is why so many early models had poor black levels), but if you can shut off or dim the LEDs on demand, the LCDs' light-blocking chores become far more efficient. And LEDs can do this; they can be shut off and turned back on almost instantaneously in reaction to the signal coming in.
When this is done in zones to allow some portions of the image to remain bright while others are darkened, the technique is called "local dimming." Not all LED-lit LCD sets use it (it's expensive to implement), and some that do locate the LEDs at the edges behind the screen border, directing the light to the active screen area with optical diffusors. But the best LED local-dimming sets (and, unfortunately, the most expensive) position clusters of LEDs right behind the screen and modulate them on a dynamic, scene-by-scene basis to darken the dim areas of an image and leave brighter areas relatively untouched. Properly designed, full LED backlit local dimming can offer state-of-the-art black level and shadow detail.
In 2008, Sony was one of the first HDTV manufacturers to introduce high-performance, consumer-priced, LED-backlit, local-dimming LCD HDTVs. The company's new HX950 series is its latest line of full LED-backlit local-dimming sets and includes the 65-inch XBR-65HX950 ($5,500) and the subject of this review, the 55-inch XBR-55HX950.
Behind the Screen
The durable Corning Gorilla Glass that covers the front of the Sony's screen extends to the set's edges, framed by a thin aluminum band. The screen itself is very reflective, a characteristic common to most of today's HDTVs whether LCD or plasma. The stand offers a modest rotation angle.
There's a bewildering range of Picture modes, but which of these are available at any given time depends on the setting you choose in another menu: Scene Selection. I find this arrangement bizarre, but in the default Auto position of Scene Selection, the XBR-55HX950 offers just three Picture Modes: Custom, Vivid, and Standard. I used the Custom mode, with appropriate tweaking, for all of my tests and viewing.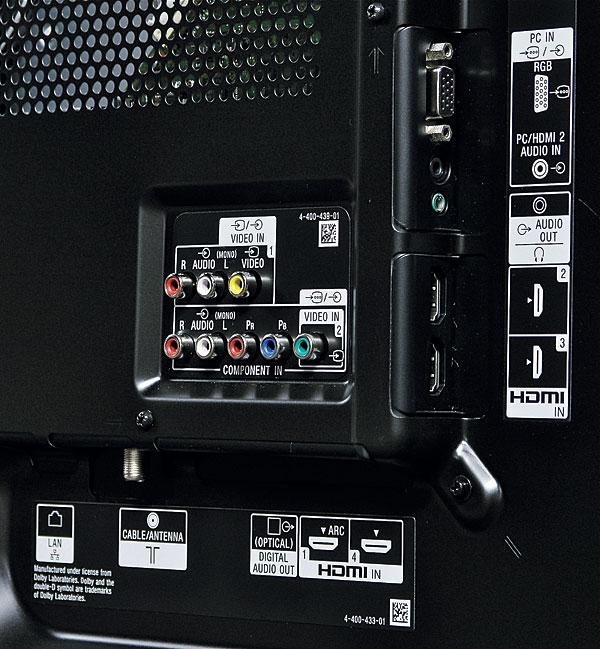 Apart from the standard picture controls, I primarily used the Color Temperature, CineMotion, White Balance, Gamma, and LED Dynamic Control (local dimming) adjustments. As for most of the set's other features—its bells and whistles—I tried most of them, then left them off.
Motionflow and Smooth Gradation fell in that latter category. They work together to provide varying degrees of motion smoothing, depending on their combined settings. If, like me, you hate the way frame interpolation makes your favorite films look like videotaped soap operas, you'll also leave both of these features off. One exception: I found that 3D sources at 24 frames per second produced a small but annoying flicker. Setting Motionflow to Standard elim- inated this. Smooth Gradation is locked out in 3D, though it's oddly accessible in the set's 2D-to-3D conversion mode.
The XBR-55HX950 operates at a native refresh rate of 240 hertz, but its video processing, which includes Backlight Blinking and Backlight Scanning, is claimed to provide performance equivalent to a set with a native performance of 960 Hz. With Motionflow and Smooth Gradation turned off, the Sony simply repeats each frame as required to match its 240-Hz refresh rate.
The Sony's White Balance controls have both high (Gain) and low (Bias) calibration adjustments for red, green, and blue. There is no color management system (CMS) for adjusting the color gamut, but our sample's gamut, with Live Color turned off, was satisfactorily close to the Rec. 709 HD standard.
I left the set's extensive 3D adjustments in their default settings for most of my 3D viewing. The transmitter that triggers the rechargeable, active 3D glasses is built into the set, but the glasses (model TDGBR750) are optional at $100 per pair; none come standard. They're light and comfortable, but if you also wear prescription glasses, it takes a little fiddling to keep the two frames from snagging—a common problem with 3D glasses. In addition, on the recommendation of a reader, we tried a pair of Sony's model CECH-ZEG1U active 3D glasses designed for use with Sony's PlayStation-branded gaming display. At press time, these were selling for $30 per pair on Amazon.com. While bulkier and less stylish, they're actually just as comfortable and a little less snaggleish (I think I just coined a word!) than the $100 design. Apart from that and price, they offer another significant advantage as well. More on that in the 3D section.
The set's onscreen menus are derived from Sony's long-established XMB (XrossMedia-Bar) layout. You can't jump directly to the bottom of a menu by going around the horn, however, so accessing controls located low in the menu hierarchy can be tedious. For example, it takes 32 button pushes to get from the open menu to the White Balance controls.