Sony XBR-55HX950 3D LCD HDTV Page 2
The backlit remote, despite some crowding, is reasonably intuitive. There's also a downloadable Media Remote app (not tested) that allows you to use your iPhone, Android phone, or compatible tablet to operate the set through your home network.
The XBR-55HX950 offers the usual flurry of Internet features. They can be accessed either direct-wired through the set's LAN port, or via its built-in Wi-Fi receiver. A Track ID and Music/Video Search feature can identify the music you hear in a program or provide additional information on the music or video program you're experiencing. The set is also Skype capable when used with your broadband Web service and Sony's optional Camera and Microphone Unit (CMU-BR100).
You can play back videos, photos, or music either directly from a USB storage device or from your home network. In addition, friends within wireless range can use the set's Wi-Fi Direct Mode to play their content on the set without having to go through your home network.
2D Performance
Even prior to a full calibration, the Sony's color was both remarkably vibrant and natural—matching the demands of any source point for point. The blacks were also dark and rich, the shadow detail impeccable, and the resolution crisp and clean. In short, the picture was hard to resist. Sony's PRO Picture Engine, a powerful two-chip solution, also provided impeccable video pro- cessing, and the set handily passed all of our benchmark video tests with the exception of some rolloff in the top burst horizontal chroma resolution that was on the borderline.

But a set this good, and this pricey, really screams out to be calibrated. An excellent gray-scale calibration took less than 90 minutes. No significant color gamut adjustments were possible since, as noted earlier, there is no color management system (CMS). But the Sony's color gamut was respectable even without this. All of the following 2D observations were made post calibration, with the LED Dynamic Control set to Standard.
I've said it before, ad nauseam, but the last three Harry Potter movies offer the most challenging tests I've yet found for black level and shadow detail. I watched Harry Potter and the Deathly Hallows: Part 2 nearly from beginning to end, and the Sony looked stunning throughout. Scenes that on lesser sets can turn into a distracting, "What's that?" muck become "wow" experiences. Chapter 12 begins with an extremely low-contrast scene, but Voldemort's minions stood out so clearly in the sheer mass of blacks and deep grays that I could almost count them. Dark scene after dark scene follows this one, and none of them failed to confirm this set's outstanding black level, shadow detail, and contrast.
The XBR-55HX950 excels in color and detail as well. Rango offers a relatively bland color palette for the most part, but here and there, and particularly as the story develops, a wide range of colors pops out against the otherwise drab desert backgrounds. When I first loaded the movie into our Oppo BDP-103 Blu-ray player, it looked very good but was a little soft for an HD transfer. That's because it wasn't HD at all; I had accidentally pulled the DVD from the two-disc set and was looking at 480i upscaled by the display! After I swapped it for the Blu-ray, the visible detail improved dramatically. Yes, the Sony was respectable enough on the DVD to suggest that you'll still be able to enjoy your standard-definition DVD library. But the HD transfer looked stunning. With its sparkling detail and color that can range from subtle to striking, the Sony can show off the best high-definition sources at their jaw- dropping best.
Only in its off-axis viewing quality does the Sony reveal a typical LCD limitation. The picture holds up reasonably well until you reach 25 to 30 degrees off center. Beyond that, the picture starts to fade progressively, beginning at the side of the screen farthest away from you.
Bright, Heads-Up 3D
As with other Sony 3D sets we've tested, Sony's standard active 3D glasses perform oddly when you tilt your head by even a few degrees. Instead of the image darkening in this situation, as it usually does on other sets that use active glasses, the Sony's left and right 3D images separate into 3D crosstalk (also known as ghosting). The color also shifts significantly—toward blue in one direction and red in the other. Because of these color shifts, and the difficulty of locating the 3D glasses over our color meter's lens and determining if it is precisely level with the set, I made no attempt to perform a 3D calibration on the XBR-55HX950. If the setup is even a few degrees off, the result could easily be worse than no calibration at all. As it turned out, the Sony's 3D color, even without calibration, was always pleasing and visually right (in the Warm 2 Color Temperature setting).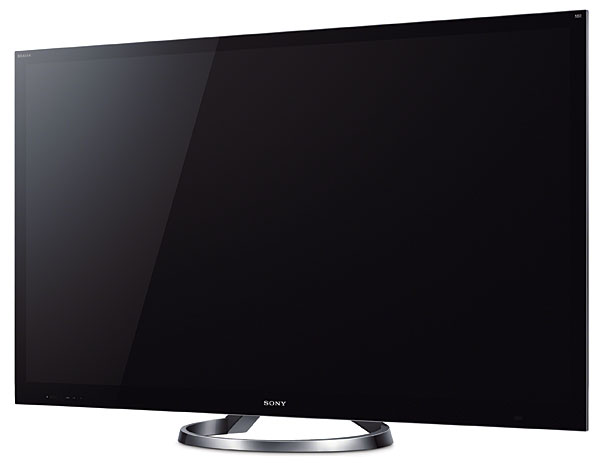 Shortly before deadline, we discovered the alternate version of Sony's 3D glasses mentioned earlier. And guess what? They completely eliminated the head-tilt 3D crosstalk and color shifts. Instead, the image simply dims slightly as you tilt your head—a characteristic of all active-glasses 3D sets we've tested. Unless you watch the set while lying on your side, this dimming isn't serious enough to be a concern, given the Sony's superb 3D brightness. The brightness through this second set of glasses was, by measurement, nearly identical to the first. The colors were shifted slightly, but if anything, they were a little richer and more saturated than before. It would now be possible, with the new glasses, for a good 3D calibration to be performed, but that was not done here due to deadline pressures.
Even with the head-tilt issue laid to rest, I still saw a trace of 3D crosstalk on some source mate- rial. But it was rare and never distracting, though judging by the strictest standards it was just enough to cost the 3D Performance a full five-star rating.
The Sony's 3D brightness was astonishing. At nearly 25 foot- lamberts in the default 3D Custom Picture Mode settings, it was comparable to the 3D brightness I experienced in last year's review of the 60-inch Sharp Elite (Home Theater, January 2012) and considerably brighter than any other 3D set we've yet tested. Those default settings include maximum on the Picture (Contrast) control. This resulted in a slight pink shift at the bright- est end of test patterns (but no white clipping). A small reduction in the Picture control eliminated this, but since it produced no visible impact on real program material, I stayed with the maximum setting.
Kung Fu Panda 2 is the most beautifully rendered computer-animated feature I've seen to date. On the XBR-55HX950, it was truly special, with none of the faded color typical of most 3D displays. The Sony's 3D here was sharp, bright, and vividly detailed. The film's few dark scenes—in Lord Shen's cannon foundry and the climactic night scenes in which Shen attempts to sail his fleet into open waters—were also flawless. Prometheus, on the other hand, is less overt in its 3D design, and its cinematography more monochrome. But even given this subtlety, it was just as impressive, thanks to the Sony's superb contrast, which salvaged details even in some of the darkest scenes.
On Despicable Me, I did see some minor and infrequent 3D ghosting (particularly in the titles), but the scenes in A Christmas Carol that have ghosted on other sets were ghost-free here (apart from the ghosts in the story!).
The set's 2D-to-3D conver- sion mode is modestly effective, though no more so than on other 3D HDTVs we've tested. But unlike most, the brightness penalty in using it on the Sony is minor.
Comparisons and Conclusions
In a side-by-side 2D comparison with a Panasonic TC-P65VT50 (Home Theater, October 2012) in a fully darkened room, and relative size aside (the Panasonic's screen is 10 inches larger), the two sets' performance was very close. I'd give a slight edge in black level and shadow detail to—surprise—the Sony, though the differences were small in that dark room. But when I turned on some over- head lighting, the Sony's visible contrast held up better than the Panasonic's. The black bars on less than full-screen sources were also darker on the Sony; on very bright scenes, the Sony's picture also popped slightly more. Plasma sets can't, in general, go as bright as LCDs, and particularly not when they're called on to produce a very bright full-screen image. The colors on the two sets varied slightly, but not enough to give the edge to either. The Sony was a bit sharper as is typical of LCDs, though its smaller screen likely helped here as well.
But the Panasonic had the clear edge in off-axis viewing quality—and also in value. While this 55-inch Sony is comparable in price to the Panasonic, Sony's 65-inch equivalent (the XBR-65HX950) will run you nearly $1,800 more than the Panasonic at list prices.
Any way you look at it, however, the Sony XBR-55HX950 is a striking performer. From the deepest, darkest scenes in 2D and 3D to its bright, vivid 3D, it's definitely among the best sets I've yet had the pleasure of testing.