Samsung UN75ES9000 3D LCD HDTV Page 2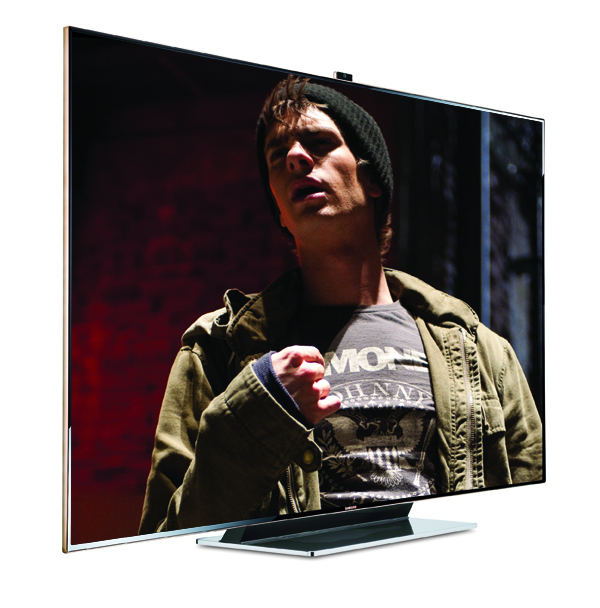 The Samsung's Smart LED feature is not completely effective in eliminating all brightness compression. Such compression dims bright areas of the picture when the image is predominantly black (it's also a factor on projectors that have dynamic irises). This was most visible on the Samsung with a dot test pattern. The white dots are surrounded by black, and the dots are so small that they were dimmed significantly. But the Samsung did reasonably well on star fields, the real-world material that most closely resembles such a pattern. The more stars, and the greater their average brightness, the less the compression.
There was also some minor black-level nonuniformity, with the sides of the screen slightly lighter than the center. But this was barely visible and was not the bright flashlight effect we've seen on sets with inferior edge lighting. With a full-field white test pattern, you will also spot minor variations in the white level, likely caused by the difficulty of producing perfectly diffused lighting over the entire screen from the LED edge lights, particularly on so large and thin a set. But neither of these issues was significant on real program material with Smart LED engaged.
Motion blur doesn't bother me on most modern LCD HDTVs, and it didn't here. Plasmas are better at this, but the gap is closing, even without using the Samsung's frame interpolation. The set's off-axis performance was also typical of most LCDs. Get much more than 25 degrees off axis, and the image clearly starts to lose contrast and snap, particularly on darker scenes. You'll want dibs on the center seat, but at a normal viewing distance, viewers on either end of a three-seat sofa are unlikely to complain.
None of these petty shortcomings, however, is significant when matched against the Samsung's bright, punchy picture, near reference-level measured (and visually arresting) blacks, and crisp detail. 2D material was irresistible. Viewing this 75-inch Samsung, properly calibrated and from about 8 to 10 feet away, was a totally immersive and compelling experience. I found myself consistently spending more time with the sources I watched, reluctant to pull myself away.
But beware of bad demos—the set comes out of the box in Dynamic mode, which looks truly horrendous to anyone familiar with a properly calibrated display. The UN75ES9000 deserves a careful setup, with a full calibration, to perform at its best. Given its price, anything less would be shortsighted.
3D to Die For
With a peak measured 3D brightness of 19 foot-lamberts (no typo there, that is nineteen), together with superb post-calibration 3D color, excellent blacks, and crisp detail, the UN75ES9000 produced the best 3D I've yet seen anywhere, either from a home display or (apart from sheer screen size) in a commercial theater—challenged (but not bettered) only by a good, two-projector IMAX presentation. This was one of the few HDTVs I've tested that didn't make me anxious to compare a 3D movie to the same film in 2D. And those other 3D brightness champs were 55 and 60 inches, respectively. Size matters, particularly in 3D.

Yes, we've seen bright images from 3D sets that use passive glasses, but never with this degree of satisfying brightness and detail. Avatar, one of my go-to 3D discs, looked amazing—from the brightest scenes to the dark forest scenes on Pandora. Despicable Me was truly spectacular. In neither was there the degree of faded color typical of dimmer 3D presentations. Details often lost in the murk with most 3D sets popped out brilliantly on the Samsung.
Yes, there was a trace of 3D ghosting here and there (most often with titles), and the 3D optimization settings did not consistently remove it. But it was never a significant distraction. My acid-test discs for this artifact are Despicable Me, which showed some occasional but minor and fleeting ghosting on the Samsung, and A Christmas Carol, which had little or none. 3D ghosting appeared to be dependent as much on the source as on the set. But I saw nothing to suggest that ghosting on the Samsung is anything close to a deal-breaker.
Conclusions
The best plasmas can provide slightly better real-world blacks and better off-center viewing than the Samsung. But what Samsung offers here is one of the five best flat-screen HDTVs I've yet tested. In no particular order (apart from the Pioneer Elite), the others are the Pioneer Elite PRO-141FD (60-inch plasma, no longer available and not 3D capable); the Panasonic TC-P65VT50 (65-inch plasma, exceptional 2D but the dimmest 3D of the group); the Sharp Elite PRO-60X5FD (60-inch LCD with full LED backlighting, continued availability unknown—the Sharp Elites were a no-show at the 2013 CES); and the Sony XBR-55HX950 (55-inch LCD with full LED backlighting). The latter two are also notable for their bright 3D. And while I've only compared the Samsung side by side with the Panasonic, I've experienced all of the others (apart from the Sharp Elite) in the past year—and have lived with the Pioneer for four years as my personal television.
The Samsung is obviously the most expensive of those sets, though also the largest by a substantial margin. While the Samsung will still be available as you read this, judging from what we saw at CES, it's conceivable that further improvements will turn up in the models that may soon replace it, including an upcoming 75-incher in the 8000 Series.
But if cost is not a limitation, and if a truly big screen with exceptional performance in both 2D and 3D are important considerations, you must check out the Samsung UN75ES9000.
LATEST VIDEO