Best Speakers of 2020 (So Far) Page 3
Stereo Speakers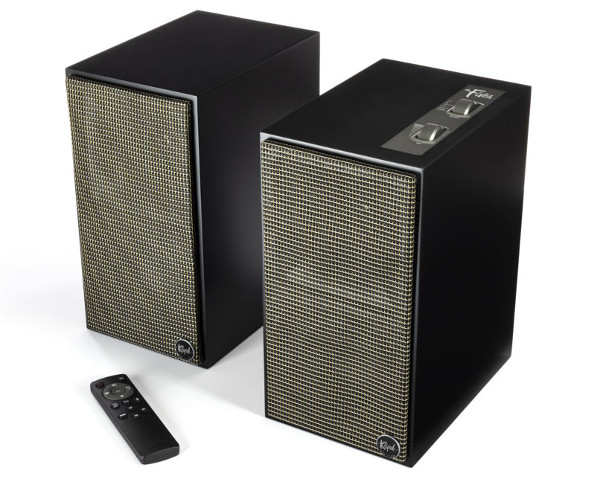 Klipsch The Fives Powered Speaker System: $799
If you had to pick one word to describe The Fives, it would be "versatile." These foot-tall speakers are equipped with a generous helping of onboard power and just about any type of connection you could want — including phono inputs, an audio return channel (ARC)-enabled HDMI port (great for TV hookups), and Bluetooth streaming to name three of the seven options. In other words, The Fives will accommodate a variety of setups without you having to worry about hunting down an outboard amp or receiver. More to the point, they play loud and will light up a good sized room with rich detailed sound and surprisingly robust bass. Here's how I described their sound in the review: "Johnny Depp's expressive vocals on [the John Lennon song] "Isolation," backed by Jeff Beck's haunting slide guitar, was a standout on Tidal. The Fives were particularly adept at revealing the gentle vibrato of Depp's voice, while conveying the gritty yet fluid character of Beck's guitar." If you're looking for a good sounding, versatile speaker system, start here.
AT A GLANCE
Plus
Versatile
Easy to set up
Solid construction
Good sound with powerful bass
Minus
No tone controls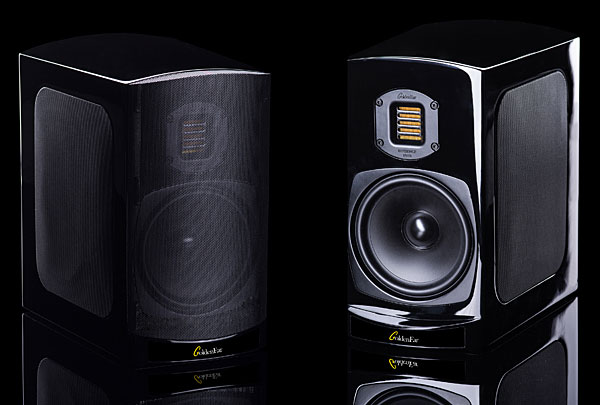 GoldenEar Technology BRX Bookshelf Speakers: $1,600/pair
When you think GoldenEar, you invariably think tower speakers, which is why the BRX bookshelf was one of the great surprises of early 2020. The speaker borrows key elements and design traits from the award-winning Triton series and puts them to work on a small scale. The company's signature folded-ribbon tweeter is paired with the same 6-inch woofer used in the flagship
Triton Reference
and two 6.5-inch passive radiators (one on either side) in a sturdy yet stylish enclosure that stands only a foot tall. The BRX is voiced to match its Triton brethren and delivers surprisingly powerful bass for a speaker of its size. Reviewer Al Griffin was won over by its natural tonal balance and detailed, dynamic sound — traits that invite extended listening.
AT A GLANCE
Plus
Detailed, dynamic sound
Powerful bass for a bookshelf speaker
Compact form factor
Minus
Requires careful setup and placement for best performance
Soundbars and All-In-One Speaker Systems
Andover Spinbase Turntable Speaker System: $299
The Spinbase is a unique all-in-one powered speaker that doubles as a turntable platform. You might think of it as a music-focused soundbar that replaces the added complexity of (and space consumed by) two speakers with a single box that actually sounds good — a clever alternative to a component-based, entry-level system. We know what you're thinking: Isn't the top of a speaker the last place you should put a turntable? Absolutely, which is what makes this bar so amazing. Andover employs a remarkable technology it calls IsoGroove Feedback Elimination to ensure the top surface is well-damped and free of vibration. Longtime audiophile Michael Trei was astonished by the speaker's ability to deliver open, room-filling sound without any obvious sonic downsides. "I'm not sure what DSP tricks are being used, but the image was expansive without sounding unfocused or out-of-phase." Adding to its appeal, the Spinbase supports Bluetooth streaming and is dead simple to set up and use.
AT A GLANCE
Plus
Very good performance
Exceptional ease of use
Accommodates typical turntables
Minus
No remote control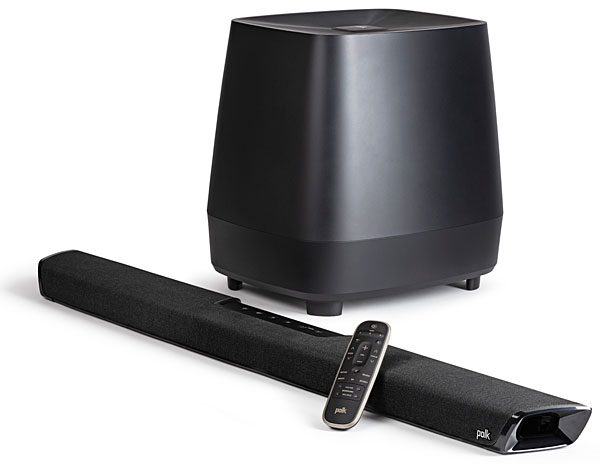 Polk Audio MagniFi 2 Soundbar: $499
Polk engineers made headlines last year when they re-introduced a refined version of the patented SDA (Stereo Dimensional Array) technology Matthew Polk developed 40 years ago in the $6,000/pair
Legend L800 speakers
. That image enhancing technology has just landed in the brand's latest soundbar system, the MagniFi 2, and it does a phenomenal job of expanding the soundstage, especially when used in conjunction with Polk's 3D Mode, which enhances Dolby and DTS soundtracks by adding virtual height and surround effects. As reviewer Leslie Shapiro put it, "The result is not as realistic as what you'd get from a system with dedicated surround and overhead speakers, but it's still impressive." The convenience of having Google's Chromecast platform onboard further bolsters the soundbar by enabling wireless music streaming from Amazon Music HD, Spotify, Tidal, and Qobuz. Soundbars are commonly criticized for not being able to project sound much beyond the edges of the bar itself but the MagniFi 2 delivers a convincing immersive experience.
AT A GLANCE
Plus
Immersive 3D audio mode
Chromecast-built in plus Bluetooth
Stylish, wireless subwoofer
Minus
Imaging can be vague with stereo music
Remote control hard to read
Sonos Arc Soundbar: $799
Is it possible to experience "immersive sound" with a compelling sense of height from a long, slender soundbar? Heck yeah. Sonos accomplishes the trick using 11 drivers strategically placed in a 45-inch Dolby Atmos-enabled TV speaker it calls the Arc. "Height information present in a 5.1.2 Atmos signal was impressively anchored on the ceiling about a third of the way back toward my seating...precisely where it should be," wrote reviewer Rob Sabin, who characterized the bar's overall sound as "exceptionally smooth in the midrange right on up through the highs." In other words, the Arc is a capable performer with music and movies. For a more intense theater experience, you can add a pair of Sonos One SL speakers ($179 each) and boost bass with the stand-alone Sub ($699), as Sabin did with impressive results. But, as he noted, "I'm betting you'll love Arc even without the surrounds." Factor in Sonos' excellent multiroom music platform and the ability to control the system from your smartphone — with voice commands — and you have a soundbar that stands out among all others.
AT A GLANCE
Plus
Outstanding music and movie sound
Impressive rendering of height information
Solid bass for a standalone soundbar
Easy setup
Minus
May require latest eARC HDMI connection for Atmos
No DTS decoding