Best Speakers of 2020 (So Far) Page 4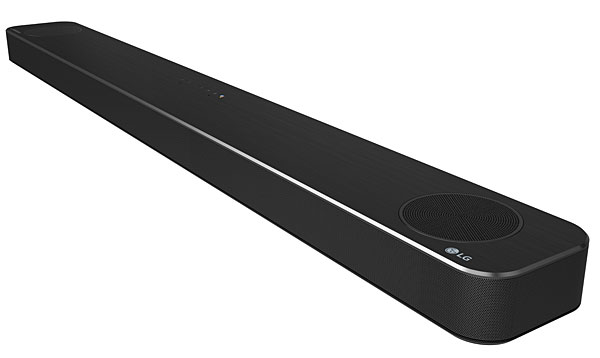 LG SN8YG 3.1.2 Atmos Soundbar, $800
LG has once again drawn on its partnership with Meridian Technologies, putting the U.K. firm's audio prowess to work in its latest upscale soundbar, a super-sleek follow-up to last year's Top Pick-designated
SL8YG
. Like its predecessor, the SN8YG is a two-piece Dolby Atmos-enabled system with up-firing drivers and a standalone subwoofer that brings a handful of new features into the fold: an HDMI output with eARC (enhanced audio return control) for routing uncompressed hi-res and Atmos soundtracks from your TV to the soundbar and two forms of AI (artificial intelligence)-based processing — one that automates room calibration and one that automatically adjusts sound for specific content. Watching
1917
on 4K Blu-ray, reviewer Al Griffin was impressed with the soundbar's overall sound quality, particularly its ability to handle special effects: "When a pair of biplanes flew overhead, the bar did an impressive job of rendering the soundtrack's vertical dimension." If you're looking for a quick and easy way to jump into the Atmos game, the SN8YG deserves a listen.
AT A GLANCE
Plus
Good sound quality with movies and music
AI-driven automated room calibration
HDMI eARC connectivity
Chromecast built-in and Google Assistant
Minus
Could use an extra HDMI input
JBL Bar 9.1 Soundbar: $999
Designers at the legendary JBL brand have come up with an ingenious way to achieve a truly immersive Dolby Atmos/DTS:X surround sound experience with the new Bar 9.1 system: In addition to the de rigueur wireless subwoofer, they put upfiring drivers in the soundbar and — here's where it gets interesting — included a pair of
battery-powered
rear surround speakers to dramatically expand the sound field. Having compact surrounds that will play for up to 10 hours when fully charged is a game changer. Even better, charging is a simple matter of docking the speakers to the main soundbar where they attach magnetically (and remain operational). Reviewer and former sound designer Leslie Shapiro was impressed with how well the system handled the Atmos soundtrack of the animated short film
Dolby Presents: Escape
. "With its dedicated wireless rear surrounds, upfiring speakers…and powerful 10-inch subwoofer, the Bar 9.1 system is like a home-theater-in-a-box on steroids. When it comes to getting realistic, immersive audio from a soundbar priced at under a grand, it can't be beat."
AT A GLANCE
Plus
Rechargeable, fully wireless surrounds
Upfiring speakers for overhead effects
Easy to use auto-calibration
HDMI with eARC and Dolby Vision pass-through
Minus
Smart Mode processing difficult to switch on/off
DALI Katch One Soundbar: $999
From Denmark's DALI comes a simple, décor-friendly soundbar that will blow away the sound produced by the tiny speakers built into today's skinny TVs. In addition to delivering robust stereo sound, the bar is stylish and accommodates any hookup scenario, including those requiring an optical digital connection or HDMI with ARC (audio return channel). The Katch One doesn't deliver a true surround sound experience (what soundbar can?) but it does provide a Wide mode that in the words of reviewer Leslie Shapiro produces a "luxurious soundstage" with imaging that extends well beyond the edges of the soundbar.
AT A GLANCE
Plus
Very good dialogue intelligibility
Wide stereo imaging
Multiple color options
Minus
Lacks front indicator lights
Pricey
Savant Smart Audio WiSA Soundbar System: $3,000
Savant's Smart Audio Wireless Soundbar system is endowed with capabilities that go far beyond your everyday soundbar. In addition to delivering audiophile sound quality with movies and music, the system can be controlled via a smartphone app and doubles as a gateway to the company's respected home automation platform, enabling centralized control over a multitude of smart devices and even a wholehouse audio setup. More to the point, the system incorporates audio technology developed by Cary Christie, co-founder of the legendary speaker brand Infinity Systems, and employs the high-resolution WiSA (Wireless Speaker & Audio) protocol to link Savant's wall-mountable Soundbar 55 with WiSA Surround Speakers and the super-compact WiSA Nano Subwoofer without you having to run signal wires between them (a power cord is required for each speaker). Characterizing music playback (without the surrounds) as "effortlessly smooth," reviewer Rob Sabin described what he heard while watching
Mission Impossible: Ghost Protocol
"as immersive and natural as I've ever heard it (short of full Dolby Atmos rendering)" with an impactful bottom end courtesy of the physics-defying Nano.
AT A GLANCE
Plus
Superb sonics
WiSA wireless connection for surrounds and sub
Integrated Savant automation platform
Control via app or optional touchscreen remote
Minus
No Dolby Pro Logic or other stereo surround mode
No HDMI-ARC connectivity
No processing for lossless surround formats
To browse all Sound & Vision-recommended AV gear, broken out by category, visit our Top Picks page.