Apple HomePod Wireless Smart Speaker Review Page 2
Once the HomePod is set up, you can use the Home app to tailor its use. For example, you can choose to deactivate the swirling Siri display mentioned earlier; deactivate the "touch and hold" function that brings up Siri with a lingering finger on the touchpanel or toggle on-off the sound effect that accompanies her arrival; or change her accent or turn her into a he by requesting a male assistant. Critically, you can also toggle Siri on and off here for those moments when you want assurance that the speaker won't come alive and start listening upon hearing its wakeup call. You can also turn Siri off temporarily just by saying "Hey, Siri, stop listening." You reactivate voice control with the Home app or by manually tapping the center of the display and saying, "Hey, Siri, start listening."
The Home app is also where you can introduce HomeKit smarthome accessories, which are now offered by about 40 manufacturers and include lighting and smart power outlets, motorized shades, thermostats, locks, various environmental sensors, and security and baby cameras (among others). Till now, these required an iOS device to operate, but HomePod allows you to initiate device control or recall stored scenes via Siri. Setting up devices and automation is fairly straightforward. When you introduce a new device to your network, its packaging includes a printed Home-Kit ID code that the Home app recognizes and imports with your iOS device's camera. It then automatically adds it to the network. From there, you can name it, manually adjust it within the app, or use the app to set up scenes that automatically adjust one or more devices when the scenes are activated by the app or Siri. You can also set up "if-then" automation sequences for your devices or scenes based on time of day or activation by a networked sensor you've added.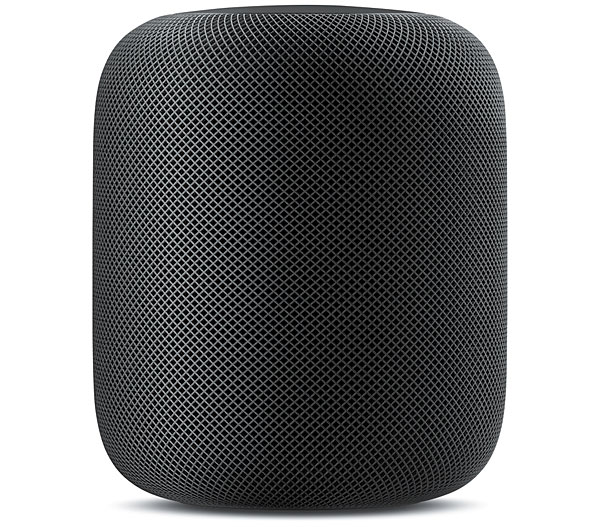 Apple sent along a Connect-Sense dual smart outlet ($60) and Lifx Mini smart bulb ($50) with the speaker for me to try out. This worked out well—my home office is lit by three individual lamps at the three points of my L-shaped desk. Automating them required setting up two scenes, one called "Office On" to activate the lights and then "Office Off" to extinguish them. From that point on, each morning I just told the HomePod "Hey, Siri, office on" to light the place up and the counterpoint to shut down when I left the room. I also set up an automation sequence to turn the Lifx bulb to 50 percent brightness and change its color to red at 1 p.m. each day to remind me to get up and take some lunch.
Listening
I first used the HomePod casually on my desk for a while, before moving it out into my studio for some formal listening. It was auditioned from a distance of about 8 feet on a 36inch-tall speaker stand that put it at just about ear height. My studio is a pretty wide-open finished basement room (about 20 x 25 feet with short 6'3" ceilings; it's an old house). The only real boundary near the speaker was my acoustically reflective plasma TV screen positioned about a foot rearward. For test material, I streamed CD-quality tracks from Tidal using an AirPlay wireless link originated by my Mac laptop or my iPhone 6S. The same titles played from Apple Music straight into the HomePod sounded fine, but noticeably inferior to my audiophile ear.
I also did direct A/B comparisons with some of the better desktop speakers of similar size, including the Sonos One ($199), the Bluesound Pulse Flex ($299), and the Riva Arena ($249). The Riva is AirPlay compliant, but for the first two I tapped into Tidal to play the same music via those speakers' native apps. Only the Sonos One is a smart speaker (Alexa), but the Pulse Flex features Alexa control via another Alexa-compatible smart speaker on the network; ditto for the Chromecast-friendly Arena but with Google Assistant. I was less concerned with testing the HomePod against other smart speakers than seeing how it fared sonically against my preferred desktop references.
And I must say, the HomePod showed them up pretty fiercely. It proved to have its own distinct voicing against the other three, all of which I'd describe as having relatively neutral balance down to where their woofers start to roll off. They sound more similar than different from a frequency balance perspective. But the HomePod is another animal entirely. If the HomePod has a dominant distinguishing characteristic, it is unquestionably its bass, which is nothing short of remarkable for such a small speaker: notably articulate, controlled, and almost shockingly deep in a way that I've just not heard from anything near its size. I ran some bass test tones, and in my space the SPL meter indicated surprisingly consistent output from 80 hertz right down to 50 Hz; from there, it dropped off quickly and was down 10 decibels by 40 Hz. Apple rates the speaker to 40 Hz (though with no ± decibels spec provided), and I presume closer boundaries and more room gain would have filled in a bit more bottom. But the utter lack of boom or distortion and the profound detail in the bass notes really made me sit up and notice.
What was there, depth-wise, was more than enough to make the other speakers sound embarrassingly lean. Critically, the low-frequency reproduction (perhaps aided by some modest upper bass contouring) seemed to affect the speaker well up into the midrange, where it gave extra body to instruments and vocals and added weight and warmth the others didn't share. The HomePod's top end at first seemed a bit reticent against the other speakers, but I was able to hear well into the details of cymbal shimmer and brushed snare, and came to understand that I was hearing a better blend of the full spectrum that allowed the high frequencies their place without commanding undue attention. The overall effect was an incredibly smooth-sounding speaker with an impactful and undistorted bottom end, silky mids, and finely detailed highs. In short, audiophile quality in any reasonable sense of the word.
If I had any complaint at all, it was that, at least in my room at that 8-foot distance, the HomePod delivered less overall maximum volume than the other speakers, something likely related to a combination of engineering decisions. First, the HomePod's limiting circuitry as engineered by Apple is designed to ensure that the speaker never, ever distorts; keeping that deeper bass reproduction under control likely means scaling back overall output after a point. And despite the number of tweeters utilized, multiple high-frequency drivers ganged like this in a steerable array are known to contribute little more than a single tweeter's effective maximum output. The HomePod is also said to employ Fletcher-Munson loudness compensation, which aims to keep the perceived frequency balance steady no matter the volume played. I measured a max cruising volume of about 70 to 75 dB on most streamed tracks with peaks hitting 85 dB, give or take a few. That was still plenty loud coming from any small speaker, and I rarely felt I wanted more. The other speakers clearly had more output capability, though.

"Moten Swing" is the opening track on Count Basie & His Atomic Band, Complete Live at the Crescendo 1958, and it starts out with applause and piano played at low volume over the audience chatter and the dining room's glass and flatware clinks. The stand-up bass and tapped high-hat join, then, at about a minute in, you get a loud and unexpected horn blast that portends the rockin' jam that eventually builds as the woodwinds and more brass add to the mix. From the first moment, I could tell the HomePod was special. Despite being a mono speaker, its beam-forming array nicely threw the ambient crowd noise out the rear to create a backdrop from which the music emerged. The string bass line was beautifully textured, and there was a nice metallic rattle coming off the high-hat and discernible decay from tapped cymbal. Best of all were the reproduction of the horns and woodwinds, which were delivered with tremendous dynamic impact and well-defined leading edges on the notes. Critically, the HomePod gave the brass a liquidity and warmth—there's that word again—that made them more dimensional and deliciously palatable to the ear.

The Sonos One on this track sounded very good and also quite natural down to its low-end limit, even throwing a bit of spread on the crowd noise, but it was easy to hear how the bass line was less discernible and pronounced, and in direct comparison with the HomePod, I came to hear both the initial horn blast and all that followed grow a bit threadbare and edgy. The Bluesound Flex, though usually outstanding on most music, was overwhelmed dynamically by the uncompressed horn blast near the top of the track and offered less dimensionality generally on piano notes and the brass and woodwinds. The Riva Arena, with its Trillium stereo technology (which uses drivers on three sides to create a semblance of a stereo pair), threw a noticeably more dimensional image than the HomePod. And it delivered the opening horn blast with a more visceral dynamic peak that clearly exposed the HomePod's limiting at work. But even this speaker, which also delivers good bass for its size, was totally outmatched at the bottom by the HomePod. It, too, made the horns sound less smooth and weighty, and more edgy, by comparison.

I could go on at length with how the HomePod delivered similar revelations track after track. The deep opening bass drum thwacks that open John Mayer's "Gravity" had not only more texture and noticeable decay than I've heard on these other speakers, but on the HomePod delivered more visceral weight and dynamic impact; the HomePod's smooth midrange, meanwhile, made Mayer's giant vocal more solid and emotive. Massed strings in orchestral recordings were delivered with a soothing lushness and texture that was more reminiscent of the real thing compared with the other speakers, again perhaps due to the richness of the lower register.
Similarly, Kehlani's sparse ballad "Honey," a recent go-to reference track thanks to the finely recorded near-a cappella arrangement (guitar and voice) and the syrupy purity of the artist's voice, was just magical on the HomePod; noticeably more full-sounding and embodied than the other small speakers in the mix and with a huskier and more natural voice. The difference between the HomePod and the others was even more noticeable on the title track of Livingston Taylor's 1973 album, Somewhere Over the Rainbow. James's less famous brother had an equally mellifluous tenor in his youth, and the closely miked vocal from this cover delivered a clear win for the HomePod, it being the only of the four speakers to render it with its warm chestiness and nasality intact. And when the organ break and its bass line kicks in, the other speakers sounded almost one-notey compared with the detailed depth and note delineation coming from the HomePod.

If you haven't already gotten the message from all this, here's the takeaway: The Apple HomePod is, hands-down, the best-sounding speaker of its size I've ever heard, and, note-for-note, an absolute pleasure to listen to every moment it's on. It is, indeed, a remarkable sonic achievement.

Speaker Smarts
As good as it sounds for its class, the HomePod has gotten pretty well hammered in the press for its lack of speaker smarts and general flexibility. Putting aside the aforementioned privacy issue with activating Personal Requests, the biggest limitation by far is Siri's incompatibility with music services beyond Apple Music. And it goes beyond Apple's desire for exclusivity with their service (which Amazon, by the way, does not require with Alexa-enabled speakers). Apple music has no free service tier, thereby forcing buyers to be tethered to a $10/month subscription to simply enable a smart speaker's most-used feature. And although Apple Music is a good-sounding service, based on my experience AirPlaying Tidal tracks to the speaker (admittedly from an even more expensive subscription), I can say that Apple Music noticeably fails to deliver all the sound quality inherent in the HomePod.

Beyond this, the HomePod—trapped as it is in Apple's ecosystem—doesn't have the incredibly rich and growing laundry-list of third-party devices and skills that Amazon can claim and Google seeks now to emulate. Unlike with Steve Jobs's early vision of having outside developers build apps for the first iPhones and allowing that ever-expanding feature set to drive the product to ubiquity, there's no similar infrastructure here for Siri beyond that for HomeKit automation. That could really hurt it in the long run, which would be a shame given what a fine audio product it is.

However, if you're not yet steeped in Amazon's Echo world and haven't become a smart speaker techno-snob, you may just find that HomePod does pretty much everything you need a smart speaker to do reasonably well enough (if not with excellence), while delivering the best damn sound you've ever heard from a compact speaker during the 99 percent of the time you're just listening to music and not asking it to tell you the temperature, recite news headlines, or give you the Cowboys-Giants score. Although Siri doesn't share the more advanced artificial intelligence of Google Assistant or Alexa or the ability to fire up your Roomba by voice, it still does the basics, offering up weather, traffic, tips on local restaurants, sports scores, podcasts, stock quotes, and general questions about whatever. In other words, the same stuff you can do with Siri on your phone.

As for automation, HomeKit is a more limited platform than Alexa but still offers enough add-on devices and sophistication to do what most people want. And I found it extremely simple to set up and use.

Conclusion
In the end, Apple's HomePod proved itself—to me, anyway—to be the shining triumph of audio engineering the company portends it to be. Assuming you're an iOS user to start with, your opinion of this speaker will come down to your priorities and where you are on the smart speaker adoption curve. If you're already deep into Alexa and Google territory in your home, with one or multiple speakers, you may be used to certain features (Audible, anyone?) or music services that simply aren't available on the HomePod. You're not likely to swap these out for HomePods no matter how good they sound.

On the other hand, if you're just dipping your toe into smart speakers and aren't put off by the monthly commitment to Apple music, you need to ask yourself what you really plan to use your smart speaker for. Are you buying one to get a rise out of your window shades? Or a lift from your music? Although I appreciate a lot of what Alexa and Google Assistant can do and the advancement of those platforms, I fall into the category of people who put the music first. How about this approach: If what you're looking for is a great lifestyle speaker, skip the whole smart thing altogether and just buy a HomePod to use as an AirPlay wireless speaker. If you never even ask it the time of day, it's still worth every penny of its $349 price. And then some.