10 Top Concert Blu-ray Discs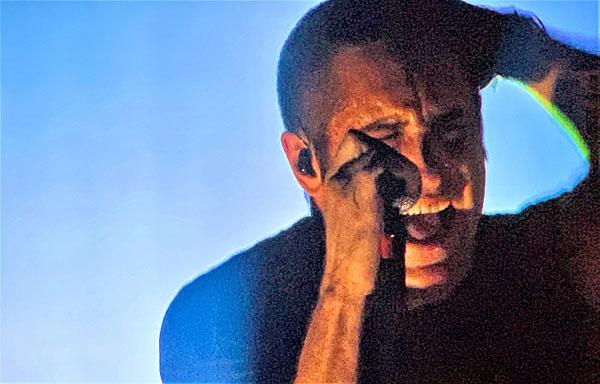 One thing our ongoing pandemic lockdown continues to remind many of us music lovers of on a daily basis is just how much we all miss attending live concert events. As of March 10, when I saw Dave Mason celebrate the 50th anniversary of his now even more ironically titled July 1970 album
Alone Together
during his
Feelin' Alright
Tour at the Riviera Theatre in Buffalo, NY, I had already seen 11 concerts in various parts of the U.S. and Canada in 2020, with many, many more shows penciled in on my currently in-limbo concertgoing calendar. It's now been over two full months since I've gone to a live show (or been to practically any physical location outside of my own house, really), and who knows exactly when I—or
ANY
of us, for that matter—will get back to enjoying this kind of communal activity at a regular clip.
In the interim, it has admittedly been fun, interesting, and more often than not fairly rewarding to see how performers from all levels of success have been reinventing themselves via live streams from their home studios, living rooms, makeshift bunkers, and/or front porches. That said, it's still not quite the same as being right there with them in a club, theater, and/or arena and reacting to what you get to see and hear from the stage in the moment it's literally happening. (Let's not go down the rabbithole re: the varying degrees of live-streaming sound quality, at least for the time being.)
Since it's likely most, if not all of our "normal" concertgoing experiences won't be returning in full force anytime soon—though I am encouraged to see, as the country begins opening up ever-so-cautiously, artists getting more creative by way of socially distanced "drive-in" performance options and the like—cueing up a concert Blu-ray is, technically speaking, the next best thing to being there.
To that end, I've chosen 10 top-tier concert Blu-rays to evaluate here for your collective viewing and listening pleasure. Note that this is not THE be-all and end-all Top 10 of all-time concert BD list, mind you—otherwise, every choice would be, well, way too obvious (though I am certainly open to recommending some of those perennials and personal favorites here in the future, if you'd like me to). Instead, I'm hoping you may not have seen all of the entries on this list already so that you're able to enjoy a fresh concert experience through them. My intent here is for you to undergo that unabashed visceral reaction that many of us can't help but experience while attending something we haven't seen, heard, or felt before.
Each of these particular Blu-rays offers the best of what the live concertgoing experience has to offer—engrossing artistic performances matched with visually stunning stage presentations, intriguing set designs, and dramatic lighting—and, of course, wholly engaging live surround mixes that are sometimes better than what can be heard in the actual performance space itself, considering we often are unable to sit and/or stand in any given room's sweet spot for every show we attend.
The order of BD review presentation that follows is more akin to a setlist that unfolds with its own particular ebb and flow—albeit one with a cumulative 22.5 hours all-in, sans the extras, so consider it more like a finely cultivated festival event rather than a one-off show. At any rate, happy viewing/listening!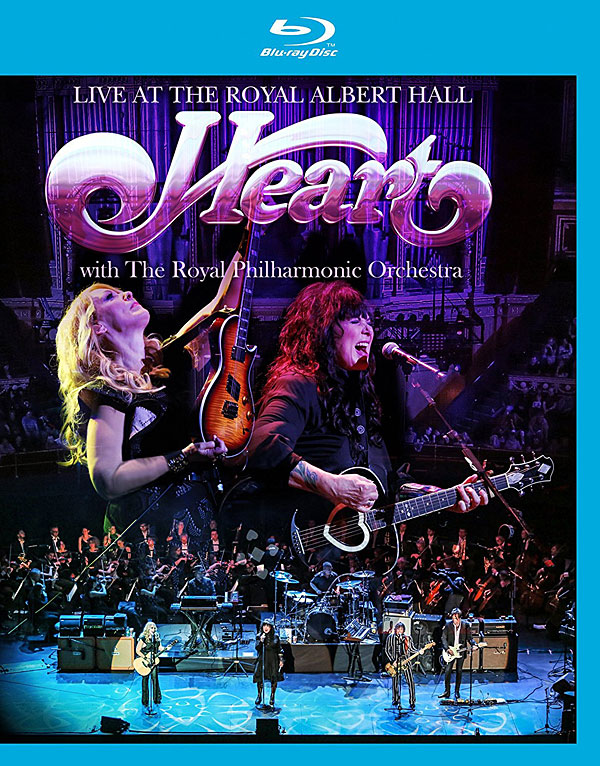 Heart: Live At The Royal Albert Hall With The Royal Philharmonic Orchestra
(Eagle Vision/UMG, 2016. DTS-HD Master Audio 5.1. 1.78:1. 85 mins.)
Heart lead singer Ann Wilson just may have THEmost versatile, most agile, and best-preserved voice of the rock era. She's in full command of her range as she fronts both a five-piece band and a 60-piece orchestra during this captivating June 2016 performance at one of London's most storied venues. The slow-build sensation of "Alone" marries Ann's instinctual penchant for drama—i.e. her knowing EXACTLY when to unleash those big payoff notes. If you're not fully verklempt at the exact moment she delivers the full weight of the line, "and now it chills me to the bone," then you could probably star in a Dexter reboot on Showtime. Guitarist/sister Nancy Wilson is no vocal slouch either, adding a tender counterpoint with her harmony vocals and when she sings lead on "Two" and "These Dreams." Meanwhile, the Royal Philharmonic Orchestra, as conducted by Nick Davies, uplifts "Heaven" into a Middle Eastern surround-reverie kissing-cousin to Led Zeppelin's "Kashmir," accented beautifully by Ann's flute solo. And if you want some full-bore rock crunch to go with your more orchestral leanings, "Beautiful Broken" and "Barracuda" chug and burn with the best of them. Director James Russell zeros in on all the right close-ups—the veins on Nancy's hard-strumming right hand, the reflective finish on many gorgeous century-old violins—amidst the grander, full-venue shots. Plus, the acoustics are so good in this celebrated London venue that RAH—short for Royal Albert Hall, of course—should become a designated receiver surround setting all on its own. (See other RAH-recorded live BDs from the likes of Cream, Steven Wilson, Adele, et al., for further examples why.) Veering seamlessly from tender to tough at the literal flick of a guitar-body switch, this BD handily proves that, well, you just gotta have Heart.
Extras: Almost a quarter-hour of behind-the-scenes footage, including the Wilson sisters conferring with conductor Davies backstage prior to rehearsal to explain their overall thought processes and why they chose "No Quarter" instead of "Stairway to Heaven" for their requisite Zeppelin cover. (Spoiler alert: It's one excellent, mystical magical call on their part.)
David Gilmour: Live At Pompeii
(Sony Music, 2017. DTS-HD Master Audio 5.1. 1.78:1. 152 mins.)
Forty-five years after Pink Floyd conjured up the groundbreaking Live at Pompeii, guitarist/vocalist David Gilmour returned to the ashen Italian city's fabled Ampitheatre on July 7-8, 2016 to revisit, as he puts it about a half-hour into the set, "ghosts from the past, recent past, and distant past." More than just a mere nostalgia trip, Gilmour's Pompeii is a 2.5-hour tour de force that serves as a blueprint for how to present live performances on disc. Longtime Gilmour production associate Andy Jackson helms a truly encompassing 5.1 mix, ensuring that every Gilmour solo, whether performed on lead guitar or pedal steel, is amped up an extra notch in all channels to further magnify the fretboard prowess of an axeman at the top of his game. (Also take note of how Gilmour literally puts his head into every note he plays.) Meanwhile, director Gavin Elder skillfully frames all the fine details—how the onstage dry-ice effects waft and churn into the air like so much molten Vesuvian ash and the way he highlights the many rings of flames placed around the circumference at the top the Ampitheatre's walls during the second half—not to mention his instinctual cuts to accent the changing hues of the lightshow's ocean-deep blues, bleeding reds, and neon greens, to mention but a few. (Be aware that you too may also need to don sunglasses during the visually kinetic "Run Like Hell," just as the nine-piece band does.) Chills will go up and down your spine during the truly haunting, wordless vocal blends on "The Great Gig in the Sky" and the way Gilmour scat-sings along to his acoustic guitar accompaniment toward the end of "Wish You Were Here." This truly great gig culminates with two elegiac solo sections on the show-closing "Comfortably Numb," perhaps the most cleansing and uplifting instrumental guitar breaks in the rock pantheon. Truly Pompeii and circumstance of the highest order.
Extras: Make sure you spring for the deluxe 2BD/2CD box set so you get the bonus Blu-ray with 10 additional performances from South America 2015 (leading off with a harrowingly cosmic "Astronomy Domine" ) and Wroclaw 2016 (wherein "The Girl in the Yellow Dress" brings a sultry jazz-club intimacy to a packed stadium), in addition to five more documentaries. The main concert BD also contains a brief 7-minute doc, Pompeii Then & Now, wherein Gilmour and wife/co-lyricist Polly Samson get a tour of a photographic exhibit literally housed underneath the Ampitheatre as curated in person by original Floyd Pompeiidirector Adrian Maben.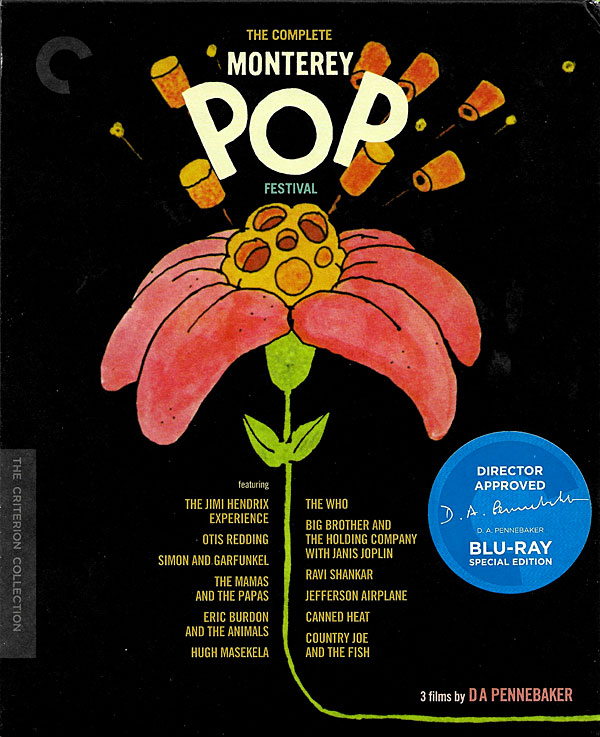 The Complete Monterey Pop Festival
(The Criterion Collection, 1968/2017. DTS-HD Master Audio 5.1. 1.33:1. 79 mins.)
Director D.A. Pennebaker (Bob Dylan's Don't Look Back) literally created the cinema verité template with Monterey Pop, his you-are-there chronicle of the rock era's second true festival that was held at the Monterey County Fairgrounds in Monterey, California from June 16-18, 1967. Leaning mainly on instantly iconic career-making performances—The Who smashing their gear to bits at the climax of "My Generation," Otis Redding asking his ace band (Booker T & The M.G.'s) to "do it just one more time" no less than three times during "I've Been Loving You Too Long," and Jimi Hendrix suggestively straddling and lighting his Strat on fire during the fiery culmination to "Wild Thing"—Monterey Pop told the world at large popular music had entered a new phase in the turbulent 1960s in a big, then-unstoppable way. That said, giving the film's final 17 minutes over to Ravi Shankar's heady sitar-and-tabla masterclass MAY have been pushing it. Even so, the good-vibe day-glo sights and sounds of the budding flower-power movement are unmistakable here—just witness the way Janis Joplin sings on the balls of her feet, heels up in the air and out of her shoes, while unleashing her inimitable volcanic vocal range on "Ball and Chain," Simon & Garfunkel bathed in only red light while harmonizing to perfection on "The 59th Street Bridge Song (Feelin' Groovy)," and Eric Burdon and The Animals turning The Rolling Stones' "Paint It, Black" a few shades darker with Stones wunderkind Brian Jones looking on with abject approval. In fact, every performance in the core film are all still wonders to behold over a half-century later. Seeing David Crosby exclaim, "Ahh, groovy—a nice sound system at last!" at an early soundcheck gives you some indication the performers also knew just how special this festival would become. To that end, special kudos must go to remastering engineer extraordinaire Eddie Kramer, who took the film's original 1-inch tapes and duly transferred them to 8 tracks on a multitrack machine at 15 ips with Dolby SR encoding back in 2002 to bring the soundtrack into the 21st Century. What was once an acceptable-for-the-times stereo mix became a much more involving uncompressed surround mix—albeit with some of the original recording's flaws intact, some of which admittedly retain a certain of-era charm. "The vibrations are gonna be flowing everywhere," observes a wide-eyed female festivalgoer at the film's outset. Indeed, Monterey Pop set off the kind of recombinant aural/visual vibrations that came to define the best intentions of a new generation.
Extras: Two bonus discs essentially complete the picture, hence the title of Criterion's stellar 2018 box set upgrade (itself an update of their excellent 2009 BD box). Disc 2, a.k.a. The Outtake Performances, give us two hours of just that—including a few numbers that should have been in the main film, such as The Association's "Along Comes Mary" (featuring a tongue-in-cheek robotic man/machine band intro that oddly enough portends Kraftwerk's M.O.), The Byrds' "Chimes of Freedom" (the aforementioned Crosby, Roger McGuinn, and Chris Hillman blend vocals true and clear on a Bob Dylan classic), and Buffalo Springfield's "For What It's Worth" (spotlighting Crosby again, this time subbing for an absent Neil Young and harmonizing magically with Stephen Stills, planting the seeds for CSN to bloom two summers thereafter). Plus, Kramer gives dazzling 5.1 treatment to Big Brother & The Holding Company's "Combination of the Two" (another elegiac Joplin showcase that underscores the repeated lyric, "you feel more!") and The Who's "A Quick One, While He's Away" (the magnifique mini-opera presaging their Tommy-plucked "See Me, Feel Me" denoument at Woodstock just two years later). Finally, Disc 3 presents full, previously released sets from Jimi Hendrix and Otis Redding, with much better sound and crisper visuals (dig on Jimi's hand-painted Strat pickguard and Redding's stylish powder-blue suit, for starters).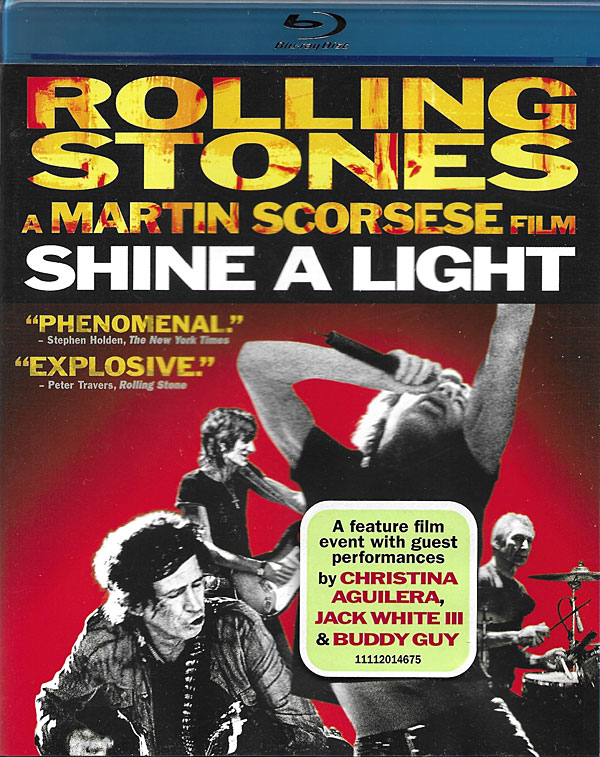 Rolling Stones: Shine A Light
(Paramount, 2008. Dolby TrueHD 5.1 & DTS-HD Master Audio 5.1. 1.78:1. 121 mins.)
Martin Scorsese shows why the pulse and rhythms of rock & roll have always been infused in his own directorial blood with this 2008 feature initially shot at the Beacon Theatre in New York City on November 1, 2006. Scorsese takes the first 12 minutes to poke fun at The Rolling Stones and their deliberate and slightly exaggerated aloofness (Mick Jagger most especially plays along with the premise, and quite gamely at that), not to mention tweaking his own meticulous shotlist preparation methodology and not-so-gentle requests to be given the final setlist before the show finally gets underway. Once The Stones hit the Beacon stage, what Scorsese and his team capture with their multiple lenses makes you feel like you're continually rotating among the ten best seats in the room depending on whatever angle they show you—a rare feat for anyone to pull off so consistently in a concert film. The ever-sinewy Jagger continues to be a consummate showman, singer, and dancer nonpareil (besides making every viewer younger than he is feel woefully out of shape after watching his nonstop energy in action), while the signature guitar stabs from the mind-and-finger-melded axe-tandem of Ronnie Wood (front left) and Keith Richards (front right) accentuate the band's backbone (see "Shattered," "Tumbling Dice," et al.), all ably abetted by pocket-drumming king Charlie Watts. Guest spots from Jack White (an extra bluesy "Loving Cup"), Buddy Guy (a furiously explosive cover of Muddy Waters' "Champagne & Reefer"), and Christina Aguilera (a fully supercharged "Live With Me") each lend added textures to well-known chestnuts. Mixmaster Bob Clearmountain ensures the audience gets in on the act at just the right times too, such as when they add their own all-channel supplemental chants to Jagger's high-pitched "woo-woos" during the hella-grooving "Sympathy for the Devil." Though the Stones have been well-represented on film all throughout their entire (and still ongoing) six-decades-plus career, Shine a Light puts a clear A/V beacon on them at the height of their powers.
Extras: Four additional songs not in the core film, including the politically prescient "Undercover of the Night" and the ever-cheeky yet perpetually endearing Keef classic, "Little T&A." There's also a 15-minute featurette with more rehearsal footage, plus President Bill Clinton taking the long view during a pre-show onstage pow-wow by observing, "I like the rhythms of life." I still treasure seeing the minute or so of Richards noodling acoustically alone on a stool at stage left while the rest of his fellow Stones meet and greet other VIPs and/or gladhanders alike on the opposite side.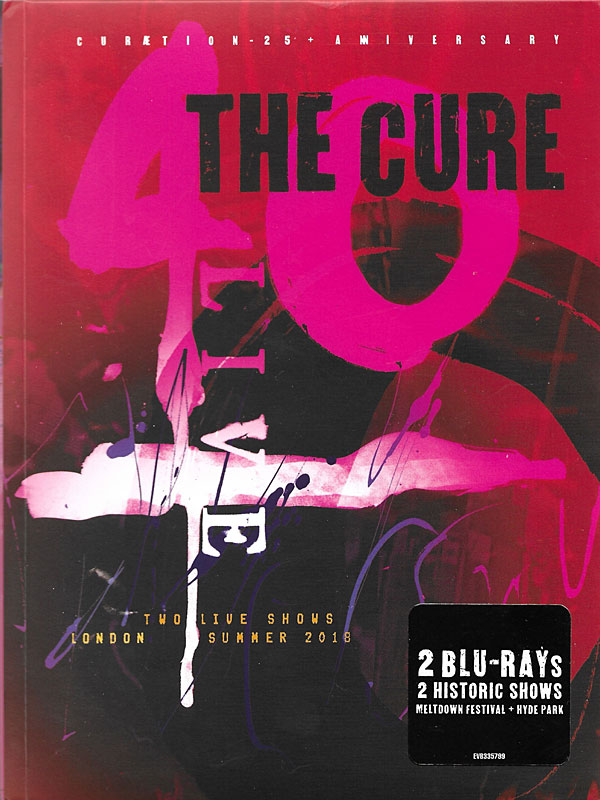 The Cure: Curætion 25 + Anniversary
(Eagle Vision/UMG, 2019. DTS-HD Master Audio 5.1. 1.33:1 & 2.35:1. 288 mins.)
Robert Smith and company clearly decided to go big before they went home with this double dip from the summer of 2018, a.k.a. The Cure's 40th anniversary, with well over 4½ hours of happy/sad music that in turn handily fulfilled the pendular swings of any attendees' particular goth mood at any given moment. The first disc, dubbed Curætion 25 and stemming from Smith's Meltdown Festival at London's Royal Festival Hall on June 24, 2018, is a mostly dark affair that's also subtitled From There to Here I From Here to There—meaning that you can watch the set either unfold chronologically, or in reverse. Director Nick Wickham injects another clever move into the proceedings with the set's bookended opening/closing tracks, "Three Imaginary Boys" and "Boys Don't Cry," by showing them in square-framed, oversaturated videotape quality before switching over to full-on high-def widescreen presentation for the balance of the show. On the sonic side of things, Smith and Paul Corkett accentuate fine details like the recurring all-channel chimes ringing all throughout "Pictures of You" and the skittery lead-guitar riffage on "Disintegration." The second disc finds the band returning a few weeks later on July 7, 2018, this time at Hyde Park for a massive 40th anniversary show. Director Tim Pope's lens captures the full outdoor spectacle, with three massive screens behind the band showing historical and thematic visual content alike. The semi-brighter lighting actually lets you see more of Smith's face (something I'm certain he must have HATED, yet tolerated, for the sake of his art). This career-spanning spectacle is highlighted by tracks like "Friday I'm in Love," which showcases Smith's breezy acoustic guitar and a slight echo on his lead vocal, while Reeves Gabrels' tasteful yet creative lead electric guitar counter lines resonate in all channels. No matter which gig you choose to spend the most time with, the long-suffering Smith clearly ails for whatever Cures you.
Extras: None in the 2BD set—but if you're a true blue, er, dark Cure fanatic, you'll go for the deluxe box set version that also contains 4CDs, in order to have a quartet of physical audio talismans of both concerts in tow.