Eric Clapton: The Definitive 24 Nights Box Set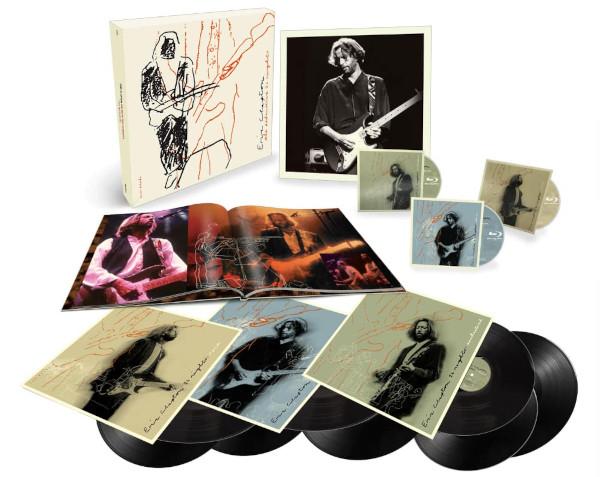 24 Nights
2 CD clamshell collection first came out in October 1991 actually might be an understatement. The 15 tracks on that release — five culled from E.C.'s 18-night 1990 Royal Albert Hall residency in London, and the remainder from his 24-night 1991 stretch there — seemed more like a tease, considering I'd also seen and heard numerous other performances from both historic runs. Hence, I resigned myself to being somewhat content with what we got officially — at least, I did so at the time.
But now, E.C.'s 1990-91 live largesse at "The Hall" has gotten considerably fuller, thanks to Reprise — via their ongoing, and quite fruitful, partnership with Rhino — having recently released what they're calling The Definitive 24 Nights in various formats. The two most desirable versions for us audiophile/collector types are the 8LP/3BD box set ($200) and the 6 CD/3 BD box set ($140). For those on tighter budgets, vinyl-only options have been released for the individually dubbed Rock ($50; 3LPs), Blues ($40; 2 LPs), and Orchestral ($50; 3 LPs) sets accordingly, while 2 CD/1 DVD combo digipaks are also available for all three themed sets ($30 each).
Sadly, two tracks are missing from the Orchestral LP set — namely, "A Remark You Made" and "Sunshine of Your Love" — a decision probably made because of time restraints for a themed section already pushing the limit at six 140-gram vinyl sides. That said, a) it's a truly disappointing call since vinyl is the preferred format for paying customers these days, and only completists (like myself) will shell out for two box sets — but, thankfully, b) all 47 tracks (36 of them previously unreleased) do appear across the 3BDs included in both boxes, so you will have access to every released track, either way.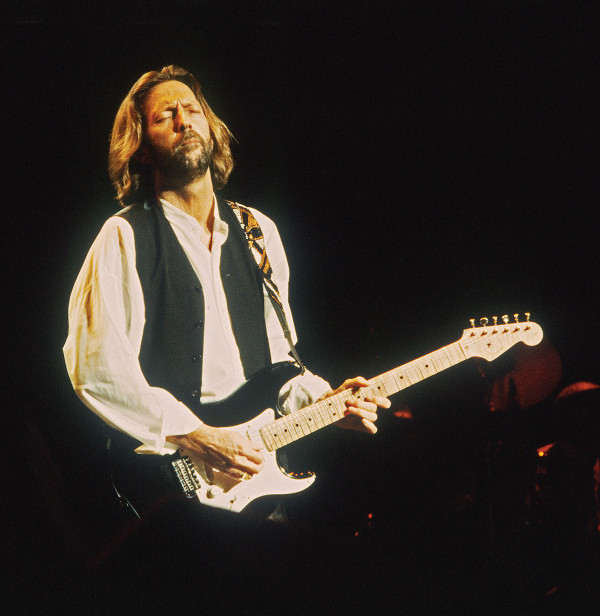 I should point out the obvious LP/CD/BD track-count disparity comes from having "Sweet Home Chicago" and "You Better Watch Yourself (Reprise)" combined into one 8-minute cut on the second Blues LP (as Track 3 on Side 3), whereas they're listed as two separate tracks apiece on both the Blues CD2 and the overall BD2, respectively. Additionally, be aware the running order varies between the LP and CD editions, again most likely due to the time requirements per LP side.
The LP/BD box measures 12⅞ x 2⅛ x 12¾ inches (w/h/d) and is adorned with a sturdy, textured outer shell featuring the still striking original 24 Nights cover illustration by Peter Blake. (The comparable CD/BD box measures similarly.)
Included in both box sets is a 54-page hardbound book containing detailed liner notes by David Fricke as well as various full-page performance photos and Blake sketches — plus an individually numbered lithograph of a black-and-white E.C. live photo by Carl Studna. (I have No. 4387.)
Each LP resides in its own gatefold sleeve, though I do wish the outer covers were of sturdier stock and the inner sleeves were audiophile-grade instead of paper. (I replaced mine.) The 3 BDs all come in protective plastic holders but they can alternately be stored in their own, set-themed slimline cardboard sleeves, which can then be nestled within the three half-slots cut into the box's inner back cover.
Here are my highlights of each themed section. On the Rock set, the 9-minute take on "Crossroads" offers more of a funky-shuffle feel to this perennial Robert Johnson classic — replete with occasional E.C. vocal whoops, no less! — something that may surprise listeners used to the song's more breakneck late-'60s live Cream versions. Also, I just can't get enough of the muscular workout that follows the totally silent break in "Bad Love." Over on the Blues set, E.C. and guest guitarists Robert Cray and Buddy Guy take a collectively tasteful yet guttural approach to "Have You Ever Loved a Woman," while Albert Collins adds his own brand of icy-hot axe fervor to "Reconsider Baby."
Finally, on the Orchestral set, conductor Michael Kamen shows why he and E.C. had such a creative mindmeld during their short-lived soundtrack work together. When Clapton commences the emotional solo that dominates the back half of "Holy Mother," the orchestral swells support and build upon his decidedly melancholy theme, never once overwhelming this stellar star turn. Speaking of thematic mastery, Kamen's brainchild, "Concerto for Electric Guitar," is a full 29 minutes of a world-class orchestra uplifting and challenging a top-flight guitar maestro. Unfortunately, its length requires the multi-movement "Concerto" be split across the final two LP sides — but you can enjoy it uninterrupted on either comparable BD or CD (or both).
As it stands, The Definitive 24 Nights is a marked improvement over the abbreviated 1991 edition. Even so, I'd modify the title to read as The Somewhat Definitive 24 Nights, especially if the option of getting complete sets from all 42 Royal Albert Hall residency dates from 1990-91 inclusive is ever broached. Until then, this expertly expanded, premium pre-millennium live Eric Clapton collection is as Definitive as it gets.
8LP/3BD & 6CD/3BD
Label: Reprise
Audio Format: 24-bit/96kHz Dolby Atmos, 24-bit/96kHz stereo (BD); 16-bit/44.1kHz (CD)
Number of Tracks: 44 on 8LPs; 47 on 3BDs; 47 on 6CDs
Length: 5:50:50 on 8LPs; 6:01:13 on 3BDs; 6:01:13 on 6CDs
Producers: Simon Climie (producer and mixer), Martin Dacre (supervising producer), Michael Eaton (executive producer); Russ Titelman (tracks from the original 1991 24 Nights release)
Engineers: Alan Douglas (engineering and restoration), Simon Francis (mastering), Chris Bellman (vinyl mastering at Bernie Grundman Mastering, Los Angeles, California)
I hesitate using trendy acronyms when writing reviews — but in this case, saying I had a clear-cut case of FOMO when Eric Clapton's slightly misnamed