Best 5.1 Surround Sound Music Tracks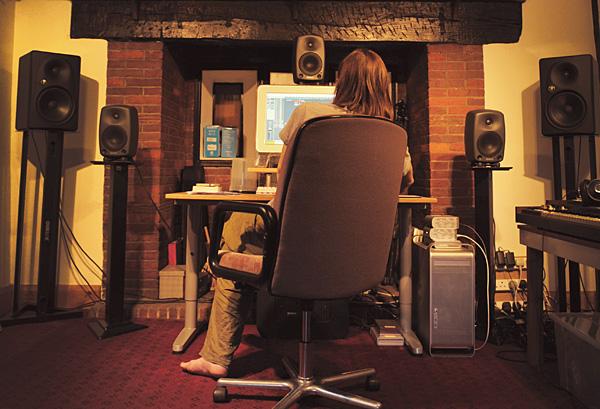 Okay, you got me. I freely admit before all my fellow music lovers and audiophiles alike that I had a very specific ulterior motive when I noted in a recent Remaster Class column that the title track to Yes' September 1972 magnum opus
Close to the Edge
was my "second-favorite 5.1 mix." Following my primary intention of encouraging listeners to marvel at the fully enveloping scope of that song's truly amazing surround sound mix, I figured the next thing anyone reading said comment might wonder would be along the lines of, "Yeah, cool cool cool, that's great and all—but what's No. 1?"
Indeed, some of you have since reached out to me directly and/or emailed S&V inquiring about what specific song in surround sound occupies that hallowed top spot, not to mention suggesting I put together a longer list of my favorite 5.1 demo tracks while I'm at it. So, with the full-channel blessing of S&V EIC Al Griffin, I've gone ahead and compiled just such a list. (I aim to please in 360 degrees, after all.)
Ultimately, I decided to go with my top 15.1 surround sound demo tracks, which are presented here in reverse order starting at No. 16—that's the .1 in 15.1, of course! The one caveat I instituted for this list was that I would limit it to just one top track per artist, with the corollary being that I'd also include a pair of "second takes" from every listed artist at the end of each summary, with the overall winner getting a double-dose of said second takes as part of the reward for being the top 5.1 dog. Add them all up, in fact, and you'll find there are a cool 50 tracks in all to whet your surround sound whistles, if you choose to delve even further into these fine, fine artists' respective 5.1 oeuvres.
In my opinion, these are the 16 definitive tracks that best represent the truly immersive, joyful, awe-inspiring experience surround sound is meant to deliver. However many of them you choose to sample for yourself, know that these are the kind of 5.1 mixes that will reach inside your head and burrow directly into your soul. To say I've personally spent a cumulative 5.1 months' amount of time listening to all these particular 5.1 tracks over the years might actually be an understatement (but let's not read too deep into that concept).
Feel free to agree and/or disagree accordingly in the comments section below. And if you want me to share even more of my favorite surround sound demo tracks beyond the scope of this list, please let us know, because there are plenty more of them to be found in my perpetual 5.1 rotation, believe you me.
Alright, alright, enough with the extended preamble—let's get on with the 5.1 show!
---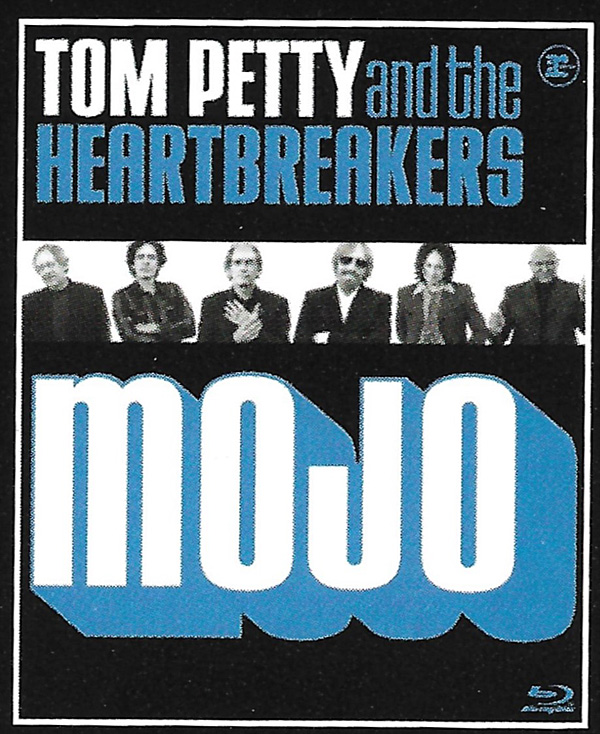 16. Tom Petty and The Heartbreakers: "First Flash of Freedom." Mojo
(24-bit/48kHz DTS-HD Master Audio 5.1 Blu-ray. Reprise, 2010.)
Longtime TP co-producer/engineer Ryan Ulyate maximizes the balance of atmosphere and dynamics quite beautifully in this most ethereal Mojo track from June 2010. Tom Petty's dreamy reading of the song's full title phase rules all channels twice within 45 seconds of each other early on, but my favorite moment occurs when the rest of the band drops out entirely and lead guitarist Mike Campbell's fierce, echo-laced solo wails away in the left front and rear quadrants before second guitarist Scott Thurston joins him for some Allman Brothers-esque harmonic interplay across the board.
Second takes: a) "I Should Have Known It." Mojo (drummer Steve Ferrone puts on a ferocious snare and cymbal clinic, bolstered by yet another beyond-fiery Campbell solo); b) "Red River." Hypnotic Eye. 24/48 DTS-HD Master Audio 5.1 Blu-ray. Reprise, 2012 (Petty's fuzz bass absolutely owns the sub channel; also note the semi-subtle block-percussion accents after each line of every verse).
---
15. Elton John: "Funeral for a Friend / Love Lies Bleeding." Goodbye Yellow Brick Road
(24/96 DTS-HD Master Audio 5.1 Blu-ray. UMC/Mercury/Rocket, 2014/1973.)
Greg Penny, who oversaw Elton John's extensive SACD catalog offerings in the early 2000s, hit the apex with Goodbye Yellow Brick Road's 11-minute two-part opening track, which is even more pronounced on the 2014 higher-grade High Fidelity Pure Audio Blu-ray version. The volume dynamics of the ARP synthesizer intro played by engineer David Hentschel rise and fall like a sonic tsunami for a full 5:52 before Sir Elton even gets around to singing his very first word.
Second takes: a) "Saturday Night's Alright for Fighting." Goodbye Yellow Brick Road (blistering all-channel electric guitar assault courtesy of Davey Johnston); b) "Rocket Man." Honky Château. SACD DSD. Island/Rocket, 2004/1972 (a truly cosmic blend of slide, piano, synth, and vocal harmonies galore).
---
14. The Flaming Lips: "Do You Realize??" Yoshimi Battles the Pink Robots
(24/96 Advanced Resolution DVD-Audio. Warner Bros., 2003/2002.)
Visionary producer David Fridmann mindmelds with head Lipsmen Wayne Coyne and Steven Drozd to create the most adventurous, channel-challenging mixes in the entire soundfield. Most every instrument on "Realize??" takes a clockwise, 360-degree adventure through every channel—including Coyne's dreamily celestial lead vocal, which only centers itself for a chorus break that acts more like an inverted verse. In essence, The Lips have created the aural equivalent of one of the song's quintessential narrative lines: "We're floating in space." Fridmann and The Flaming Lips consistently treat 5.1 as its own artform, and this is their most fully realized canvas.
Second takes: a) "The Yeah Yeah Yeah Song." At War With the Mystics. 24/88.2 Dolby Digital DVD-Audio. Warner Bros., 2006 (harmonies ping-pong through the channels like The Beach Boys on acid); b) "Race for the Prize." The Soft Bulletin. 24/96 Advanced Resolution DVD-Audio. Warner Bros., 2005/1999 (Coyne flanks right before re-centering his gravity, then goes back again).
---
13. King Crimson: "Elephant Talk." Discipline
(24/96 MLP Lossless 5.1 Surround DVD-Audio. Inner Knot/DG, 2011/1981.)
Undisputed 5.1 guru Steven Wilson masterminded most of KC's surround-centric catalog revisitations, and this Discipline track is a stellar example of his innate understanding of how guitarist/co-founder Robert Fripp's keen, analytic mind works in all directions. Not only that, but "Elephant Talk," guitarist/vocalist Adrian Belew's sonic syntax lesson from A to E is a veritable feast for repeated listening. On one pass, focus on Tony Levin's burbling bass lines wholly owning the sub channel, then spend another on how Fripp's angular guitar lines shrewdly counter Belew's onomatopoeic leads (including the literally elephantine caterwauls that occasionally skitter across the channels). After that, note the timing for when Belew's sneering "back talk" vocals hit the rear channels, and get in one more go for how drummer Bill Bruford's clever, understated playing holds down the fort with all the choreographed chaos going on around him. (Incidentally, the Blu-ray version of Discipline is part of KC's hard-to-find 2016 On (and Off) The Road 1981-1984 19-disc box set, but the separate 2011 DVD-A release will suffice any of your animalistic 5.1 needs.)
Second takes: a) "I Talk to the Wind." In the Court of the Crimson King. 24/96 DTS-HD Master Audio 5.1 Blu-ray. Inner Knot/Island, 2019/1969 (delicate, wispy mesh of woodwind/keyboard maven Ian McDonald's layered flute and Greg Lake's gracefully blended vocals); b) "Red," Red. 24/96 MLP Lossless 5.1 Surround DVD-Audio. Inner Knot/DG, 2009/1974 (turmoil and resolution in full Frippertronics style, with Bruford hammering hard in all quadrants).
---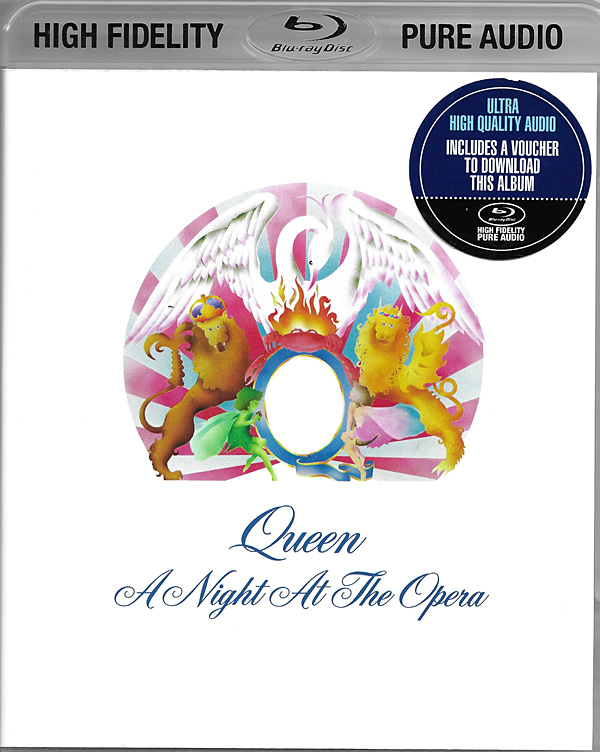 12. Queen: "Bohemian Rhapsody." A Night at the Opera
(24/96 DTS-HD Master Audio 5.1 Blu-ray. Hollywood/Island/Elektra, 2014/1975.)
A true multitrack benchmark when it first met all our ears back in November 1975, "Bo Rhap" (as it's abbreviated in some quarters) is the abject pinnacle of vocal layering on tape. While there was some controversy surrounding (pun intended) the initial Elliot Scheiner/Roy Thomas Baker/Brian May 5.1 mixes released during the early-2000s DVD-Audio era, this Blu-ray (with "additional audio restoration" courtesy of Kris Fredriksson) is your best option for marveling at Freddie Mercury's sheer operatic vocal mastery no matter what channel he appears in, as well as May's innovative fingertapped guitar solos and drummer Roger Taylor's all-channel-resonating gong-hit denoument. Mamma mia—listening to this one sends shivers down my spine, every time.
Second takes: a) "Dragon Attack." The Game. 24/96 DTS 5.1 Surround DVD-Audio. DTS/Hollywood/Elektra, 2003/1980 (bassist Roger Deacon's sturdy low-end rumble and May's gritty guitar crunch are hard to vanquish); b) "Another One Bites the Dust." The Game (Deacon's iconic bass line plus Taylor's super-dry kickdrum and snare plus harmonizer swirls galore plus crisply layered handclaps equal another one that's gonna getcha too, hey!).
---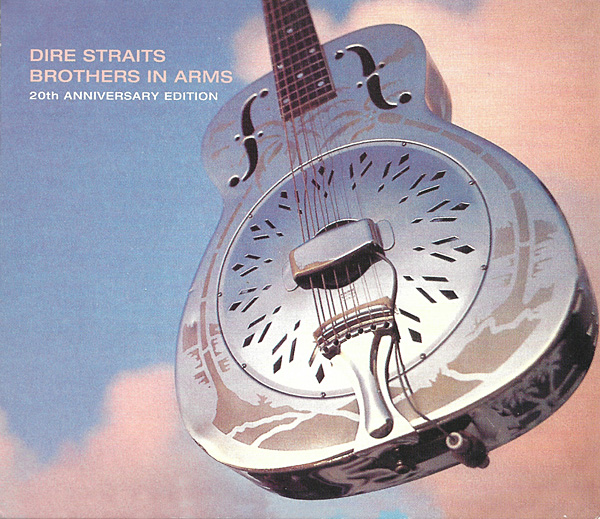 11. Dire Straits: "Ride Across the River." Brothers in Arms
(24/96 Advanced Resolution 5.1 DualDisc DVD. Warner Bros., 2005/1985.)
Chuck Ainlay knows surround, and he knows all the ins and outs of Brothers in Arms, the May 1985 album considered to be the DDD template of the then-burgeoning CD era. Right from the outset, "Ride Across the River" puts you in the muggy swamp with wide-panned nature sounds in an Amazonian jungle vibe, by way of National Geographic. Bandleader/co-producer Mark Knopfler's signature gnarly guitar lines warble and wah continually across all the river channels, punctuated with a cauldron full of keyboard/synth stabs, firecracker percussion, serve-and-volley cymbal work, and sweet supplemental horns from the Brecker Brothers. This "deep and wide" calling-card track is but one reason why this 5.1 mix—which is also available on SACD—won the Grammy for Best Surround Sound Album in 2006.
Second takes: a) "Money for Nothing." Brothers in Arms (the ever-building cacophonic, volume-swelling keyboard/guitar/frenzied drum intro parts the sonic sea for Knopfler's blistering guitar gambit right down the middle); b) "The Man's Too Strong." Brothers in Arms (Knopfler's 1937 National Resonator acoustic guitar jabs and, well, resonates deep repeatedly after each chorus, accented mightily by intertwined thundering piano and thumping bass during the back half and outro).
---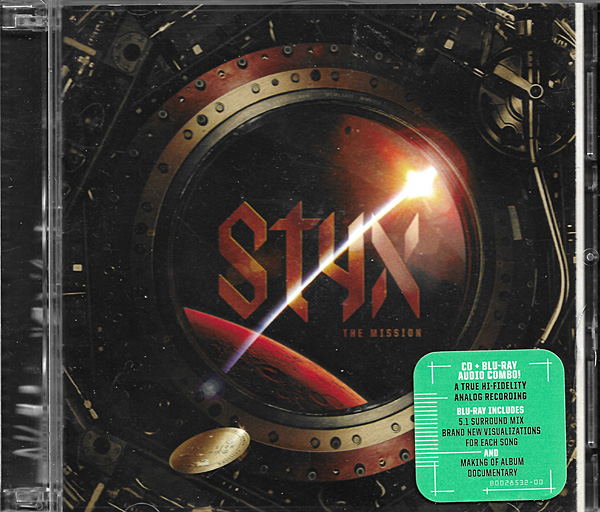 10. Styx: "Red Storm." The Mission
(24/96 DTS-HD Master Audio 5.1 Blu-ray. UMe, 2018/2017.)
The first foray into the studio surround arena from prog-leaning classic-rock stalwarts Styx blasts off into the stratosphere in a big way. It's the perfect all-encompassing complement to an all-analog concept album storyline about the triumphs and travails centered around a tight-knit crew's mission to Mars, with "Red Storm" delineating the crux of the man vs. space conflict. Surround producers Will Evankovich and Jim Scott have clearly studied the tenets of the Porcupine Tree/Steven Wilson 5.1 canon, as evidenced by the meteor-storm-navigating solo section's pummeling post-prog tag-team riffage between guitarists Tommy Shaw and James "JY" Young. World-class drummer Todd Sucherman's time-signature-shift mastery in the buildup to said solo section is truly beyond mind-bending, to say the least, and the all-channel vocal blends (both Shaw's lead and the ensuing five-part harmonies for all 6:04 of the track) make you feel like you're floating in the capsule right alongside the crew/band. Two words best describe Styx's stunning maiden 5.1 voyage: Mission accomplished.
Second takes: a) "Locomotive." The Mission (Floydian synth intro welcomes us all back to the space machine, interspersed with CSN-tight harmonies on the bridge plus Shaw's acoustic acumen); b) "Khedive." The Mission (keyboardist Lawrence Gowan's instrumental tour de force majeure, buttressed by a Queenlike stacked guitar-army attack).