Pink Floyd: The Later Years - 1987-2019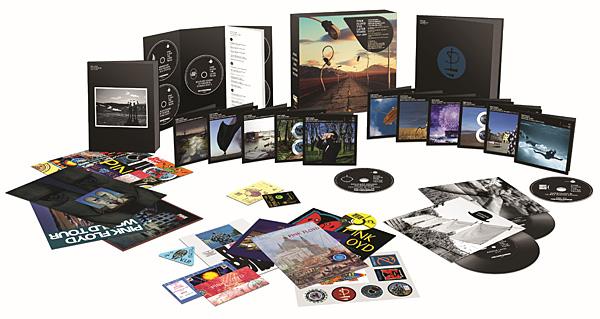 Back in 2016, Pink Floyd hit us with The Early Years: 1965-1972, a massive 28-disc collection that reset the bar for archival presentation of the recorded output of the key bands that defined the classic rock era. Cut to three years later for The Later Years: 1987-2019, an 18-disc box set that's as good as any collection you'll come across. Special kudos to creative director Aubrey Powell, who designed The Later Years in a more uniform 13x13 box rather than replicate his unwieldy rectangular 15x8 cinder-block housing for The Early Years. After all, we audiophile collectors gotta shelve these things as economically as possible (but I digress).
Contentwise, The Later Years is a veritable treasure trove for the band's Gilmour-led post-Waters era — one that's often underrated in the overall PF canon, but that has nonetheless produced some of their most indelibly affecting music. All told, this box holds a staggering 30-plus hours of content via two collectible 45s, five CDs, five DVDs, and six Blu-rays. Among the many gems here are a remixed and updated version of September 1987's A Momentary Lapse of Reason, restored and remixed audio and video footage for both November 1988's Delicate Sound of Thunder and May 1995's Pulse — not to mention the unreleased Venice 1989 and Knebworth 1990 concerts on Blu-ray, plus unreleased audio from the 1994 Division Bell sessions and 2014 Endless River revisitations, amid numerous other outtakes.
Lapse is the most telling revamped mix of the entire box, hands-down. Gilmour and original producer Bob Ezrin wisely reinstated some of the late Richard Wright's keyboard contributions and also had drummer Nick Mason recut all of the drum tracks in order to, as the liner notes so aptly put it, "restore the creative balance between the three Pink Floyd members." That assessment is spot-on, as the original Lapse felt more like a Gilmour solo project with the PF banner attached to it — especially considering the credits included no fewer than 14 outside musical contributors.
Even better, Gilmour enlisted his longtime engineer/production cohort Andy Jackson to join him in giving Lapse a new 24-bit/96kHz DTS-HD Master Audio 5.1 mix on Blu-ray, and — spoiler alert — sheer magic abounds at almost every turn. While the radio hit "Learning to Fly" never truly takes full flight, you'll hear Gilmour bark subtly in the background on "The Dogs of War," which also features a gnarly right-channel sax solo by Scott Page that bleats all the way back across the front stage at its denouement. The true 5.1 clincher comes with "On the Turning Away," with Gilmour's clean yet impassioned lead vocal tinged with a slight delay followed by an uplifting choir chorus in every channel, all of it carried home by an emotionally enriching guitar solo as comfortably numb as any climactic fretboard run that Gilmour has ever done.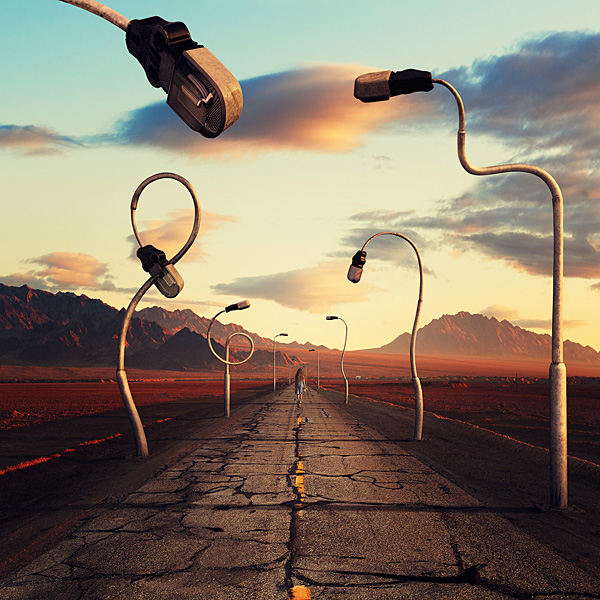 I could spend more words than this entire issue has describing the pure A/V gold on Blu-ray in this box, but I'll do my best to compress them here. Delicate Sound of Thunder boasts an all-out assault on "One of These Days," while Pulse throbs with all-senses-engaged engulfment when the full The Dark Side of the Moon album is performed in the back half of the show, especially during the make-a-stack attack of "Money." Other highlights: vocalist Clare Torry's reprisal of her original wailing on "The Great Gig in the Sky" during the Knebworth 1990 Concert, Billy Corgan guesting on acoustic guitar and Gilmour doing his best George Benson scat on "Wish You Were Here" at Pink Floyd's 1996 Rock & Roll Hall of Fame induction ceremony, and the touching all-smiles take on "Arnold Layne" at the 2007 Syd Barrett Tribute Concert among them. This is how you box set, folks!
Now that we've got both The Early Years and The Later Years in tow, one can only have high hopes The Middle Years: 1973-1986 will eventually follow, circa November 2022. While much of the output during that Middle Years time window has been well documented in the three Immersion box sets from 2011-12, we have yet to see an expanded examination of January 1977's Animals or March 1983's The Final Cut, the latter of which certainly deserves a respectful re-evaluation — and both of which deserve full-on 5.1 surround treatment.
As The Later Years readily attests, Pink Floyd continue to prove time and again that there are no lapses in reasoning, momentary or otherwise, in terms of how they continue to roll out the aural fruits of so many years of sonically satisfying labor.
45, CD, DVD & BLU-RAY
Label: Pink Floyd Records
Audio Formats: 16-bit/44.1kHz PCM Stereo (CD); 24-bit/48kHz & 24-bit/96kHz PCM Stereo (DVD & Blu-ray); 24-bit/48kHz & 24-bit/96kHz DTS-HD Master Audio 5.1 (DVD & Blu-ray)
Number of Tracks: 478 on 18 discs (2 on 245s, 53 on 5CDs, 215 on 5DVDs, 208 on 6 BDs)
Length: 30:33:19 (9:19 on two 45s, 5:15:23 on 5 CDs, 11:18:18 on 5 DVDs, 13:50:19 on 6 BDs)
Producers: Bob Ezrin, David Gilmour, Chris Kimsey, Steve Smith, Phil Manzanera, Youth (original recordings); Andy Jackson, David Gilmour, Damon Iddins (2019 audio mixes, remixes & 5.1 mixes); James Guthrie (Pulse stereo & 5.1 mix); Aubrey Powell (creative director)
Engineers: Andy Jackson, Damon Iddins (original recordings, 2019 remixes & 5.1 mixes); Dave Hewitt, Mike Fraser, Keith Grant, Phil Taylor, 2 others (original recordings); Joel Plante (Pulse stereo & 5.1 mix)

Which one's Pink? It's a question the mighty members of Pink Floyd have answered more than once throughout their unmatched 50-plus-year career. No matter who's been at the helm—the wide-eyed lysergic-minded guitarist/vocalist Syd Barrett, the uncompromising iconoclast bassist/vocalist Roger Waters, or the melodic linchpin guitarist/vocalist David Gilmour — the mantra of delivering music that's always high fidelity, first class has been at the core of Pink Floyd's production values from the very beginning.