Bob Dylan: The Rolling Thunder Revue – The 1975 Live Recordings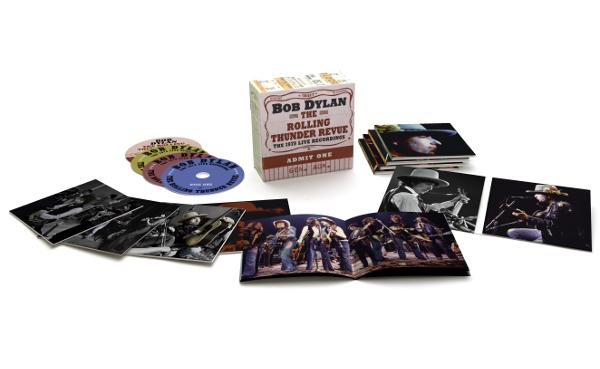 artistes
do — and, it could be argued, it's something Robert Allen Zimmerman has been doing ever since he adopted the nom de plume Bob Dylan almost 60 full years ago.
Luckily for us, Dylan has long seen the value in releasing extensive historical collections befitting his anointed artistic legacy. It's a practice the estates of and/or artists themselves like The Beatles, John Coltrane, The Rolling Stones, Jimi Hendrix, David Bowie, and Miles Davis have followed to varying levels of success and cognoscenti acceptance. To that end, the latest entry in the Dylan archival canon is a massive 14-CD box set via Columbia/Legacy, The Rolling Thunder Revue: The 1975 Live Recordings, a 148-song, 10-hour collection that focuses on the first, late-1975 leg of the touring Revue. (Subsequent legs followed in 1976, but most agree this is the definitive run.)
The Revue box contains all five of Dylan's full first-leg sets that were professionally recorded between November 19 and December 4, 1975 as spread over 10 discs, along with a disc of rarities plus a pair of discs that chronicle the October 19 and 21, 1975 rehearsals at New York City's S.I.R. Studios as well as another disc of the October 29, 1975 Seacrest Motel Rehearsals in Falmouth, Massachusetts. All three of the latter-noted discs are fascinating mid-fi listen-ins on the early, evolutionary stabs at songs both newly minted ("Isis," a still-embryonic "Hurricane") and vintage ("Tears of Rage," "A Hard Rain's A-Gonna Fall"), all showing how a most decidedly rag-tag band spars and parries in real time to find their footing for the traveling maelstrom that awaits them.
As warranted by a collection of this magnitude, over 100 of its tracks have never been previously released (officially, that is). And just as I pointed out when reviewing the 2017 Dylan box set Trouble No More, it's again worth reiterating that Columbia/Legacy remains at the forefront of researching, remastering, designing, and packaging all-encompassing box sets like Revue for those of us discerning audiophiles and hardcore collectors willing to invest both the time and money into weighty physical collections like this one. Considering the continued favorable response and the sheer number of entries in Dylan's companion Bootleg Series (14 volumes to date and counting), we don't expect this practice to abate anytime soon.
With this thought in mind, might I take a moment to suggest one of the upcoming Bootleg Series entries focus on October 1983's Infidels, an album that saw the likes of Mark Knopfler (who produced and played much signature-style guitar all throughout), Mick Taylor, Alan Clark, Sly Dunbar, and Robbie Shakespeare assemble the foundation for the Bard's early-'80s semi-secular revival. I'm not saying I already lay claim to, er, quite a number of unauthorized outtakes from those sessions in hand — or maybe I am saying that — but I sure would like to hear what longtime Dylan archival producers Steve Berkowitz and Jeff Rosen could do with what's most certainly housed in those Infidels-labeled vaults. (Thank you for your consideration!)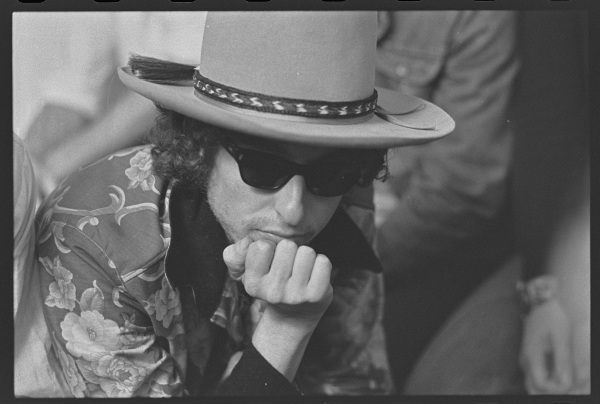 Anyway, back to the Revue review! While there is no fully complete vinyl equivalent for this new Revue box set, you can get 22 tracks' worth of it on wax via the reissued 180-gram 3LP 2002 collection named The Bootleg Series Vol. 5: Bob Dylan Live 1975, The Rolling Thunder Revue. I would be hard-pressed to argue the merits of choosing to listen to these you-are-there live recordings on high-grade vinyl if given the option, though perhaps Legacy could look into issuing, say, a revised/expanded 4LP collection that would include the best of the three Rehearsals discs, one complete set from either one night or compiled from multiple shows, and all the Rare Performances on Disc 14. (This wax practice would somewhat follow suit with and expand upon the 2LP Royal Albert Hall Concert set that was culled from the mondo 36-disc The 1966 Live Recordings release in November 2016.)
Taking a lengthy binge-listening journey through this 10-hour collection gives a clearer picture to one of the many phases of Dylan's journey as a wandering live performer, most notably drawing a divertive line from the arena/stadium-centric path he took in 1974 with The Band for his historic Before the Flood comeback tour. Instead, for the quite different Revue approach, Dylan brought together a multi-piece tight-but-loose collective — ultimately dubbed Guam — that played in much smaller venues. The not-so-subtle shifts are palpable. Dylan's lead vocals are properly centered and dominant all throughout, appearing in that forceful, booming tone he favored before shifting gears yet again during the subsequent late-'70s Slow Train Coming period (and beyond).
My favorites are many here, but highlights include the lyrically revised version of "Hurricane" from the evening show in Boston from November 21, 1975 on Disc 11 (which includes one of the Bard's best counter-performances with perpetually mercurial violinist Scarlet Rivera), his layered duet with Joan Baez on "I Shall Be Released" from the Montreal Forum on December 4 on Disc 12, the all-out ferocity of "Isis" from Harvard Square Theater in Cambridge, Massachusetts on November 20 on Disc 6, the striking poignancy of performing Peter La Farge's "The Ballad of Ira Hayes" solo and acoustically in front of a Native American audience at the Tuscarora Reservation in upstate New York on November 16 on Disc 14, and the always affecting "Knockin' on Heaven's Door," also from the aforementioned Montreal show but on Disc 13, among them.
It's also quite instructional to hear the progression of the guitar interplay between the axeslinging army of Dylan, Mick Ronson, Bobby Neuwirth, a young Henry "T Bone" Burnett, Steven Soles, David Mansfield, and guest Roger McGuinn, not to mention the supportive, uplifting background vocal choices of Ronee Blakely (especially on the aforementioned "Hurricane").
Finally, I would be quite remiss if I didn't point out, just like the box set's finely detailed liner notes by novelist/musician Wesley Stace do, that Martin Scorsese's recent Rolling Thunder Revue documentary on Netflix is the perfect requisite companion piece to this box set. Some of the box's key performances appear in the film, giving them additional poignancy and context (though few of them are actually seen in full). Plus, during any of the performance footage that isn't merely a closeup on Dylan's face (often shown in various states of smeared whiteface makeup and dark eyeliner), you can see the physical, spatial relationships between each Guam bandmember onstage, and how they instinctually respond to a glance (well, more like a glare) from Dylan whenever he wants to play off of them or have them step out a bit.
And, without giving anything away, I'd also suggest you watch all the modern-day interview footage very closely. Considering that the Scorsese-directed 2005 No Direction Home documentary (trailer below) saw an expanded home-video release, it seems practically a given this 2-hour-and-22-minute-long doc will also eventually see a Blu-ray issuance, hopefully with even more bonus live footage and extended interview sequences in tow.
Bottom line: The Rolling Thunder Revue box set is quite worth the investment — one that is not all that costly either ($78.37 on Amazon), relative to the pricetag for other multidisc collections these days. Sure, you'll likely need more than just one more cup of coffee to get through it all, but the aural rewards are aplenty when you follow how and when Dylan and Guam paint their collective masterpieces together.
CD
Label: Columbia/Legacy
Audio Formats: 16-bit/44.1kHz PCM Stereo (Discs 4-13); 16-bit/44.1kHz PCM Mono (Discs 1-3, 14)
Number of Tracks: 148 on 14 CDs
Length: 10:33:15
Producers: Jeff Rosen, Steve Berkowitz (box set); Mark Wilder, Steve Addabbo (mastering); Steve Addabbo (mixing)
Engineers: Don Devito (original concert recordings); L.A. Johnson, Petur Hliddal (original Nagra tape recordings); Sean Brennan, Matt Cavaluzzo, Deluxe (analog-to-digital transfers); Damian Rodriguez, Sean Brennan, Mike Piacentini, Maria Triana (additional production)
Bob Dylan is a lifelong master of misdirection — a perennial misdirectionalist, if you will. The 78-year-old songwriter/performer follows his own whims seemingly at all times, crafting a narrative that veers in whatever direction he feels in the moment, rather than going down a more-direct commercial path that might make more sense to those thinking musicians should follow a traditionally linear career path. Love it or hate it, that's what true