Remaster Class: Jethro Tull: Aqualung
Jethro Tull made a bold move with their fourth album, March 1971's
Aqualung
, by amping up the intensity that informed the eclectic, prog-folk acoustic/electric hybrid the British band had firmly established on their first three LPs. That move effectively catapulted Tull headlong into the slipstream of the first wave of FM radio-favored artists. In fact, one could even argue the opening six-note pattern of the iconic title track is as instantly recognizable as the recurring four-note riff that defines Deep Purple's seminal "Smoke on the Water" (sorry, just wond'ring aloud here).
While some feel Aqualung is defined by an emphasis on the musculature of Martin Barre's electric-guitar riffage—i.e., the right-channel soloing on "Cross-Eyed Mary" and most especially his driving attack all throughout the hard-chugging "Locomotive Breath"—much of the album's mystical charm can be attributed to a critical guitar-tuning decision made by Tull's frontman, flautist/vocalist Ian Anderson. "As an acoustic guitar player in a rock band, using a capo on the third fret helped change the tonality enough so that the guitar spoke with much more authority while all the other instruments were playing," Anderson told me.
Anderson's acoustic tones on band- backed songs like "Aqualung," "Wind Up," and "My God" are all as clear and airy as they should be on the initial 1971 UK Chrysalis LP pressing. Truth be told, the overall original stereo mix is somewhat lacking in breadth, one of many reasons I prefer the upgraded 180-gram 2018 edition of the 2011 stereo remix enacted by longtime Tull acolyte and reissue/remastering guru Steven Wilson.
CD options vary. The 1996 UK Chrysalis CD is probably most notable for having the cover-art imagery and name/title nomenclature continue over both spines (rather than appear as the generic sans-serif red type on white background of many Chrysalis discs of that era), but I'm also partial to the 1996 Chrysalis 25th Anniversary Special Edition that comes in a slipcase and embossed silver jewelbox. The latter also includes the 1974 quad version of "Wind Up," a 14-minute interview with Anderson, and three other bonus tracks.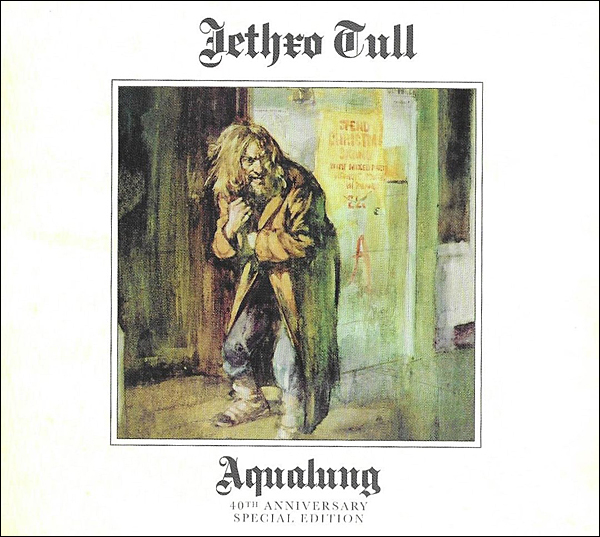 In 2011, Chrysalis issued a multidisc 40th anniversary deluxe box set with Wilson doing the remixing honors in both LPCM Stereo and 24-bit/96kHz DTS-HD Master Audio 5.1 on Blu-ray and DVD. Cut to 2016, where a smaller- footprint 2CD/2DVD "Adapted Edition" of that package followed in part because Wilson was purportedly unhappy with the mastering done on the previous version, and I must concur. The outright holier-than-thou power of "Hymn 43" alone seals that decision, imo.
In fact, Wilson freely admitted to me he had his work cut out for him while remixing Aqualung in the first place. "The mix I did was such a big step up from what had been heard before," he observed. "Sometimes, I had to struggle with the sonic issues of the original mix."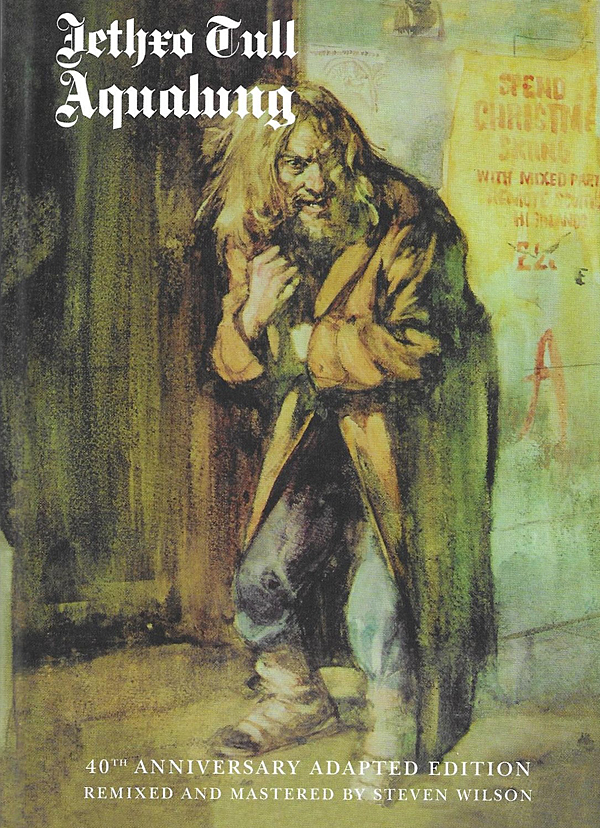 Anderson had qualms about the 1974 quad mixes resurrected in the box set—"That's kind of underutilizing the rear channels, isn't it?" he mused—but found it was easier to embrace all that 5.1 had to offer. "I think you've got to take the position of being somewhere where you'd be standing with the band probably just behind you to the left and all the way around to just behind you on the right," Anderson outlined. "I liken it to me standing upstage two meters from my normal mike position so that the musicians around me are arranged in a semi-circle, and maybe just extending a little bit over my left and right shoulders."
Wilson handled Anderson's 5.1 stage directions with such aplomb that here's hoping it re-emerges in a High Fidelity Pure Audio Blu-ray edition for the 50th anniversary in 2021. Regardless, Aqualung, my friends, is nothing but salvation in surround.