The Beach Boys: Sail On Sailor – 1972 Deluxe Edition Box Set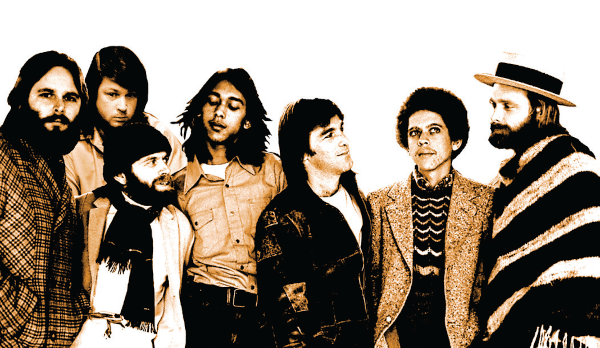 not
sporting the surnames Wilson, Love, or Jardine came to the forefront of the band — namely, guitarist/vocalist Blondie Chaplin and guitarist/drummer Ricky Fataar. Though their tenure in The Beach Boys was short-lived, the energy and creative verve these two artists of South African descent injected into this consummate California band's era-transitional gambits were noticeably palpable for a decade, often overshadowed by the sheer magnitude of their groundbreaking 1960s recordings.
The proof can be found within Sail On Sailor – 1972, a 105-track, 6CD box set that includes 80 unreleased outtakes, live recordings, demos, alternate versions, alternate mixes, instrumentals, and a cappella tracks alike, not to mention the remastered pair of Chaplin/Fataar-fueled studio releases: May 1972's Carl And The Passions – "So Tough" and January 1973's Holland. (If you're more analog-inclined and want the full-size Sail On Sailor 5LP+1EP box set, take note — the vinyl has been pressed at Precision Record Pressing in Ontario using DMM.)
The Sail On Sailor 6CD collection resembles a hardback book, measuring 10 x 12½ inches. It matches the size of August 2021's comparable Feel Flows: The Sunflower & Surf's Up Sessions 1969-1971 5CD box set. This is good news for the shelving-impaired amongst us collectors, as you can stack both collections together relatively uniformly, with the nomenclature-delineated spines showing. That said, future Capitol/UMe Beach Boys box sets should also follow this footprint, now that there are two symmetrical entries in the series.
The sturdy cardboard sleeves and half-slots each Sail On CD resides in have almost a full ¼-inch of breathing room, making the removal and re-slotting processes relatively seamless (a la the preceding Feel Flows box) — also good news, given how some slot-oriented CD collections essentially require chamois-wrapped pincers to extract the discs without tearing the surrounding area. Note to Ume — continue this practice, please!
Within the bound-in 48-page booklet, the Howie Edelson essay is as insider-y and informative as they come, as are the recording/production notes from box set co-producers Mark Linett and Alan Boyd. The inclusion of full-page tape-reel and tape-box photos are always welcome sights for my recording-minutiae-obsessive self.
To the music we go! I have to admit I was initially late to the Carl And The Passions party until I first got the 2008 CD. Here, on the newly remastered CD1, I gained a finer appreciation for the arrangement elements of the album's opening track, "You Need a Mess of Help to Stand Alone," including the growling counter-vocal that's just a millisecond behind Carl Wilson's lead at the 1-minute mark, and the left-channel banjo during the just-right-of-center guitar solo. And the gospel-revival vocal harmonies achieved on "He Came Down" stand as tall as those on any of The Beach Boys' prime 1960s hits.
When it comes to CD2, Holland, I was already all-in, so I expected even greater things from the new remaster. About 14 years ago, I conducted an in-person Holland listening session with one of that album's engineers, Rob Fraboni, who shared his knowledge of how dead Fataar's drumming sounded in the room at Village Recorders in Los Angeles — the exact right production decision for the music at hand — and how the placement of Carl Wilson's vocals made you feel like you were right there with him as he sang. In the pre-chorus of the linchpin track "Sail On Sailor," you can discern the sublime spatial relationship between the signature S.O.S. guitar lick that wraps and weaves its way around Carl's background vocal answer lines. Meanwhile, the understated piano ballad "Only With You" is an overlooked melancholy masterpiece that puts you in the midst of its quite direct emotional space.
CD3 and CD4, The Beach Boys Live at Carnegie Hall – 11-23-72, reflect the immediacy of the then-rare 16-track remote recording unit they deployed. The hard-driving audience-participation thrust of "Heroes and Villains," a snarling, funk-drenched "Wild Honey," and a truly raucous show-closing cover of The Rolling Stones' "Jumpin Jack Flash" all quantify just how good &mdash and rightly acclaimed — a live act the expanded Beach Boys were at the time.
The last two discs are equally vital, with CD5's unreleased 1972 Sessions delineating the two studio albums' literal building blocks (see especially "Funky Pretty" and "Spark in the Dark"), while CD6's collective presentation of Al Jardine's "California Song Trilogy" better marries the poetic intentions of the original individual tracks involved in such a deeply meditative reflection tract.
Given how Sail On Sailor readily reinforces the value proposition of this particular Beach Boys box set template, it will be quite interesting to see how the band's ensuing — and quite uneven — mid/late-'70s period gets handled, if that's what's next on their reissue surfboard. Spoiler alert — I'm willing to catch that wave, because Sail On Sailor has charted a genuinely passionate course for exploring a period of the band's music in such a way that shows when The Beach Boys were at their second-decade peak, they were tough to beat.
6CD / 5LP+1EP
Label: Capitol/Ume
Audio Format: 16-bit/44.1kHz
Number of Tracks: 105 on 6 CDs / 5LPs+1EP
Length: 5:44:41 on 6 CDs / 5LPs+1EP
Producers: Mark Linett, Alan Boyd (Sail On Sailor – 1972); The Beach Boys (original recordings)
Engineers: Mark Linett (Sail On Sailor – 1972); Steve Moffit (Carl And The Passions and Holland); Rob Fraboni, Jon Parks (Holland)
In the early-1970s, two new VIP members of The Beach Boys