Intrique — Steven Wilson Presents: Progressive Sounds in UK Alternative Music 1979-89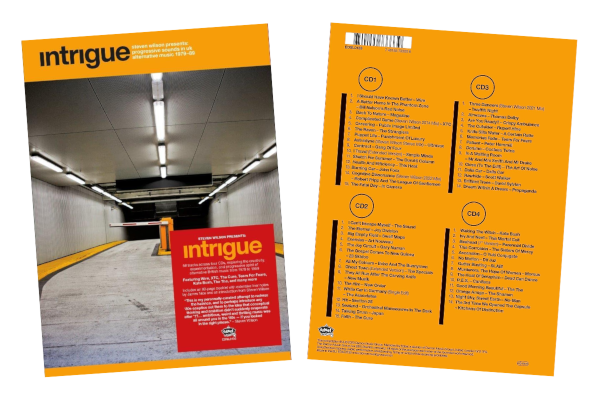 Not only that, but Wilson also has a passion for championing releases from other artists who have been underexposed or overlooked entirely. With all this in mind, is it really any wonder Wilson is behind a new and quite, well, intriguing import-only box set compilation entitled Intrigue — Steven Wilson Presents: Progressive Sounds in UK Alternative Music 1979-89? All told, Intrigue presents 58 tracks Wilson personally selected from that hallowed decade across the Pond, as spread across 5-plus listening hours on a 4CD set from Edsel Records.
For those of us more vinyl-inclined, Demon Records offers the full Intrigue collection as an admittedly pricey 140-gram 7LP collection, or you can consider the much more abbreviated and reasonably affordable 19-track version on 2LPs — also on 140-gram vinyl — as an alternative. Currently, the 7LP set is somewhat outside my own budget range ($260), but I did purchase both the 2LP set ($35) and the 4CD set ($60) via Burning Shed's always reliable import mail order arm. (As of this writing, Burning Shed was sold out of both the 7LP and 4CD editions, but they're still available elsewhere online.)
The 4CD Intrigue box set I'm reviewing here is presented in slimline fashion — the size known as A5, in British parlance — and that translates to 5½ x 9/16 x 7⅝ inches (w/h/d), with each CD easily removable from its respective individual side-cut slot. Naturally, this particular Intrigue footprint is much easier to store for the shelving-challenged audiophile collectors amongst us, and it happens to fit quite nicely alongside similar A5 releases I have from the likes of R.E.M., Pixies, Blackfield, Love and Rockets, The Allman Brothers Band, and many more. Kudos to the Edsel/Demon brain trust for making such a physically economical call here.
The included 80-page bound-in booklet is rife with the kind of recording minutiae I like to have at hand during extended listening sessions — albeit being somewhat eye-straining at times to decipher, considering the A5's chosen type size. Luckily, I had the option to refer to the much bigger type in the 12-page, 12 x 12-inch booklet that's in the 2LP set whenever I wanted to cross-reference any of the 19 overlapping tracks between the two formats.
First, Wilson supplies an introduction that sets the table quite clearly: "So much of what I liked from the '80s seemed just as ambitious and pretentious in the best possible sense," he writes in comparing his choices with the progressive sounds of the '60 and '70s many of us are more than quite familiar with, "and that's where this collection comes in."
Following that, expert essayist James Nice provides ample background on the intentions behind and the recording of each track in the Intrigue collection at an average of four paragraphs apiece.
But now, it's all about the music, and here are but a smattering of my favorite Intrigue tracks.
On Disc 1, post-punk pioneers Wire open the proceedings with "I Should Have Known Better," a broader, brooding amalgamation of guitars, effects, synths, and other electronics that could also be seen as a dark-wave precursor. Magazine, another post-punk collective, shifted their own gears with the Bowiesque "Back to Nature," replete with grand piano and ARP Odyssey synth accompaniment that wouldn't be out of place on a Jean-Michel Jarre LP.
On Disc 2, 23 Skidoo bring us on a percussive 10-minute dub-voodoo ride via "The Gospel Comes to New Guinea," while Japan — featuring vocalist David Sylvian and Wilson's eventual Porcupine Tree bandmate Richard Barbieri on keyboards — take a decidedly eerie, angular approach on "Talking Drum."
On Disc 3, the late producer Rupert Hine (The Fixx, Howard Jones) declares his own identity on the appropriately named moody calliope of "The Outsider," and German synthpoppers Propaganda unfurl the "Dream Within a Dream," with precise of-era production courtesy of Trevor Horn and Stephen Lipson.
Finally, on Disc 4, the ambient duo O Yuki Conjugate slow roll us to full "Ascension," while the neoclassical soundscape twosome Dead Can Dance deliver us to the wailing wall of "The Host of Seraphim."
The overall beauty of Intrigue is that you'll never really be at a loss for discovering something you haven't heard before, and/or will find yourself getting deeper into tracks you may only have a cursory listening relationship with at best — and isn't that what targeted compilations like this box set are ultimately all about? May our man Steven Wilson be given the greenlight to next delve into the following decade of post-prog offerings for a future multidisc multi-format release, as we are beyond intrigued at the possibilities.
4CD Box Set
Label: Edsel
Audio Format: 16-bit/44.1kHz
Number of Tracks: 58
Length: 5:12:50
Producers: Steven Wilson (box set compiler); multiple others
Engineers: Phil Kinrade (box set mastering); multiple others
Steven Wilson has long been a man with a mission to push musical boundaries and stretch the limits of our listening expectations with his own music, whether it be the post-prog leanings of Porcupine Tree, his more adventurous solo work, or his voluminous experimental collaborations. "My perspective on music is always changing anyway," Wilson told me back in 2020, "and what I want to do with music is always in a state of flux and evolution."