Remaster Class – R.E.M: Out of Time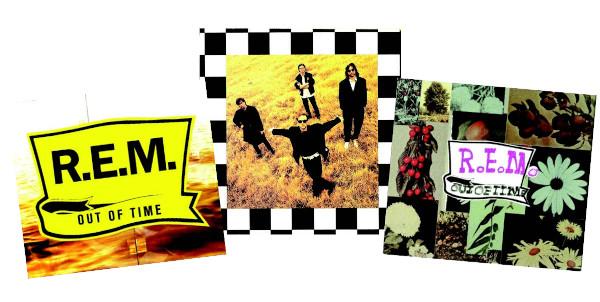 The Hint of the Century
No one could have predicted how a guitar band from Athens, Georgia would turn into the biggest international alt-rock darlings of the 1990s — and yet, that's exactly what R.E.M. did. The lo-fi genius of their eternally mumbly/jangly first single, "Radio Free Europe," released as a 7-inch 45 on their local indie label Hib-Tone in July 1981, essentially reset the song-arrangement table for what became known as college rock. Year by year, R.E.M. planted more than enough sonic seeds about where the latest crop of DIY U.S. bands was heading on each of their ensuing mid-1980s LP releases on the indie I.R.S. Records label until they jumped to the majors with their swing-for-the-fences November 1988 effort on Warner Bros., Green. Though Green's expansive sound palette took full advantage of a much-bigger recording budget, R.E.M.'s world domination vision instead came to fruition on their more refined, more stripped-down second Warner Bros. release, the unequivocal worldwide smash hit, March 1991's Out of Time.
When I sat down with R.E.M. guitarist Peter Buck in New York in mid-April 1991, not long after the album's lead single, the mandolin-driven confession treatise "Losing My Religion," scaled the upper echelon of the U.S. singles charts, he confirmed the band's clear — and clearly vindicated — intention behind their decision to go against the radio-ready grain and instead follow their creative instincts was indeed the right way to go. "I've never been scared of trying something different," Buck told me. "I mean, I like challenging the audience, and it was nice getting away from that same-old rock band sound after doing it for so long."
Escaping that firmly entrenched louder groove meant scaling the arrangements back to fit the vibe of what vocalist and chief lyricist Michael Stipe had envisioned. "We wound up doing a lot of the record with me on mandolin, Bill [Berry, R.E.M.'s drummer] on acoustic bass or guitar, and Mike [Mills, R.E.M.'s bassist] on organ," Buck explained. "Because many of the songs were about relationships and had a warmer feel to them overall, it just didn't seem like I should clutter them with electric guitars."
Since Out of Time initially came out near the apex of the CD era, my first 50 or so spins of the album were done by way of the then-burgeoning digital format — i.e., the 1991 Warner Bros. CD (opening photo). I didn't even own a copy of Out of Time on vinyl until Concord reissued the album as a remastered, 25th anniversary 180-gram LP in 2016. Eventually, for completist purposes, I was able to track down Concord's companion 2016 3LP edition that featured a score of demos on the second and third LPs.
As you might expect, my preferred Out of Time listening experience is in surround sound — first via the 2005 Warner Bros. CD+DVD-A/V digipak, with the DVD's Dolby Digital 5.1 and DTS 5.1 options courtesy of remix producer Elliot Scheiner and assistant engineer James Candiloro, and later with the slimline 2016 Concord Bicycle 3CD+1BD deluxe edition that includes a remastered version of the prior 5.1 mix on Blu-ray. (Here's hoping the R.E.M. camp considers revisiting Out of Time in Dolby Atmos at some point — something they've been doing on the BDs included with a number of their successive multidisc anniversary box set reissues.)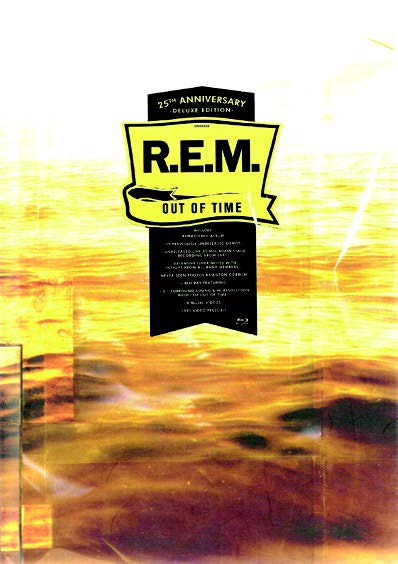 "My goal was to maintain the original album's integrity," Scheiner told me about his Out of Time surround mix M.O. while I was sitting next to him behind the main mixing board in Capitol Records Studio A in Los Angeles in June 2018, during a break from mixing a pair of new tracks from indie-rock folksters Dawes in 5.1. The vaunted veteran producer/engineer added he always preferred having Stipe's vocals "in every speaker"— albeit at a lower register in the center channel and the surrounds, as can be heard to that exact spec on the linchpin track "Losing My Religion" while Buck's mandolin gets much freer all-channel reign. Other standouts to my ears are the foreboding percussion and wafting organ lines sharing wide space at the outset of "Low," the unabashed buoyancy of Stipe and guest vocalist Kate Pierson's interplay plus the lilting orchestral accompaniment all throughout "Shiny Happy People," and the pedal-steel twang and drama backing Stipe's ever-deteriorating narrative on "Country Feedback."
Though Out of Time still seems to be relatively over-shadowed by the sheer impact and velocity of the R.E.M. album that followed it, October 1992's truly ascendant Automatic for the People, the facts remain as such — this still-influential four-man band from Athens, GA needed to lose their religion first before being enlightened enough to share the universal truth about how everybody hurts sometimes.