Remaster Class: King Crimson: In the Court of the Crimson King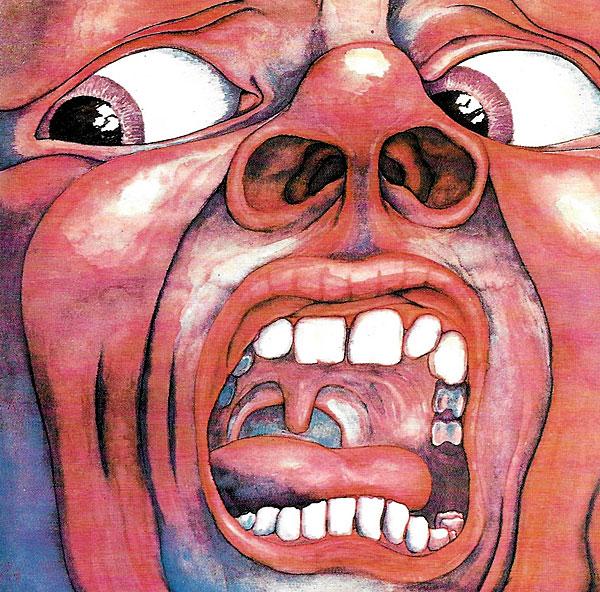 Few artists have oh-so-quantifiably defined their own uncopiable sound as definitively as King Crimson did with their October 1969 debut, the full-title-mouthful
In the Court of the Crimson King: An Observation by King Crimson
. This five-track, beyond-progressive salvo brought together forward-thinking pastoral, orchestral, jazz, and blues-rock sounds into a distinctive blend that only served to widen the overall aural palette of the most formative decade in popular music.
"The original King Crimson only had tinges of abstractivity," original KC lead vocalist/bassist Greg Lake once told me. "At the heart of King Crimson, there were always the songs." Lake's insight is particularly poignant here, for Court, while expansive in scope and reach, is most certainly also about the songs at its core. Whether it's the mournful title track or the frenzied all-in thrust of "21st Century Schizoid Man," Court has a spark all its own.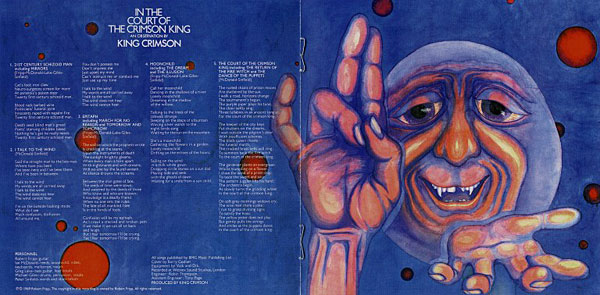 The original 1969 Island vinyl LP (Atlantic in the U.S.) was a triumph not only for analog sound reproduction, but quite literally for heady album artwork as well. Without a doubt, Court is most striking in its full album-size gatefold form. The nostril-flaring, wide-mouthed screaming Schizoid Man cover image by Barry Godber is both stark and unsettling at the same time, while the gatefold's toothy Crimson King is just a little less, well, creepy. In this case, size most definitely matters, for when the interior image is shrunk down for CD booklet reproduction, the Crimson King's outstretched hand that slightly overlaps the lyrics becomes annoyingly intrusive. Seriously—try reading minuscule white type superimposed over said extended Pepto-Bismol-pink pinky finger, not to mention the other areas blocked by superimposed blood-red moon spheres.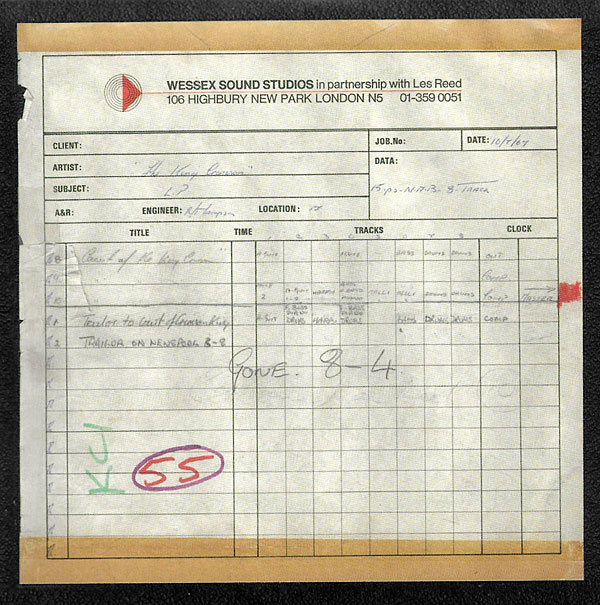 While the original 1969 LP is indeed a nice of-era talisman to have on the shelf, I am much more partial to the 2019-issued 2LP 200-gram Inner Knot version, which spreads 12 tracks quite lovingly across four sides—2019 mixes of the original five-cut album on LP1 (approved by KC founder/ mainstay mastermind Robert Fripp), and seven alternate takes on LP2 (five mixed by Steven Wilson, two by David Singleton).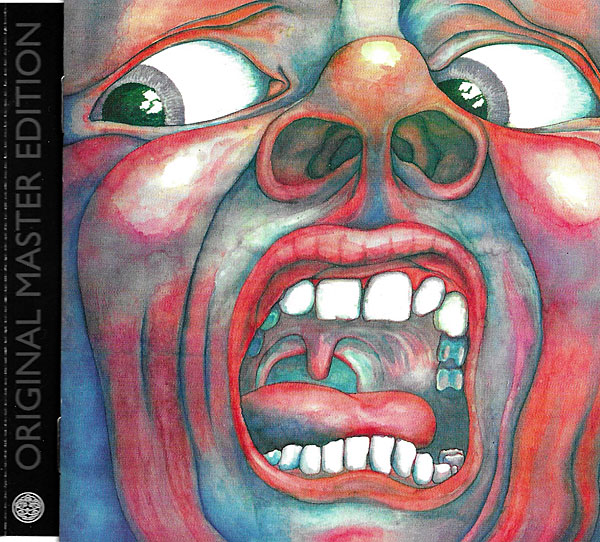 Meanwhile, Court CD releases have come semi-sparingly in waves, with each option having its own merits and demerits. The 1989 EG CD, labeled as "The Definitive Edition Re-Mastered by Robert Fripp and Tony Arnold," is a notch above standard 16-bit/44.1kHz CD fare, mainly due to the always meticulous Frippertronic nature of the band's key founding member. The CD booklet slathers eight of its 12 pages with a smattering of 1969 British music-paper clippings about the band's emergence and reception without any supplemental historical information accompanying it. The 2004 DGM Original Master Edition CD trims the booklet down to the lyrics/credits and Crimson King spread only, while the disc itself is pink-hued like something machined out of a set of hospital scrubs.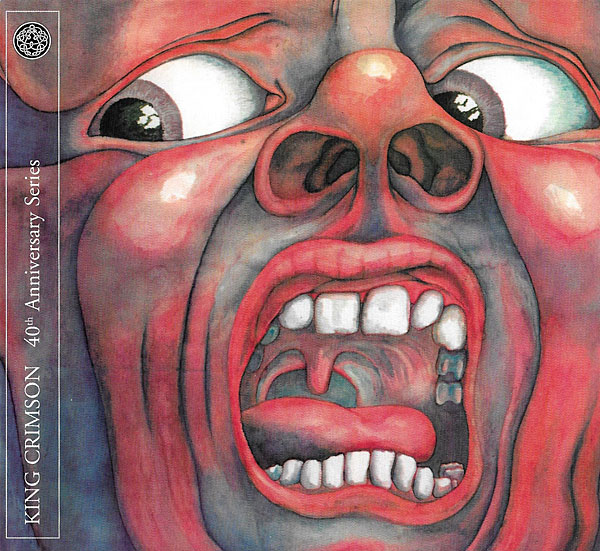 Thankfully, the 2010 Discipline/Panegyric six-disc box set (5 CDs, 1 DVD) is a goldmine of content for uber-Crimheads—but it's currently expensive and hard to find, so the 2009 40th anniversary two-disc Inner Knot-nomenclatured KCSP 1 CD+DVD-A edition with a 24/96 MLP Lossless 5.1 mix by Steven Wilson, along with an in-depth essay from KC historian Sid Smith, is a welcome alternative. That said, you can also go all-in with the 2019 Inner Knot 50th anniversary four-disc 3CD/1BD box set that ups the Court game considerably. Its contents include instrumental mixes, an expanded alternate album, updated essay, and much more material, including isolated vocals and a "Schizoid" video extract taken from the band's historic July 5, 1969 Hyde Park performance.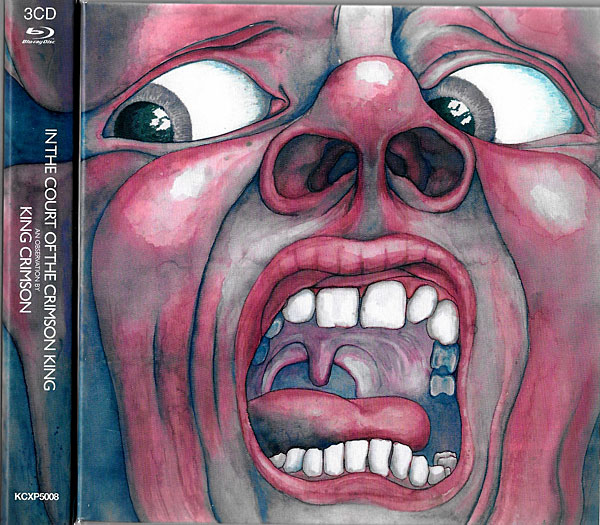 For my ears, the most mesmerizing DTS-HD Master Audio 5.1 BD track is "I Talk to the Wind," a delicate, wispy mesh of layered flute and gracefully blended vocals that's a tour de force for woodwinds/keyboard maestro Ian McDonald. "To me, the sense of the instruments and air all vibrating together adds something special there," McDonald told me back in August 2019. Verily, I say when you want to hold Court with the Crimson King, best to do so via a combo of 200g wax and 24/96 5.1 on Blu-ray. Either way, you'll taste both the sweet and sour of these most welcome Kings of adventurous music.