Best 5.1 Surround Sound Music Tracks Page 2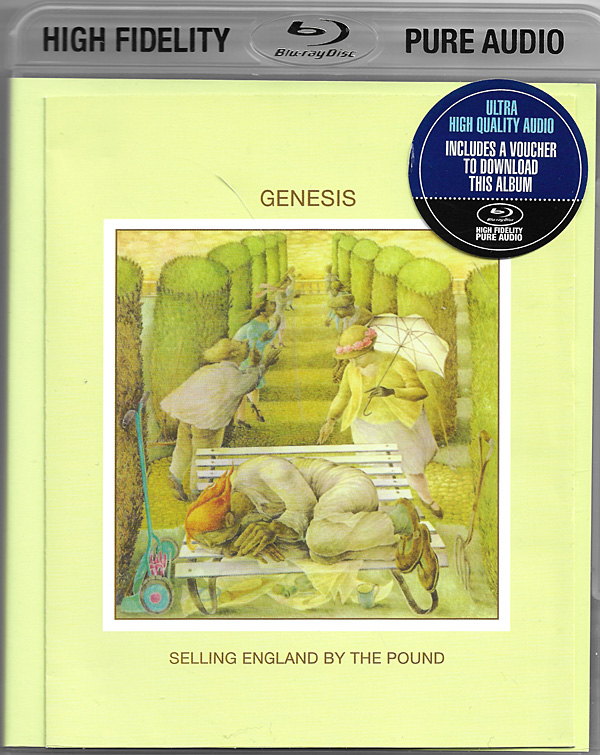 9. Genesis: "Firth of Fifth." Selling England by the Pound
(24/96 DTS-HD Master Audio 5.1 Blu-ray. Universal/Charisma/Virgin, 2014/1973.)
Longtime Genesis producer/engineer Nick Davis gave the 5.1 treatment to the entire Genesis catalog from stem to stern for both DVD-A and SACD in the mid/late 2000s, and his care, ingenuity, and instinct have served their cumulative studio and live canon quite well. Thankfully, Universal chose to reissue the album that best represents the band's collective strengths as a compositional force, October 1973's Selling England by the Pound, on Blu-ray in 2014. All 9:36 of "Firth of Fifth" fulfills the maxim "give everybody some," whether it's Tony Banks majestically bookended 1:08 classical piano intro and theme-reprised outro; vocalist Peter Gabriel's wafting flute solo; Banks, drummer Phil Collins, and bassist Mike Rutherford's in-tandem minute-long piano and rhythm section break (listen closely for Collins's oh-so-subtle gong); or guitarist Steve Hackett's 3-minute multilayered guitar clinic to close out the back half. The path is clear, for the progressive trajectory of the house of Genesis is linchpinned here.
Second takes: a) "Watcher of the Skies." Foxtrot. 24/96 PCM DTS Surround DVD-Audio. Rhino/Charisma/Atlantic, 2008/1972 (a pair of intergalactic Hackett solos lord over the left channel); b) "Dance on a Volcano," A Trick of the Tail. 24/96 PCM DTS Surround DVD-Audio. Rhino/Atco, 2007/1976 (opening gambit for the band's Collins-led era is totally en fuego, via his layered, charismatic lead vocals and insistent hi-hat and cymbals).
---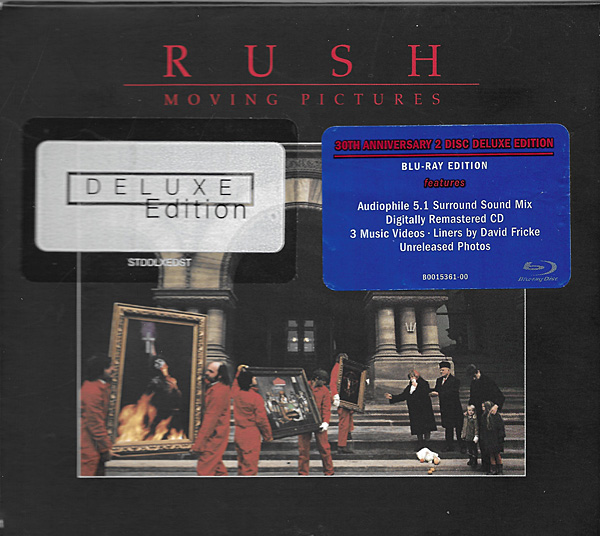 8. Rush: "The Camera Eye." Moving Pictures
(DTS-HD Master Audio 5.1 Blu-ray. UMe/Anthem/Mercury, 2011/1981.)
Rush music has always been bred for listeners with expansive ideas and proto-cosmic goals, and February 1981's Moving Pictures bridges their eager '70s adventurousness with their more streamlined—but no less complex—'80s output. The cross-the-Pond continental flight plan of "The Camera Eye" puts it all into focus, ably aided and abetted by Richard Chycki's in-simpatico surround mix on the Deluxe Edition's Blu-ray. The first half of this two-part travelogue mirrors the hustle and bustle of New York City with Geddy Lee's vigorous, rumbling low end and firmly insistent vocals and Alex Lifeson's gritty, sustained guitar riffs. Meanwhile, the second half transitions to a moderately austere but still thriving London setting by sporting a slightly more reserved Lee lead vocal and Lifeson's somewhat cleaner yet still aggressive guitar tone. Each half is accented by carefully chosen run-of-the-kit Neil Peart drum fills from right to left, while Lee's all-channel synth accents dissolve before and between each half as they wash across the waves of every channel. "The Camera Eye" gives you access to the sense of all Rush 5.1 possibilities yet to come.
Second takes: a) "Vital Signs." Moving Pictures (sine-wave synth and bass, staccato guitar riffs, and the tautest snare on record elevate the norm); b) "La Villa Strangiato." Hemispheres. 24/96 DTS-HD Master Audio 5.1 Blu-ray. UMe/Anthem/Mercury, 2018/1978 (Lifeson solos mightily down the middle, while Peart channels Gene Krupa and Lee divines Weather Report).
---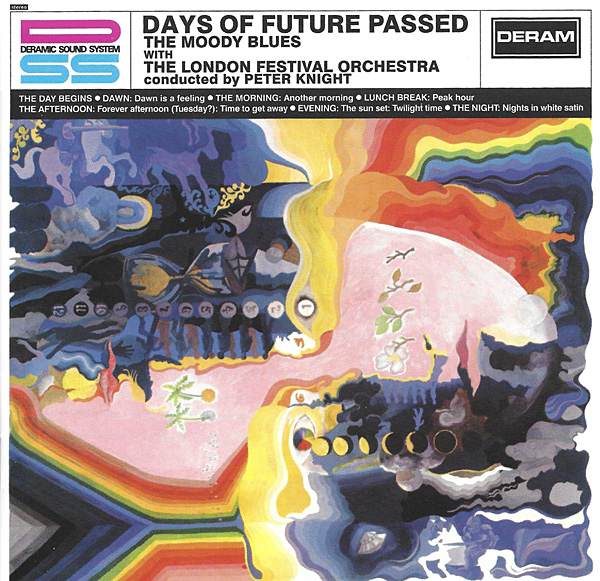 7. The Moody Blues: "Nights in White Satin." Days of Future Passed
(DVD, 24/96 DTS-HD Master Audio 5.1 DVD. UMC/Deram, 2017/1967.)
Pushing beyond the stereo soundfield has always been part of the celestial-leaning M.O. of The Moody Blues, and their November 1967 collaboration with The London Festival Orchestra and conductor Peter Knight gave them their first opportunity to open the 360-degree hatch. Mark Powell and Paschal Byrne have quite masterfully "manipulated" (their words) the initial of-era 1972 quadraphonic mix done by original producer Tony Clarke and original engineer Derek Varnals into modern 5.1 royalty (and a full decade-plus following its 2006 release on SACD). The breathtaking 80-second orchestral swell that follows lead vocalist Justin Hayward's final, impassioned "oh, how I love you" is post-scripted quite nicely by the rightly austere, back-channel-only "Late Lament" narration by Mellotron maestro/gong hitter Mike Pinder. Voices in the sky, indeed. ("Days" can also be found in 5.1 on DVD [Disc 15] in UMC's hard-to-find 17-disc 2013 Timeless Flight import box set.)
Second takes: a) "Legend of a Mind," In Search of the Lost Chord. 24/96 DTS-HD Master Audio 5.1 DVD. 2019/1968, UMC/Deram (Second-bridge diagonal-channel cross-pollination between Ray Thomas' breathy flute stabs and Pinder's swooping Mellotron wails will make you go, "Timothy Leary's dead? No n-n-no, he's outside the soundfield, looking in"); b) "Question." A Question of Balance. SACD DSD. UMC/Threshold, 2016/1970 (Hayward's insistent acoustic guitar is met full-force by tambourine, Mellotron, and wholly otherworldly background vocals).
---
6. Pink Floyd: "Echoes." The Early Years – 1971 Reverber/ation
(24/96 DTS-HD Master Audio 5.1 Blu-ray. Pink Floyd Records/Columbia/Harvest, 2016/1971.)
Considering Pink Floyd was the first band of the rock era to ever experiment with live quad at The UFO Club in London in 1966 (a performance practice they continued all the way up through the stadium-centric 1994 Division Bell Tour), it's fitting that a track once given proper 4.0 treatment makes the final cut. To that end, the initial 1971 Quad mix of "Echoes," the 23-minute whirling-dervish epic that takes up all of Side 2 on October 1971's Meddle, is easily accessible on the bottom-screen menu on the 1971 Reverber/ation Blu-ray that was initially part of the band's massive The Early Years – 1965-1972 33-disc box set in 2016 before being released in a separate three-disc Reverber/ation collection in 2017. But it takes some ingenuity to access Andy Jackson's full-on 5.1 mix that's one of the box set's most cherished Easter eggs. Either way you get to experience it, "Echoes" fully lives up to its name, right from the outset of keyboardist Richard Wright's signature recurring ping (courtesy of his grand piano being sent through a Leslie speaker and a Binson Echorec echo unit). From there, "Echoes" never sits still, swirling its way through each channel like a crossfire hurricane that attacks and engulfs you from any direction you'd like. The middle section's piercing bleats, an amalgamation of guitarist David Gilmour's backwards wah-wah pedal lines, swoop in and out like a divebombing bird hellbent on revenge, while the periodic wind swells (courtesy of Roger Waters using a guitar slide on his bass strings) all lead up to the finest Floydian all-channel full-band jam that set a clear template for the more economical pleasures of March 1973's The Dark Side of the Moon.
Second takes: a) "Time." The Dark Side of the Moon – Immersion Box Set. 24/96 DTS-HD Master Audio 5.1 Blu-ray. Columbia/Harvest/Capitol, 2014/1973 (clocks initially ticking like raindrops explode into all-channel resounding alarms, while Nick Mason's agile tom-tom hammers across the front channels during the intro as Gilmour's thundering chords crackle as low as they can go); b) "High Hopes." The Division Bell – 20th Anniversary Edition. 24/96 DTS-HD Master Audio 5.1 Blu-ray. Columbia, 2014/1994 (the unrelenting tolling of a church bell in the key of C puts you in a chilly cathedral while Gilmour takes it all home with a tasteful lap-steel slide solo down the middle).
---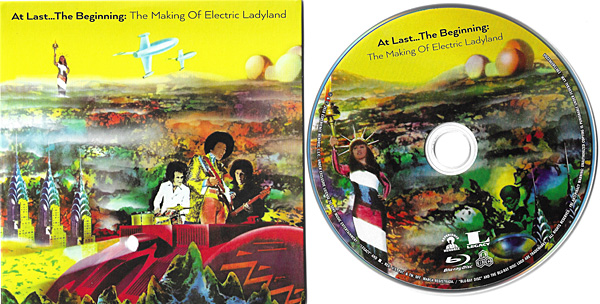 5. The Jimi Hendrix Experience: "1983 . . . (A Merman I Should Turn to be)." Electric Ladyland
(24/96 DTS-HD Master Audio 5.1 Blu-ray. Experience Hendrix/Legacy/Reprise, 2018/1968.)
When Jimi Hendrix and his right-hand studio man Eddie Kramer discussed the sound template they wanted to achieve with October 1968's Electric Ladyland, surrounding the listener as best they could given the limits of 1960s recording technology was of paramount importance. Their plan was to push the literal boundaries of 2.0 presentation, with the hope its jampacked 75 minutes would someday be able to encircle its listeners in full. Fifty years later, Jimi finally got his 360-degree wish fulfilled, thanks to Kramer himself taking the 5.1 helm and utilizing the original 1-inch 12-track master tapes to their abject fullest measures on Blu-ray in the 50th anniversary box set. "1983," a track many of us marveled at for decades while listening to it repeatedly on headphones, has since become the perfect soundtrack for a 3D Aquaman movie, the aural equivalent of taking a sonic voyage 20,000 leagues (or should that be Hz?) under the sea. "1983" is a breathtaking 13-minute journey depicting Hendrix's concurrent ascent and descent into a future lived underwater, punctuated by his lightning-quick ping-ponging guitar-riff depth charges, multiple flute accents from Traffic's Chris Wood floating in and out of the ether, and drummer Mitch Mitchell's ever-intuitive jazz-influenced stick, snare, and cymbal work. If you have never been to Electric Ladyland, this breathtaking undersea adventure is the best place to start swimming.
Second takes: a) ". . . And the Gods Made Love." Electric Ladyland (like a centrifugal-force machine gone haywire and unfolding at breakneck speed all around you until it reaches pure climax); b) "Voodoo Child (Slight Return)." Electric Ladyland (wah-wah pedal mastery at its finest, presented in a way that makes you feel like Hendrix is simultaneously coming at you from every direction all at once yet never betrays the song's core structure and presentation).
---
4. The Beatles: "A Day in the Life." Sgt. Pepper's Lonely Hearts Club Band
(24/96 DTS-HD Master Audio 5.1 Blu-ray. UMe/Apple/Capitol, 2017/1967.)
The most celebrated track on the most celebrated LP of the rock era that's generally acknowledged as the first long-playing record to cement the idea of an entire album being an artform until itself, "A Day in the Life" reaches newer heights beyond its original mono and stereo forms, thanks to the no-holds-barred surround mix by Giles Martin (with engineering assistance from Miles Showell and Sean Magee) on the Blu-ray that's part of Pepper's 50th anniversary box set. Indeed, this 5.1 "Day" is nothing short of extraordinary, pushing beyond the form it appears in on November 2006's LOVE DVD-Audio release. Witness both the subtle details (Beatles roadie/confidant Mal Evans counting out the number of bars during the orchestral build-ups, a chair scraping across the floor and papers rustling during the denoument) alongside the track's biggest moments — namely, the pair of cacophonous, 24-bar, 40-piece atonal orchestral swells that reached beyond the red of the very limits of volume. Not only that, but be ready for the heart-attack-inducing impact of the group-hit E-major chord on three separate pianos (in addition to producer George Martin banging along on harmonium), which resonates for a full 40 seconds until high-pitch effects and a repetition of the telling, prescient phrase "never could be any other way" (initially intended for the June 1967 vinyl album's runout groove) close the proceedings. A fitting coda to a studio-born promise realized that continues to stand the test of time, the 5.1 mix of "A Day in the Life" is way beyond compare.
Second takes: a) "Revolution 9." The Beatles – 50th Anniversary Super Deluxe Edition. 24/96 DTS-HD Master Audio 5.1 Blu-ray. UMe/Apple/Capitol, 2018/1968 (en garde your ears as The Fabs' prototypical avant-garde bouillabaisse sloshes and prods at you from all sides); b) "The Long One." Abbey Road – Anniversary Edition. 24/96 Dolby Atmos Surround Blu-ray. UMe/Apple/Capitol, 2019/1969 (i.e., the original working title for the 16-minute Side 2 medley; marvel at the depth and precision of Ringo Starr's lone Beatles-era drum solo and the three-channel guitar-solo tradeoffs between Paul McCartney, John Lennon, George Harrison respectively during "The End").
---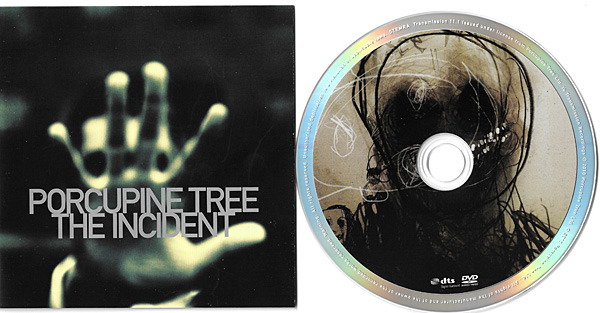 3. Porcupine Tree: "Time Flies." The Incident
(24/96 5.1 MLP Lossless DVD. DTS/Roadrunner, 2010/2009.)
It's nigh impossible to pick but one 5.1 track from the surround output of post-prog giants Porcupine Tree, but you gotta draw the line somewhere—and, in this case, that line arrives somewhere near the edge of time itself. Surround magnate Steven Wilson reaches the summit of his Tree-era surround experiments with an 11-minute multipart melancholy reminiscence that could also serve as the soundtrack to a mashup of The Twilight Zone episode troika of "Walking Distance," "A Stop at Willoughby," and "The After Hours." The opening stanzas set the stage with lines I could have penned myself: "I was born in '67 / The year of Sgt. Pepper and Are You Experienced? / It was a suburb of heaven." Wilson's bright, front-stage acoustic guitar intro soon gives way to waves of all-encompassing muscular Gilmourlike riffage—as in, "Sheep" meets "Time" in a back-channel back alley for a few rounds of comfortably nimble crosstalk—before a final acoustic figure nestles in the middle, buttressed by drummer Gavin Harrison's smashingly good snare and Richard Barbieri's right-behind-you keyboard textures. This soaring "Time" marker set the stage for Wilson's solo career, one that's been tailor-made for original music created for surround sound treatment that continue to raise the bar for 360-degree enjoyment.
Second takes: a) "Halo." Deadwing. 24/48 DTS Digital Surround DVD-Audio. DTS/Lava, 2005 (Wilson's distorted voice of God ascends through the channels like the titular halo around your head); b) "Blackest Eyes." In Absentia. 24/96 DTS-HD Master Audio 5.1 Blu-ray. kScope/Lava, 2020/2003 (5.1 mixing pioneer Elliot Scheiner ensures the full headbanging impact of this track's neo/proto-metal crunch).
---
2. Yes: "Close to the Edge." Close to the Edge
(24/96 DTS-HD Master Audio 5.1 Blu-ray. Panegyric/Atlantic, 2013/1972.)
The 18.5-minute-long title track "Close to the Edge" is perhaps the most fully realized composition in the entire Yes canon, a progressive rock hallmark that could only be brought to its fully immersive 5.1 life by the ever-ubiquitous Steven Wilson. The highlight comes in Part III, subtitled "I Get Up I Get Down," which features keyboard maestro Rick Wakeman's panoramic church-organ sequence that was recorded at St.-Giles-without-Cripplegate in London and ultimately floated into the final track from quarter-inch tape. Each respective Yesmate shines here, whether it's Chris Squire's extended bassnote runs in Part I ("The Solid Time of Change"), guitarist Steve Howe's front-channel sturm und twang attack in Part II ("Total Mass Retain"), vocalist Jon Anderson's continual exploration of his "uhhhh" and "owww" vowel extensions in Part III (the aforementioned "I Get Up I Get Down"), and drummer Bill Bruford's masterclass stick-and-snare work in Part IV ("Seasons of Man"). Truly a 5.1 mix that stretches outward beyond the Edge of possibilities.
Second takes: a) "Heart of the Sunrise." Fragile. 24/96 DTS-HD Master Audio 5.1 Blu-ray. Panegyric/Atlantic, 2015/1971 (furiously sharp sunbursts from a distance, with Mellotron rising in the rears); b) "Yours Is No Disgrace." The Yes Album. 24/96 DTS-HD Master Audio 5.1 Blu-ray. Panegyric/Atlantic, 2014/1971 (first salvo of Yes' compositional prowess unfolds with abject military precision; "silly human race," indeed).
---
1. Steven Wilson: "Luminol." The Raven That Refused to Sing (and other stories)
(24/96 DTS-HD Master Audio 5.1 Blu-ray. kScope, 2013.)
Surely there can be no real surprise about who's No. 1 on this list. "Luminol," the utterly kinetic 12-minute lead track from Steven Wilson's groundbreaking February 2013 solo effort The Raven That Refused to Sing (and other stories), is the hands-down toppermost track that embodies all of the best qualities of any A-level 5.1 mix: palpable drama, hellacious highs, subwoofer-slamming lows, truly majestic volume dynamics, consistent six-channel challenges, and an extended song length to let the scope of the full arrangement breathe. All these elements create an unyielding impetus for us listeners to play "Luminol" again and again, because we'll always find something new to enjoy and/or focus on during each pass.
I could put forth a thousand words dissecting every striking "Luminol" moment there is, but I'll restrain myself only somewhat to note a few of my favorite things, such as Nick Beggs' thumpingly deep low end, Wilson's own Mellotron magic, drummer Marco Minnemann channeling Keith Moon through a tight time-signature hourglass, keyboardist Adam Holzman seemingly playing with eight hands all at once, and Guthrie Govan's ever-lithe electric-guitar musculature, all topped with the garland of Theo Travis' mystical flute accents. Subtitle it, "Planet Caravan Experiences Déjà Vu in Aspic Amidst Many Topographic Oceans."
Since the release of the Raven album and the breadth inherent in "Luminol" in particular, Wilson has continued to up the 5.1 ante considerably in his ensuing solo work—and because he's firmly nestled at No. 1, he gets (yes) four second takes below. And if what I've heard so far from his upcoming studio album The Future Bites is any indication, there's nowhere for him (and us) to go but up up up, around and around, and back again. Count out that final description of mine, and you'll find that it adds up to 5.1 more ways Wilson will continue to reign as the one true master of 360 degrees supreme.
Second takes (times two): a) "The Raven That Refused to Sing." The Raven That Refused to Sing (and other stories) (a somber funeral dirge that tears into the meat of your funereal soul); b) "Pariah." To the Bone. 24/96 DTS-HD Master Audio 5.1 Blu-ray. Caroline, 2017 (ascends to a shimmery heaven with secret vocal weapon Ninet Tayeb's emotive work on the choruses); c) "Index." Grace for Drowning. 24/96 DTS-HD Master Audio 5.1 Blu-ray. kScope, 2011 (a truly twisted collector's call that skitters along as a twitchy 5.1 OCD chronicle-cum-manifesto); d) "Routine." Hand. Cannot. Erase. 24/96 DTS-HD Master Audio 5.1 Blu-ray. kScope, 2015 (anything but a reflection of its title, with yet another out-of-the-ordinary vocal wash from Tayeb).