10 Top Concert Blu-ray Discs Page 2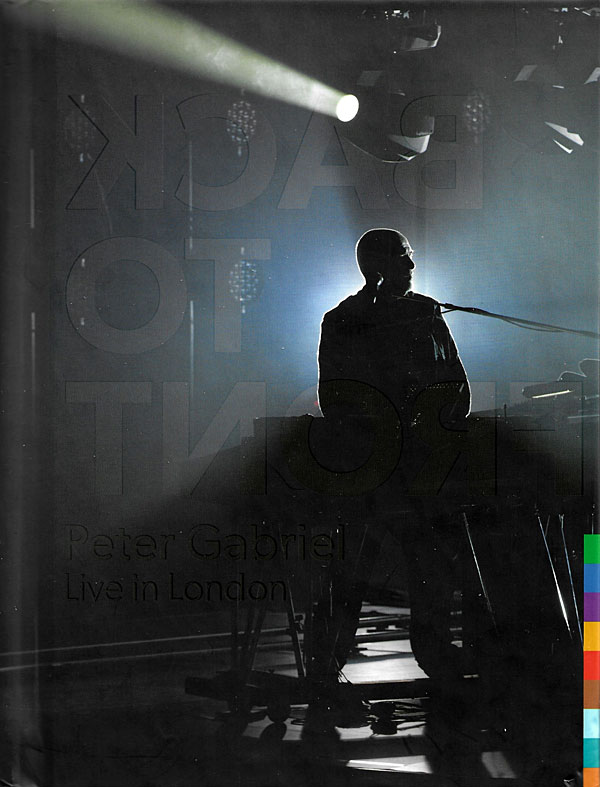 Peter Gabriel: Back To Front – Live In London
(Eagle Vision/RealWorld, 2014. DTS-HD Master Audio 5.1. 1.85:1. 136 mins.)
Peter Gabriel is as much a visual visionary as he is an auditory one, and the marriage of both sensibilities is readily apparent all throughout Back to Front, which was filmed over two nights at the O2 in London on October 21-22, 2013. Wisely unfolding the show in three parts—"like a meal," as Gabriel describes it, seated at his piano at the outset—director Hamish Hamilton captures the full flavor of the artist's perennial rules-challenging vision. Take special note of the foreshadowing overhead shots that eventually reveal why the target painted on the stage becomes part of the show itself—as it does for the clockwise pied-piper jigs shared between Gabriel, guitarist David Rhodes, and bassist Tony Levin, or when Gabriel lies prone on the stage during the entirety of the uber-moody "Mercy Street" while being probed and prodded by a gaggle of movable combo light/camera stands. Hamilton's over-the-shoulder shots from the stage give added perspective to the sea of faces both rapt in their seats and up and grooving during much of the So section of the show. The 5.1 mix by Ben Findlay, Richard Chappell, and Andy Coles is simply stunning all throughout. The audio-detail highlights are many, such as drummer Manu Katché's expert snare and hi-hat work during a galvanizing "Red Rain," Rhodes' laser-pinpoint slide work on "The Family and the Fishing Net," and Levin's dexterous low-end rumbling during "Secret World," to name but a few. Particularly touching is how the audience hums the melody to "Sledgehammer" in unison while Rhodes noodles organically on a subtle intro before the song truly kicks in, how they follow Gabriel's lead for the pre-chorus "whoa-ohh" vocal rises during "In Your Eyes," and the defiant "oh-oh ohhh" punctuation running all throughout the final, spellbinding encore, "Biko." Back to Front is as enthralling as it gets, an expertly drawn Gabriel family snapshot well worthy of repeat viewing.
Extras: Be sure to get the special hardbound edition with 2BDs/2CDs. The second BD intersperses band interviews amidst the theatrical film version of the performances on Disc 1. Also included are "In Your Eyes – DNA Mashup," an across-the-decades edit that blends multiple band permutations performing this iconic song (including the continually stunning Senegalese wails from Youssou N'Dour and the harmonies of the ever-engaging Paula Cole), plus the quite self-explanatory "This Is the Picture – FanCam." Disc 1 holds a 6-minute combo interview with Gabriel and production designer Rob Sinclair discussing how they respected the original So tour design from 1986-87 by modernizing the roving lighting units Gabriel had kept in storage for over three decades. "I'm a hoarder," Gabriel unabashedly admits of why he kept them in the first place, proving yet again he's one of us at heart.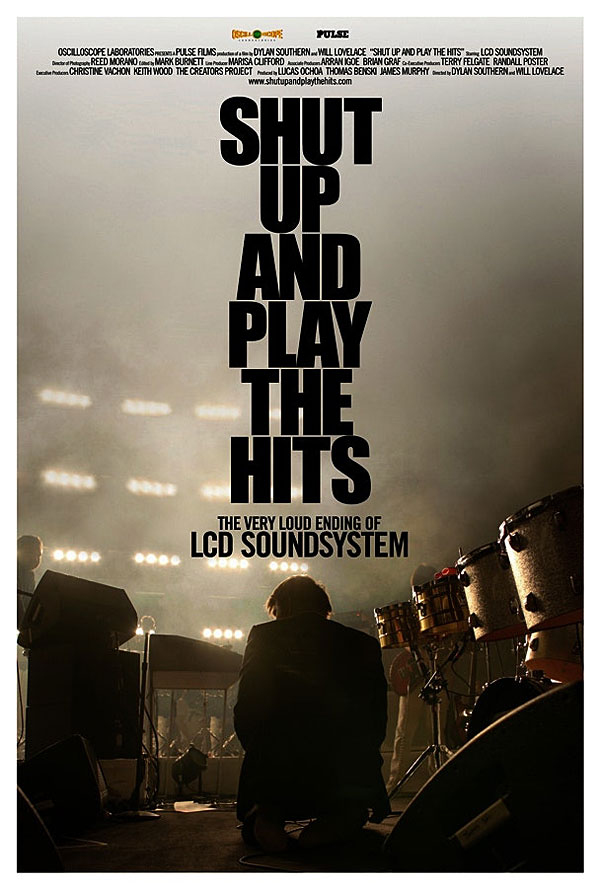 Shut Up And Play The Hits: The Very Loud Ending Of LCD Soundsystem
(Oscilloscope, 2012. DTS-HD Master Audio 5.1. 1.78:1. 108 mins.)
Watching a successful band take their last hurrah can certainly make for great drama—witness how The Band went out with an all-hands-on-deck celebratory performance bang in the Martin Scorsese-directed love letter to an era's end, 1978's The Last Waltz. A generation or so removed from that defining moment, LCD Soundsystem mastermind James Murphy purported to the do same with the scope of 2012's Shut Up and Play the Hits by nailing the door shut on a sonic phenomenon just outside of then-mainstream awareness—yet no less impactful on a larger-than-you-may-think, fiercely loyal audience. Viewing Shut Up upon its early 2012 release enacted a different air of finality and resonance than it did after viewing it again in 2020, due in no small part to Murphy reviving LCD in late 2015 (and quite successfully so at that). Regardless, the ongoing LCD fortunes don't invalidate Shut Up, but rather put the bookmark in a different place. Co-directors Dylan Southern and Will Lovelace's vision gets interspersed with thoughts of reflection and doubt via voiceovers and Murphy's occasionally interwoven tête-à-tête with rock writer Chuck Klosterman, all of which are quite reflective and revelatory. "It's gotta be a 50-50 thing," he observes at one point about the give-and-take between performer and audience. "I've never loved a show without a belief in the people going in. . . . After it's over, I feel like I know them." Once we see Murphy and his LCD bandmates take the stage at a jampacked Madison Square Garden in New York City on April 2, 2011, all bets are off, and you can't help but get swept up in righteously grand tracks like "Daft Punk Is Playing at My House" and "North American Scum" (the latter featuring a smoldering guest turn by Arcade Fire), just as the audience does. I also enjoyed seeing an overall brighter, whiter palette for performers' onstage wear for once (sometimes further accented with closeups of the grizzled stubble on Murphy's face). The show culminates with a sea of white balloons dropping from the ceiling onto both audience and performers during the perfectly titled "New York I Love You, But You're Bringing Me Down." Following that, a dim caterwaul of feedback resonates for almost 4 minutes in all quadrants until the screen goes black to roll credits. Almost a full decade on, Shut Up speaks loud and remains a big hit.

Extras: Make sure you nab the three-disc version. Disc 1 boasts its share of extended interviews and outtakes accordingly, but if you didn't get enough of seeing/hearing the MSG show itself in the main film, Discs 2 and 3 comprise the entirety of the 3½-hour-long concert so you can fully experience all the peaks and valleys, from the highs of total elation and the depth of crestfallen lows, all best seen via the expressive faces and unabashed body language of LCD's oh-so-deeply invested fans.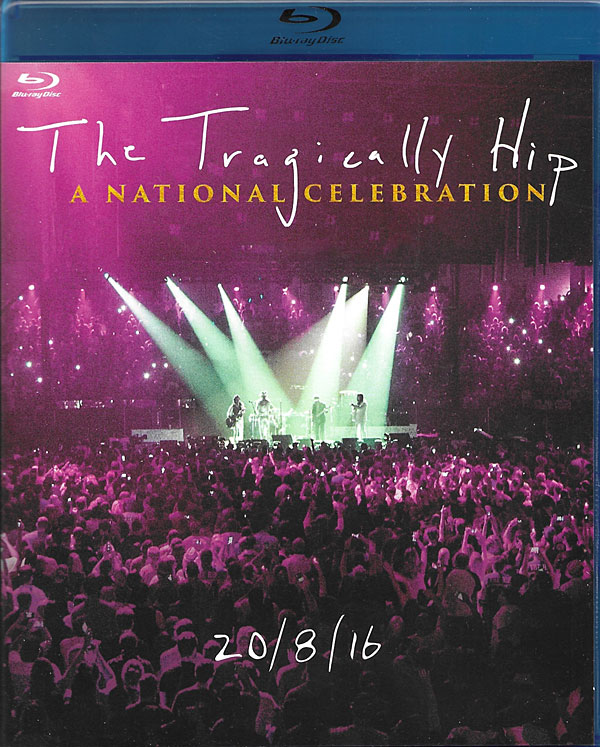 The Tragically Hip: A National Celebration
(Universal Music Canada/Eagle Vision, 2017. Dolby Digital 5.1. 1:78:1. 162 mins.)
As engaging as watching LCD Soundsystem end an era in Shut Up and Play the Hits certainly was, it's another thing entirely to see a band hang it up at the top of their game and actually MEAN it—albeit due to circumstances beyond their control—but that's exactly what A National Celebration is to the letter. Canadian rock icons The Tragically Hip undertook a final summer tour in 2016 following lead singer/lyricist Gord Downie's inoperable brain cancer revelation, and Celebration is the chronicle of an artist's final, truly heroic act. The Hip's last show ever took place at the Rogers K-Rock Centre arena on August 20, 2016 in the band's hometown of Kingston, Ontario and was initially broadcast live on the CBC. It was then released on Blu-ray over a year later at the end of 2017, following Downie's passing that October. I had the honor of seeing The Hip live (yes) 92 times myself over the years—my final time being at the Canadian Tire Centre in Ottawa, Ontario just two days prior to that last show—and re-watching A National Celebration almost four years after viewing it on the CBC has stirred up a cauldron of emotions, from rapture for a musical job so well done to melancholy at observing a performer who knows this is his final hurrah. Director Dave Russell calls all the right shots and angles so we see every nuance of Downie's wide range of split-second facial-expression changes and subtle character bits—daintily wiping his mic stand with a handkerchief like he's polishing fine silver, grimacing after puffing on an imaginary cigarette that he's flicked away to the floor, and painting and sketching the audience on an invisible mid-air canvas among them. Mark Vreeken's 5.1 mix wisely mirrors the band's onstage formations—cocoon-tight during the first set when they're huddled in a close circle, then wider-panned as they fan out on the stage as the ensuing sets progress. Result: Robby Baker's razor-sharp guitar leads own the right channel and Paul Langlois' acoustic/electric textures permeate the left. The surrounds handle the arcs of the arena-filled audience's emotional rollercoaster, whether they're singing along blissfully to early set highlight "Courage," the recurring chants of "Gordie! Gordie! Gordie!" to honor Downie at a moment's notice, or the deafening cheers during "Ahead by a Century," the final encore. "Thank you for that. You're wonderful," Downie says to the still-roaring Kingston crowd before leaving the stage for good over 2.6 hours later, his white t-shirt drenched in sweat like a bladder-burst wet dishtowel. Gord, you only got it half-right there—you too were as wonderful a performer/humanitarian as anyone could ever hope to be. Celebration is a truly fitting epitaph for a band and their charismatic frontman who were all truly ahead by many a century indeed.
Extras: None—that said, all supplemental Celebration-related bonus materials can be found on the companion 2017 Long Time Running band documentary Blu-ray that preceded this release by just a few short weeks, and it's also well-worthy of your rapt Hip attention. LTR chronicles the full scope of The Hip's 15-date summer 2016 tour, Downie's brain cancer diagnosis and ultimate denoument, and the raw mixture of the ensuing heartache and joy in between the evolution of it all.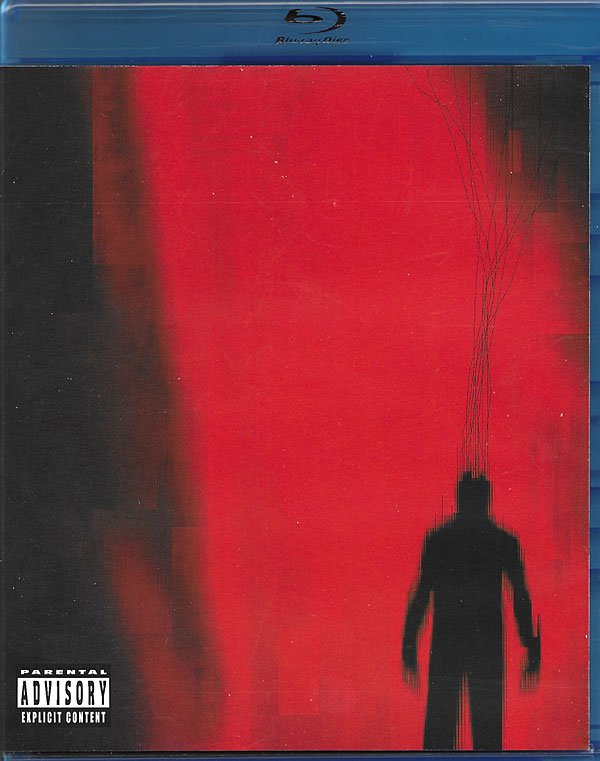 Nine Inch Nails: Beside You In Time
(Nothing/Interscope, 2007. Dolby TrueHD 5.1. 1:78:1. 92 mins.)
Confession time—I first watched Beside You in Time on HD DVD way back in the spring of 2007. Ahh, those were the good ol' days of red case vs. blue case, weren't they? (Wait, don't answer that.) So it was a cool thing to revisit this still riveting NIN show anew, purely on Blu. Those fully expecting head NINmeister Trent Reznor to bring the pain to all your senses won't be disappointed in any regard here. Director Rob Sheridan maintains a dark palette all throughout to match the perpetually foreboding stage lighting—which is also not a bad way to find out just how consistently your TV handles deep black content. Surround-mixing pioneer Elliot Scheiner tackles the 5.1 duties, and he's more than up to the task to ensure NIN hits hard in all corners, and relentlessly so. Observe how the abject frenzy of "March of the Pigs" attacks you from all sides ("doesn't it make you feel better," indeed), how the primal subwoofer thrust of "Closer" tags you below the belt, and how the grinding whirs and pulses of "Wish" make you instinctively hunch up your shoulders. Also take special note of how Reznor consistently punches through the guttural syllable he's added to the second word in the regularly repeated title phrase of the song "With Teeth-uhh." By the time the sweat-drenched NIN man in black seethes his way through the show-closing dark-goth anthem "Head Like a Hole," your eyes and ears should be sufficiently punished in due Time, albeit in all the right ways.
Extras: Five additional performances from NIN's summer 2006 tour and two videos (with the seductively kinematic "Only" providing yet another meaning to the concept of "working on your desktop"). Plus, some choice rehearsal footage, where you get to see Reznor with pre-buzzcut black hair in tow as he sports three different not-deep-black long-sleeve shirts, no less—namely, white, red, and dark gray. You don't see THAT every day in NIN land, do you?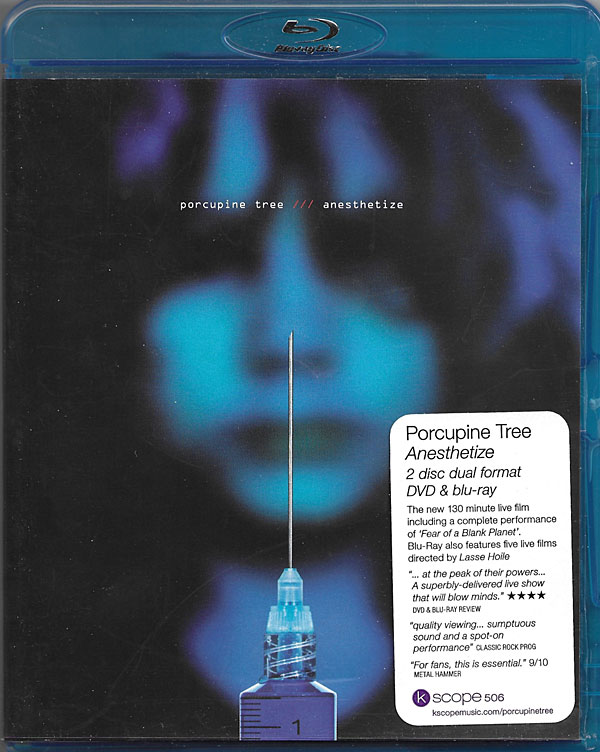 Porcupine Tree: Anesthetize
(kScope, 2010. DTS-HD Master Audio 5.1. 1:78:1. 130 mins.)
While I certainly could have anointed Home Invasion, Steven Wilson's triumphant, 2018-released solo-artist live Blu-ray showcase here, I actually found it enlightening to revisit 2010's Anesthetize, which chronicles his former band Porcupine Tree's Fear of a Blank Planet tour as shot in Tilburg, Netherlands in October 2008. The first half of the show walks us the entire way through the far-reaching 2007 Planet album, a rumination on societal disenchantment and its protagonist's ensuing detachment from it all. The 18-plus minutes of "Anesthetize" veer from both the early-on vocal mesh between Wilson and second guitarist John Wesley and drummer Gavin Harrison's around-the-kit clinic to the all-out forceful midsection jam that marries post-prog and nu-metal in a way only the Tree could pull off with such all-channel power (no surprise, really, given the fact that reigning 5.1 maestro Wilson himself handled the surround mix). Meanwhile, the quite loud denoument of the sinister "Sleep Together" brings some hard punk into the 5.1 equation, followed by a fine synth-string postscript from keyboard wiz Richard Barbieri. The second half of the show is a mixture of fan favorites and deeper cuts, with "Half-Light" highlighted visually by way of the pulsing neon lava-lamp glow on the body of Wilson's guitar, and the show-closing "Halo" literally spinning around our collective heads. Director Lasse Hoile hones in on many a detail other lensmen might not have gotten, thanks in part to his also being PTree and Wilson's chief photographer/videographer for many years. Dig the angle he gets on the INSIDE of the lenses in Barbieri's glasses to show reflections of both the videoscreen behind him and the symmetrical sprawl of his black-and-white keyboard and piano keys. For 2.2 hours, it's Porcupine Tree's Planet to own and share, and our residency there reminds us not only of Wilson's group-centric surround prowess, but where he was headed next in the solo-artist-oriented decade that followed.
Extras: Five live films from director Hoile that were projected on three screens evenly spaced out behind the band during the actual show (with the exception of the aggro-instrumental "Nil Recurring," which was played outside of the performance itself). Intriguing to watch all on their own, to be sure, seeing how they can also serve as semi-abstract but very much on-point thematic videoclips that tie into the storylines and subject matter of each song—not to mention planting the DNA of the envelope-pushing video work Hoile and Wilson have done together since then.