Star Trek: The Great Rewatching Marathon Page 7
Star Trek IX: No Kissing!
Picard and crew discover the Fountain of Youth, need to protect it from some people who want to save millions of lives.
Geoff: This movie is better than I remember. It's a small story, but an interesting one. It would have made a good episode, maybe even a two-parter. Not amazing, but not bad. I think it gets a bad wrap because it is a lot smaller and slower than the movies on either side.
It's brought down by a few too many "Oh come on" moments, like the joystick that rises from the floor or the absolute ban on kissing for some reason (seriously, bizarre). And if Geordi's eyes are re-growing, what about Picard's heart or Worf's spine? I don't mean these need to be subplots, but there's a lot of little things that just keep adding up.
I don't have much to stay, honestly. It's not bad, it's just not good either.
Rank: 7th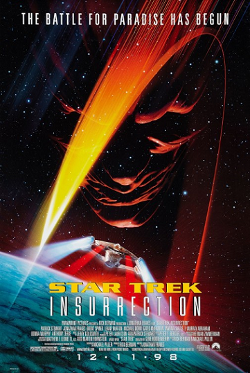 Carolina: It isn't the worst movie I've seen out of the whole collection, but it certainly feel like one long episode, or maybe a two-parter (amusingly, we wrote our reviews completely separately -Geoff). This is because there are interesting themes touched on, such as immortality and vengeance, but it doesn't really translate that well into a full film. If you just cut about 30 minutes and there you have it. That's an easy job to do, since there are scenes included just to stretch out the running time.
Strangely enough, there are a couple of romantic scenes that really don't amount to much. In the end we don't even get a kiss when the scene calls for it. I've seen more action in Doctor Who, and that's a kids show.
There are weird editing transitions I don't agree with, and sometimes there's no buffering between scenes to indicate that some time has passed.
This movie is harmless. It's not bad, but it's also not particularly great either. It's the equivalent of fast food: not good for you but you still like it.
Rank: 8th