Star Trek: The Great Rewatching Marathon Page 13
Star Trek IV: The One With the Wales
Kirk and crew go back in time to rescue some humpback whales to save the future. Seriously, that's the plot. How was this greenlit? No, better question, with that as the plot, how is this movie so good?
Geoff: Everyone loves this movie. Everyone. I don't understand how you could not like this movie. It's legitimately funny, it's fun, you care about what's going on.
Really, it works on the strength of the characters. The interplays between Bones and Scotty ("Hi di ya know he didn't invent the stuff?") to the many amazing interplays between Kirk and Spock ("I love Italian, and so do you"). I'm sure you could quote a dozen other great lines from this movie and I'd join you.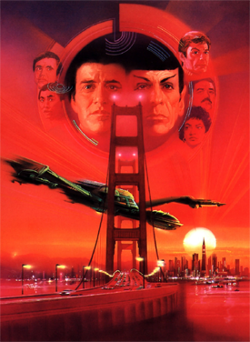 And then there's the score. Look, Jerry Goldsmith was a genius, but I think Leonard Rosenman's music works so flawlessly with the tone of the script I'm not sure the movie would have worked as well without it (or different music).
There is no bad guy in this movie. No one dies. There are basically no phasers. Everything works out. Yet it's entertaining on a level that few movies, of any genre, are able to be. AND, it's great sci-fi. Such a masterpiece.
Rank: 2nd
Carolina: Certainly the happiest of all the movies, this is a whole new and different tone. Without a doubt this is a comedy set in a sci-fi world. Throughout the other movies we've gotten quippy one-liners, humorous scenes, but this whole movie has scene after scene where I'm giggling or just straight out laughing out loud.
There's no villain in this movie, it's just a simple story where everyone gets great character moments. I like that there are carry-over consequences from the past movies. At the end of the last one I was left to wonder, does Spock get all his memories back immediately? Because the crew stole a ship, what's going to happen to them when they get back to earth?
Well, they follow through with all of this, some movies don't do that. With Star Trek, they continue with it.
I knew this movie is known as "the one with the whales." I had originally thought, space whales? Normal whales? Either way that sounds dumb, but the movie surprised me by mixing in time travel which leads to a fish out of water story, topped with a friendly environmental message. It's not subtle, but it's not annoying and does not stop the story dead in its tracks.
As far as technical aspects go, the production has improved significantly. III just seemed so much cheaper because of the effects and the way it was lit. Too flat. Nimoy certainly figured out a lot between that movie and this one. If you're having a bad day and just want a laugh but want a little sci-fi in there, this is the movie just for you.
Rank: 3nd