Star Trek: The Great Rewatching Marathon Page 5
Star Trek VII: The One for the Fanboys
Geoff: It's interesting watching this one in sequence and with someone who doesn't have a lot of knowledge of the universe. This is an incredibly unwelcoming movie. No one is introduced, nothing is explained. There is zero effort to bring new fans into the series. A movie like this would never get made today.
As a fan, looking back, I'm upset how forced this feels. It's as if Paramount didn't have confidence with their new crew, so they insisted the movie crew be involved. I can think of a countless ways this would have worked, but quite obviously, this wasn't one of them.
My biggest complaint, and this really is the fatal flaw, is Kirk's death. It basically had nothing to do with the plot, wasn't remotely heroic, nothing. The script was done with Kirk, so Kirk dies. How about he dies saving Picard's life? How about he dies piloting a ship into something to save others. How about literally anything other than being crushed by a falling bridge. Paramount should have just taken the Star Trek keys from Rick Berman at this point.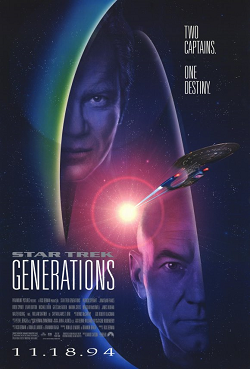 This isn't lower on the list (my list, anyway), because there is a lot to like. There are pieces of a good movie in here. For the most part it's gorgeous. Beautiful dramatic lighting throughout. On the other hand the crash of the Enterprise looks laughably out horrible. There are some touching character moments… but stuff like Data's emotion chip goes for laughs and usually lands on cringeworthy.
Wait a second, if Picard and Kirk had failed… wouldn't that mean they just go into the Nexus again, giving them essentially endless tries to stop Soren? Ugh, it makes my brain hurt.
I ranked this the best of the worst Trek movies. It's not one I plan to re-watch. I just wish the cinematographer on this one (John A. Alonzo, who also did Chinatown and Close Encounters of the Third Kind) had worked on First Contact since that movie looked like crap.
Rank: 9th
Carolina: For anyone who is not familiar with the Next Generation crew, you'll be pretty much lost in this movie. We get no proper introduction, and even though the movie tries to pass the torch, it doesn't really follow through on that. This movie is clearly made for the fans of the show without wanting to bring in a new crowd to the franchise. I'm not just saying that because we get no proper introduction, we also get subplots that would only matter to the fans because they're callbacks to some episodes, like the emotion chip or Picard's family.
And the whole plot of the movie is a head scratcher, there aren't any big stakes or consequences, especially when you start thinking about what the ending implies. I'm talking about the Nexus, the big plot device where you can go and make all your dreams come true. Since they never actually explain the rules for this place, questions arise. Questions like: If Picard can go anywhere in time, why does he go back minutes before the explosion? When he needs help, why does he enlist the help of an out of shape and retired Kirk? It seems like the Nexus is an easy place to leave, once you know it's not real, so what's the conflict? If he fails in his mission to stop Soran, couldn't he let himself get stuck by the Nexus again and just try again? Shouldn't Kirk immediately age when he gets out of the Nexus? Why didn't Soran just use all his time and money to get a space suit and a ship, fly in front of the Nexus, and just float there to get sucked in? Do they actually escape the Nexus in the end, or is that ending fight still in the Nexus? I have plenty more questions, but you get my point. In the end, this is a bad introduction to these beloved characters into the film universe.
Rank: 11th