Star Trek: The Great Rewatching Marathon Page 3
Star Trek X: The Meanest Farewell
Romulans clone Picard for some reason and the clone wants to kill humanity for some reason.
Geoff: TNG was my cast. Picard is my captain. Watching this movie makes me angry. Angry that we TNG fans didn't get better movies, and angry that this festering turd is the farewell forced upon us. Nemesis is a dark, mean, angry movie with no heart, no joy, and nothing that makes Star Trek good. Roddenberry would have hated this movie. As much as my opinion of Insurrection improved in this Rewatching Marathon, Nemesis has fallen. What a hateful piece of targ shite.
Most of the bad Star Trek movies at least have pieces that work. TMP has some 45 minutes of interesting plot squeezed into two-and-a-quarter hours. Even 5 has a lot of endearing character interactions despite its other significant failings.
Nemesis has none of that. The possible interplay between Picard and not-Picard is so rapidly squandered by the REVENGE OF COURSE FOR REASONS plotline that the rest of it falls to the wayside. Even the nature-vs-nurture aspect is so barely explored it feels like an afterthought.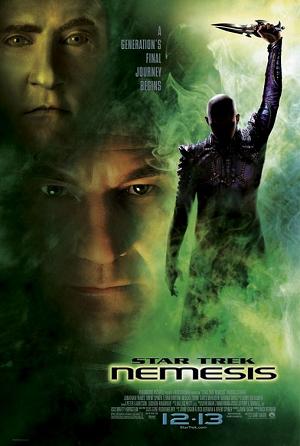 And look, I get that it's not fair to judge a 14-year-old movie by the standards of the day, but rape scenes in movies are stupid and pointless rape scenes like the one in this movie are offensive.
Star Trek is supposed to be about hope for the future and talented, diverse people overcoming great obstacles. This movie is about hate and anger. That is not Star Trek. That is the opposite of Star Trek. There are other bad Star Trek movies, but this one in premise, script, tone, and execution, is the most wrong.
I am so glad none of the people involved in this movie (cast excluded) is involved in the Star Trek franchise anymore. They have proven with this (and fraking Enterprise) that they don't deserve to ever again touch this hallowed franchise.
Perhaps worst of all, THIS was our goodbye to our old friends. Shameful.
At least we have "All Good Things…". Unquestionably the best "movie" from the TNG cast.
Rank: 12th
Carolina: This was the first even numbered Star Trek movie that frustrates me. It tries to be philosophical with the subject of cloning and identity crisis, but the arguments presented are pretty weak. The audience could immediately reject these ideas because there's no debate in the way they present them.
There's no wit in the movie, no one is thinking outside the box to overcome the villains, and you don't care about them. The movie tries to do a Wrath of Khan ending with Data, but it fails because he didn't need to die. It's not like there was no possible another way, but the script needed this to happen, so it did.
But the most unforgivable scene is Diana Troy's rape scene. It does nothing for the movie. It's there because I guess she needed a conflict? To make the movie "edgy"? It's a lazy and an awful plot device for her to do something. Couldn't the writers come up with anything better? I could go on pages and pages why this is so unforgivable, but then I wouldn't be talking about Star Trek.
I was shocked when I found out this was the last adventure for this crew, that the show had ended a few years back and this was the last time fans would ever get to see them. What a big insult to the fans.
Trekkies, I understand your pain.
PQ/SQ: Who could tell? Most of the movie is so murky and drab. A bit grainy, but reasonable detail for the most part. Better than the 80's movies, not as good as the ones that follow.
Rank: 12th