The Rolling Stones Rock and Roll Circus - Limited Deluxe Edition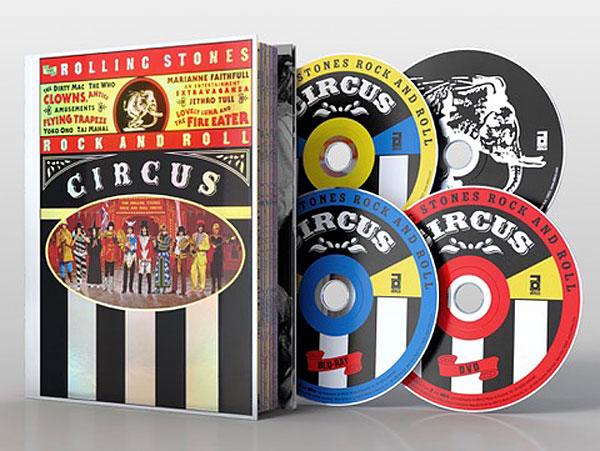 Of course, it didn't quite work out that way. For many, many reasons we don't have nearly enough words to explain, the traveling circus idea transformed into a one-off extravaganza intended for a BBC broadcast. Filmed over a score of ridiculously long hours over December 10-11 1968, Rock and Roll Circus was ultimately shelved mainly at Jagger's behest. Legend long had it that the Stones' performance was considerably underwhelming (hardly the case) and soon-to-be-exiting guitarist Brian Jones was quite out of sorts the entire time (sadly true). It took almost 30 years before Circus was released to the public in 1996, later getting an updated DVD and CD release in 2004 before seeing an even fuller makeover for this limited deluxe edition that boasts two CDs with previously unreleased songs, an updated DVD, and a first-time Blu-ray release.
Ahead of this edition, Rock and Roll Circus was remastered in 4K/Dolby Vision and remixed in 24/192 Dolby Atmos for a brief theatrical run in April 2019, initially set to coincide with the North American leg of the Stones' No Filter tour that was briefly postponed due to Jagger's successful heart surgery. There's no question the visual elements are much more stunning here than on the 2004 DVD—for one thing, the day-glo cavalcade of the poncho-wearing audience is a much more vainglorious visual confection—and the Atmos presentation gives the live surround an admitted added breadth. Given the limitations of the original live recording, however, I wouldn't mind hearing an Atmos mix of more recent Stones live fare, such as their just-released 1998 Bridges to Bremen performance.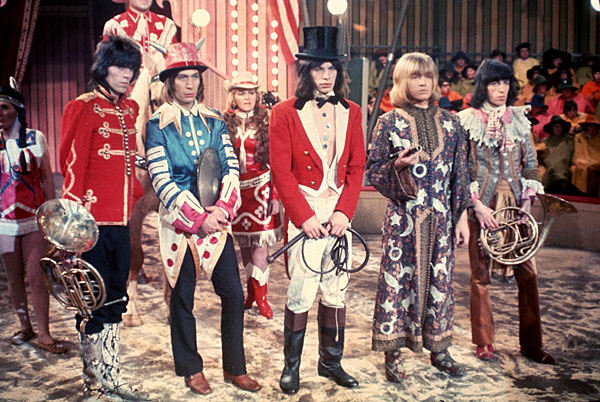 Regardless, Circus is quite a few shakes better than the myth might lead you to believe. Jethro Tull starts the proceedings with "Song for Jeffrey," with frontman/fluteman Ian Anderson singing, blowing, emoting, and one-legging it as only he can live, while the rest of the band mimes to a pre-recorded track. Interesting sidenote: the on-camera Tull guitarist is none other than Tony Iommi of Black Sabbath fame, aping Mick Abrahams' sleekly recorded slidework the best he can. Meanwhile, The Who give the best performance of the lot with their pre-Tommy mini-opera, "A Quick One While He's Away."
The Dirty Mac, one of the earliest supergroups on record, hang fire to The Beatles' pleading "Yer Blues," a song that had only been available less than three weeks before the Circus took place. John Lennon's raspy lead vocals and Gretsch guitar fills are countered by Eric Clapton's intuitive and supportive Gibson leads, serving as a bridge between his stellar work in Cream and the broader-based solo-career path to come. Keith Richards deftly uses a pick on his Fender bass, while Jimi Hendrix Experience drummer-on-loan Mitch Mitchell puts his jazz chops to expert use. A trio of D.Mac bonus tracks on CD2—"Revolution (Rehearsal)," "Warmup Jam," and "Yer Blues (Take 2)"—makes you wonder what else this short-lived collective could have created.
When the time comes for the Stones to take the stage, the crimson-shirted Jagger absolutely owns both the camera and the viewer, making it feel like he's looking right through you—in addition to slithering through body moves he can still do with ease almost 51 years later. While the opening run at "Jumpin' Jack Flash" never really gets out of first gear, the rest of their 34-minute mini-set burns bright, from the slow-cooked grooves of "No Expectations" and "You Can't Always Get What You Want" to the apex stab at "Sympathy for the Devil" (the best in-Atmos track, BTW). On it, Jagger gives a vocal clinic full of whoops, hollers, and falsetto improvs—sometimes delivered prone on his stomach—as Richards furiously wails away on lead.
I also continue to marvel at some of the "blink and you'll miss 'em" moments, such as the floor producer caught dancing along to "Parachute Woman" before self-consciously ducking out of view, or the lyric cheat sheet for "Salt of the Earth" perched on Jagger's knee that Richards whisks away when he realizes he's looking down at them too much while he's singing.
The extras are rabbit-hole-inducing, as three separate commentary tracks take you deeper inside the big top with director Michael Lindsay-Hogg, Jagger, Marianne Faithfull, and other key Circus performers. An additional, latter-day on-camera interview with Townshend is rife with his typical biting insight.
Though Rock and Roll Circus has long been viewed as a tossed-aside anomaly, this deluxe edition serves as an artifact worthy of historical re-evaluation. Let's raise a glass to the hard-working people—especially Jagger, the master of ceremonies—who made this tentpole spectacle possible.
CD, DVD & BD
Label: ABKCO
Audio Formats: 16-bit/44.1kHz PCM Stereo (CD); 24-bit/192kHz Dolby Atmos (BD); 24-bit/192kHz Dolby TrueHD 5.1, 24-bit/192kHz Dolby Stereo (DVD & BD)
Number of Tracks: 50 (28 on 2 CDs, 22 each on DVD & BD)
Length: 3:22:49 (1:35:03 on 2 CDs; 1:47:46 each on DVD & BD)
Producers: Jimmy Miller (original recordings); Teri Landi, Ted Young (audio restoration); Bob Ludwig (mastering)
Engineers: Glyn Johns, Damon Lyon-Shaw, Bryan Stott, Dennis King (original recordings); Matt Cavaluzzo, Pascal Byrne (analog-to-digital transfers); Mark Berger (tape transfers); Steven Battline (assistant); Greg Penny (immersive audio consultant)
The rock and roll circus was coming to town. In 1968, Rolling Stones frontman Mick Jagger, The Who's guitar wizard Pete Townshend, and Small Faces bassist Ronnie Lane had collectively decided to organize a perpetual traveling show that would consist of equal parts live performance, grand spectacle, and mobile art installation, all rolled into one never-ending carnival bacchanal.