Star Trek: The Great Rewatching Marathon Page 4
Star Trek V: God Needs a Dingy
Spock's half-brother (wow!) takes over the Enterprise (wait, what?), to travel to the center of the galaxy (huh?), to find God (you're kidding, right?).
Geoff:This was the one I was most curious about. Not only was this the first Star Trek movie I saw in the theater, but it's also one that I defend the most. Not, mind you, because it's a good movie. It most certainly isn't. There are just so many scenes with Kirk, Bones, and Spock that make me feel all warm and fuzzy. You like these characters, and you want to see them having a good time, and going on adventures.
Otherwise, this is a terrible script. The worst chronologically since I and one of the worst in the series. I'll let Caro talk about the plot holes. My issue with this movie is that it errs on the side of ridiculousness. The light-hearted tone of IV worked. Here, the humor almost always falls flat. Except for Scotty literally falling flat. That still gets me.
Like an M. Night Shyamalan movie, this one seems to have been written from the twist backwards, but not in a way that works. I'm not sure the premise would have ever worked, to be honest, but it was a bad premise done poorly, so… swing and a miss. It's not boring, or hateful, so there's that, I guess.
Of course, the greatest thing to come out of V is this:
Rank: 11th
Carolina: Plot holes strike again. Once again I am sitting here questioning people's motives, story, and the universe (remember, we watched them in order, you'll read about my "love" for III later). But before I go on a rant, I'll mention things I enjoyed.
Even if the story is a mess, we can always count on the actors giving us good moments that will make us smile. In this movie we get nice bonding moments with Spock, McCoy, and Kirk. There are some emotional punches with the abilities of this new character Sybock, played by Laurence Luckinbill. And when we get to the third act and the crew breaks The Barrier and really go where no man has gone before, it's magical and a bit of a tear jerker. But other than that, I don't have anything else to praise. Starting with the lightest thing that bothers me, the writers use the same excuse throughout multiple movies to send the crew on the mission. There are multiple ways you can ship them off, but it's always something along the lines of "your crew is the best/the nearest one, and even though your ship is not well equipped at the moment, you should still have to go on this mission." That's a bad excuse when it has the easiest solution: Why not send the crew on a new ship. Or, if that's not the case (like in II put a new-but-experienced crew on the new ship. But no one suggests this, so I guess the whole crew is stupid or the Federation is running low on ships.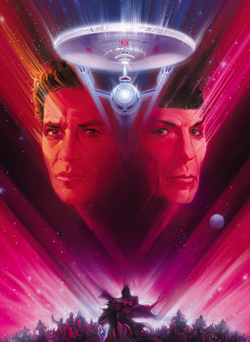 Other things that don't make sense: Sybock's powers are never explained, and they work differently from one scene to another; Uhura is now used as a sex symbol to create a distraction for a bunch of Horney aliens, and they all act like they've never seen a woman before, even though we've seen stripers on that planet already; and there's a whole subplot on "Row Row Row Your Boat", they keep calling back to. Seriously, they call back to that song multiple times throughout the movie. I guess they tried to bring some comedy from the previous movie but failed at it.
Now, on to the two big plot holes. There is no reason why the Klingon ship decides to put all their efforts into chasing down the Enterprise crew, especially to the end of the universe. If we follow this movie's logic, no one in history has ever broken The Barrier. The reason why the Enterprise does this action is because they are basically held hostage by Sybock. Shouldn't the Klingons stopped and said "They're probably dead now" and left? But for some reason they still follow them, despite this being incredibly scary for everyone out there. What was their motivation for doing something so dangerous? Who knows, it's not adequately explained. Then their subplot gets solved with a phone call. This is what I call a pointless subplot.
The last point I want to make is about the main plot. It's certainly interesting they decided to tackle God, religion, emotions, what makes a person be themselves, and all these interesting questions. But they're all thrown out to reach a very unsatisfying conclusion. In the end, the movie is the consequence of very lazy writing. Things happen because the script needs it to happen. Nope.
Rank: 10th