Sawdust and Tinsel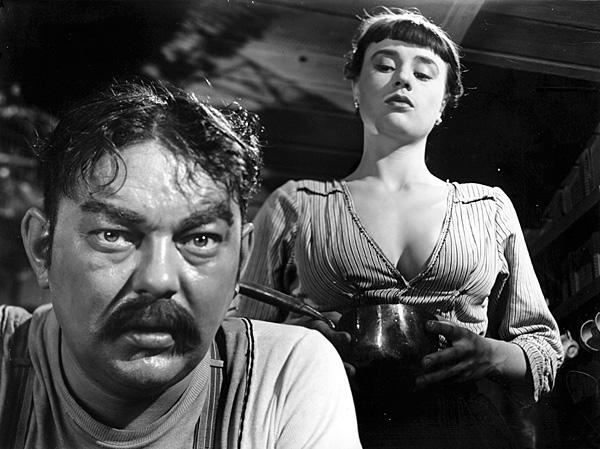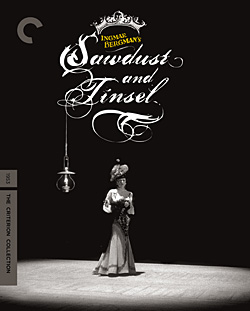 The black-and-white Sawdust and Tinsel had three cinematographers—the great Gunnar Fischer (The Seventh Seal, Wild Strawberries), aided by Hilding Bladh and Sven Nykvist, who eight years later would become Bergman's main collaborator on such films as Through a Glass Darkly and Persona. Each shot different sections of the story, resulting in different looks and styles that reflect alternate times and mind-states. The memorable expressionistic flashback sequence—the suffering of a Christ-like clown carrying his naked wife like a cross after she'd swum naked with mocking troops—is overexposed to create a strange, faded, too-bright look. Elsewhere, baroque in-depth compositions show streets, groups, and caravans in great detail. For theater scenes, chiaroscuro lighting is used to create psychologically arresting imagery. Criterion's new transfer was sourced from a Swedish 2K digital restoration made 2017 from a 35mm print. The image reveals inky blacks in the ringmaster's outfit (and the bear he's metaphorically associated with), bright white in his handkerchiefs, and a wide range of beautiful grays in backgrounds. Some overcast scenes look soft, but all others are sharp and highly textured.
Hiss and other damage have been digitally removed from the film's mono soundtrack. The track's wide dynamic range conveys the jarring atonal score by modernist Karl-Birger Blomdahl with suitably bassy drums and no breakup in the higher notes. Atmospheric effects like rain sound natural and voices full and vibrant with all dialogue clear and comprehensible (if you speak Swedish, that is).
Commentary by scholar Peter Cowie always makes a disc worth owning, and he doesn't disappoint here, mixing production background, comparisons with the director's other films and themes, insights on actors and characters, and analysis of the film language used to communicate Bergman's brilliant ideas.
Blu-ray
STUDIO: Criterion, 1953
ASPECT RATIO: 1.38:1
AUDIO FORMAT: LPCM Mono
LENGTH: 93 mins.
DIRECTOR: Ingmar Bergman
STARRING: Harriet Andersson, Åke Grönberg, Hasse Ekman, Anders Ek, Gunnar Björnstrand
Albert (Åke Grönberg), the aging owner and ringmaster of an impoverished travelling circus, takes the troupe to his home town in order to visit his estranged wife and sons with the hope of returning to the safe, bourgeois family nest. In reaction, his jealous young lover (the gorgeous Harriet Andersson), a horseback rider, allows a charismatic actor to seduce her. In this, his finest early work, writer-director Ingmar Bergman—as he later would with The Seventh Seal and The Magician—uses homeless players to explore the role of the artist in a society. Ruled by vanity and vulnerability, they face constant humiliation as they offer their gifts to a cruel public, suffer abuse from contemptuous state authorities, and tear at each other.