5 More Top Concert Blu-ray Discs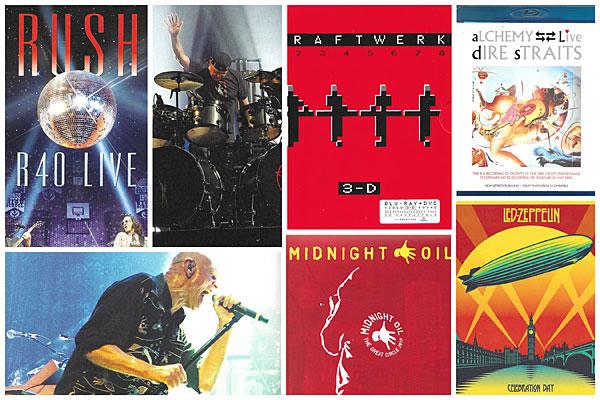 "I miss going to concerts."
It's a common refrain these days. Perhaps you've even said it yourself out loud on occasion to no one in particular but yourself, and/or to whomever you're jointly commiserating and quarantining with, and/or have typed it out as a comment-cum-lament underneath one of those incessant social media "memories" reminders that really only serve to bum you out about what you're missing—not to mention what you most decidedly won't be able to replicate in a comparable fashion in the near future.
To be sure, the live concert experience is an ethereal one by nature, one that seals a bond between performer and audience in real time in a way that really can't be replicated anywhere else, nor at any other juncture. The mutual performer/audience soul-kiss is a truly in-the-moment intersection, something we often try to replicate by listening to and/or watching a live recording in order to reconnect our senses with exactly what it felt like when we were truly one with the music in a specific time and particular place.
Yeah, I miss going to concerts too.
Back in June, I shared a list of 10 top-tier concert Blu-rays for your collective viewing and listening pleasure. And now, I'm back for an encore—but this time, like most pre-determined encores, I'm gonna do it for you in two parts. This week, I'll be tackling five top-shelf live Blu-rays that could be considered as, well, concert comfort food, considering how good they truly are and how they personally connect me to how I feel whenever I see a genuinely great live show. Here's hoping you'll garner a similar reaction/epiphany after you check them out for yourself.
And then, a few short weeks from now, I'll return anew with the aforementioned second encore, to give you five more concert-leaning reasons to cheer at and for the artist(s) on your screen.
The five Blu-ray offerings covered below serve up a cumulative 11-plus hours of the best of what the live concertgoing experience has to offer (sans counting the extras, which I've also noted). As I pointed out in the preamble to the previous list, you'll get captivating artistic performances matched with visually stunning stage presentations, truly intriguing set designs, dramatic and inventive lighting, and, of course, wholly engaging live surround mixes that are often better than what you'd likely hear in the actual performance space itself, considering we can't always get what we want when it comes to preferred/optimal sweet-spot seating.
Finally, I addend the refrain that cueing up a concert Blu-ray is, for all current intents and purposes, the next best thing to being there at the show during these pandemically distanced times. Continued happy viewing/listening!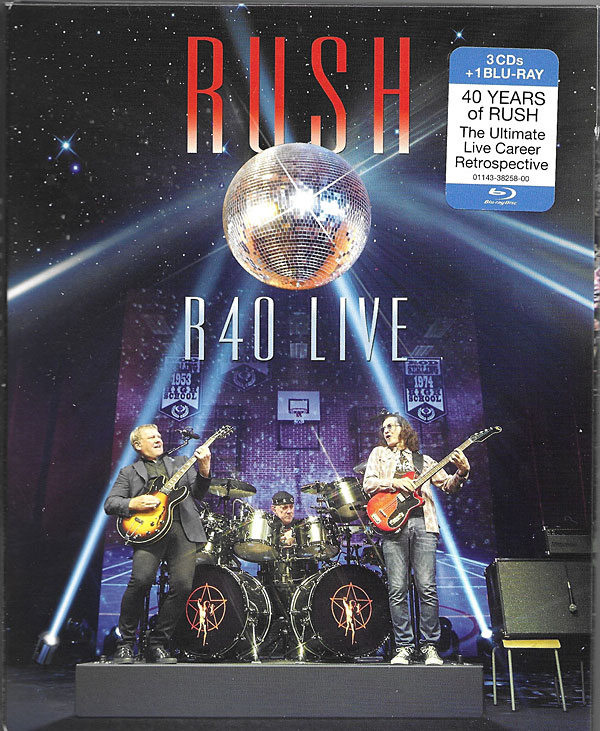 Rush: R40 Live
(Zoe/Anthem, 2015. Dolby TrueHD 5.1, DTS-HD Master Audio 5.1. 1.78:1. 179 mins.)
A true farewell to kings, R40 Live celebrates the venerable Canadian trio's final tour in 2015, which found them inventively going back in time in terms of both the trajectory of the setlist and the stage design. This 3-hour offering from the R40 Tour (the 40 representing 40 years of the band's existence, of course) was captured on June 19, 2015, the second of two hometown shows at the Air Canada Centre in Toronto. (Thankfully, I got to see this tour about a week later on June 27, 2015 at the Prudential Center in Newark, New Jersey, my 24th and final time seeing the band.) With drummer Neil Peart's sad passing in January 2020, this is truly Rush's ultimate live chronicle—and it's a fitting finish to an aurally satisfying career.
The "devolutionary" set commences with a pair of heavy-duty tracks from Rush's last studio album, June 2012's Clockwork Angels, capturing their aggressive steampunk direction to a T. From there, back we go through time and space with a few surprise "explosive" moments along the way, each sure to please your subwoofer channel to no end. Pay special attention to the always-smile-inducing electro-rap break during "Roll the Bones" to see which name stars from both stage and screen (no spoilers here) implore us to "get busy with the facts." Also note Dave Bottrill's fully rich 5.1 mix for "Losing It," the tender cut from September 1982's Signals that features electric violinist Ben Mink replicating what he originally did on the track in the studio—and also pay heed to how the hairs on his violin bow sway furiously as his solo continues to ramp up.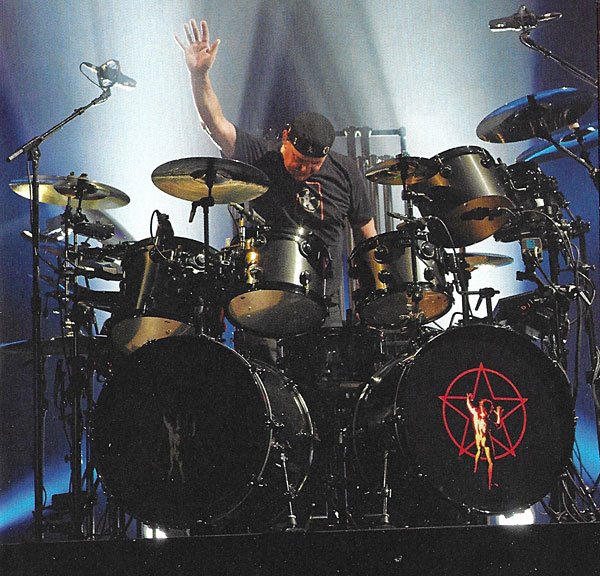 Nothing is left on the table as the second set focuses on the band's prime era, and you can hear the audience sing along even more forcefully in the surrounds once "Tom Sawyer" sets the tone for what's to come. And, of course, no Rush gig would ever be complete without a drum solo from the Professor himself, Neil Peart. Aficionados can go right to 1:47:48 in the program for "The Story So Far (Drum Solo)" to marvel at four mind-boggling minutes of the master at work. The overhead shots make it appear as if Peart plays his kit faster than the human eye can follow—oh, how he will continue to be sorely missed. Highlights also abound from guitarist Alex Lifeson (the ever-agile "The Spirit of Radio") and bassist/keyboardist/vocalist Geddy Lee (the throbbing low-end lead-in to "Cygnus X-1") as well. In essence, there's something for every Rush fan here, and well worth repeat viewings too (and repeat listenings, as this BD package also includes the R40 set spread out over 3 CDs, along with seven bonus tracks).
The lighting, as expected, is at the master level—clearly on par with the gold standard set by Genesis back in the day, only ratcheted up exponentially. Workers constantly swap out the physical set pieces as the show goes on to mirror the evolution of the band's stage setups throughout their career right up through the last encore, during which a few lone amps nestle on a chair and a backdrop depicting the high school gyms they played in their youth appear as the perfect stamp for the last song culled from their self-titled March 1974 debut album, "Working Man."
"Always from the inception, it had to be a very theatrical show," Geddy Lee told me about R40 in November 2015. "I would say it was a remarkable accomplishment. Everybody involved with the show really got it, and got the spirit of it." While there are many Rush Blu-rays out there to whet your prog-whistle with, R40 best commemorates a band who shut the door on a stellar 40-year career at the peak of their powers.
Extras: Completists and latter-day Rush fans alike will enjoy three magical bonus tracks that were performed elsewhere on the R40 tour but not during the show in Toronto—namely, "One Little Victory," "Distant Early Warning," and "Red Barchetta." If you're still feeling the spirit linger after watching the entire set, seek out November 2016's Time Stand Still Blu-ray, which adroitly chronicles Rush's storied history and also takes us behind the scenes of the last tour.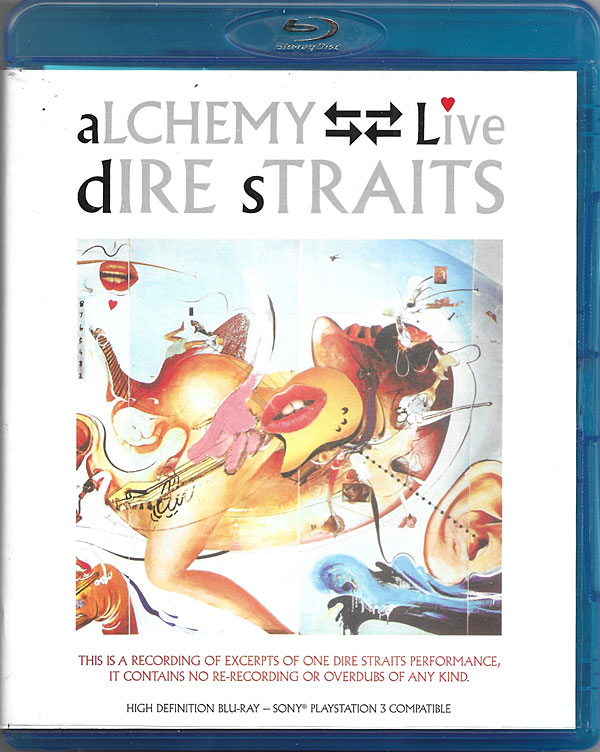 Alchemy: Dire Straits Live
(UMGI, 2010. DTS-HD Master Audio 5.1. 1.33:1. 170 mins.)
It's somewhat refreshing to revisit this vintage Dire Straits show that was recorded at the Hammersmith Odeon in London in July 1983 and first released as a double album in March 1984, barely a year before May 1985's CD juggernaut Brothers in Arms sent them into the international stratosphere. Few early-'80s visual trappings intrude on either lighting choices or stage presentation, as director Peter Sinclair thankfully avoids the swooping angles and quick-cut clichés that would emerge soon enough to drown our collective sensibilities during the ensuing MTV era, instead focusing on the band's stellar musicianship to carry the load. Plus, when's the last time you saw each non-seated member of a band consistently bounce joyfully along to the rhythm the way John Lennon did during all those classic Beatles performances of yore?
Bandleader Mark Knopfler is a wonder to behold in his "if Bob Dylan were also a guitar hero" persona and storytelling mien, whether he's brandishing a red Stratocaster for many an electrified tour de force, plucking a shiny National steel guitar for the iconic intro to "Romeo and Juliet," or moving from acoustic to electric amidst the majesty of the show-closing "Going Home." You can gain further insight into Knopfler's unique playing style by watching how he positions the fingers of his strumming hand—i.e., how his ring and pinky fingers are planted firm atop each other on the pickguard while his three other fingers attack and/or fondle the strings. Truly fascinating to watch.