2016 Blu-ray (plus 4K!) Holiday Gift Guide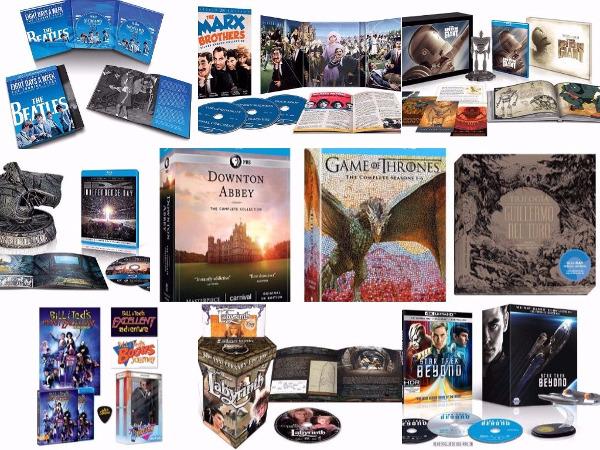 It's time once again to separate the digital wheat from the chaff to find movies, TV shows, and music that make great gifts. Venerable Blu-ray is joined by upstart 4K Ultra HD this year, and even a bit of vinyl for good measure. Whichever holiday you call your own, make it a little brighter with one or more of these.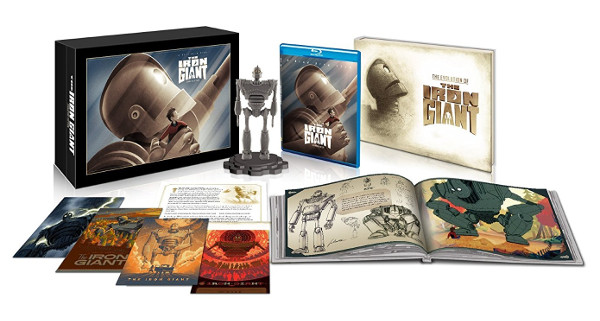 The Iron Giant Ultimate Collectors Signature Edition (Warner)
I seem to be having this conversation more and more: Home entertainment can bring a movie the audience and acclaim it missed upon its initial release in theaters. Such is the case with The Iron Giant, misunderstood and underappreciated in 1999 but embraced and shared in the years since. Created at a pivotal time in animation, Brad Bird's near-perfect directorial debut combined traditional and digital techniques in service of a timeless story, as a young boy befriends a mysterious but endearing robot from outer space.
While this overdue Blu-ray premiere is visually and sonically splendid, it's also noteworthy for a handful of alterations/addenda seamlessly folded in. Fans didn't miss them before, but will welcome them now. (Both the new and original cuts are presented.) This is a numbered limited edition, delayed to allow completion of "The Giant's Dream," a documentary with lots of background on Bird as well as frank talk on what went right and wrong along the way, in addition to some great legacy extras. There's also a gorgeous hardcover book, The Evolution of The Iron Giant, a set of stylized art cards designed by Mondo, a cute figurine (alas, not iron), plus a DVD and Digital Copy.

The Marx Brothers Silver Screen Collection – Restored Edition (Universal Pictures Home Entertainment)
Dating back to the late 1920s/early 1930s, the films in this most excellent set might feel a little clunky in some of their vintage trappings and plot devices, but they've lost none of their power to bring even the most stubborn viewer to gut-busting laughter. All four brothers—Groucho, Harpo, Chico, and oft-overlooked straight man Zeppo—appear in the five films presented here: The Cocoanuts, Animal Crackers, Monkey Business, Horse Feathers, and the brothers' most popular outing, Duck Soup.
New 4K scans of each film bring us that much closer to the brothers' irreverent antics. Animal Crackers in particular, sourced from a British element, is noteworthy for its original cut, unseen in the United States since before it was trimmed to meet Hollywood production-code standards for its 1936 reissue. Each has also been given a new audio commentary, showcasing a fine assortment of experts, critics, and even Harpo's son Bill on Monkey Business. For an alternative exploration of the incomparable Marx Brothers' career, head to Disc Three's new feature-length documentary, Hollywood's Kings of Chaos, complemented by an archival assemblage of Today Show interview clips.

Downton Abbey: The Complete Collection (PBS)

A sublimely British series, Downton Abbey recounted the ups and downs of the aristocratic Crawley family, set against a backdrop of real-world events in the early days of the 20th century. They—along with friends and servants—react to the changing world around them, through good times and not-so-good, often with an archetypal stiff upper lip, with every scenario elevated superb acting. By generating an almost overwhelming sympathy for its large roster of characters, the makers of Downton found a worldwide audience that seemed to cut a swath across all demographics, one that was surely sorry to see its final episode air one year ago.
Thankfully, the set presents the original episodes as broadcast on ITV in the UK, rather than the American Masterpiece Theater recuts. Hours of legacy bonus content is joined by new material, highlighted by a series-spanning feature-length documentary, character overviews, the creators' favorite scenes, and nine "best-of" featurettes. If you were hoping for more physical "stuff," there's also a Complete Limited Edition Collector's Set (DVD only, sold separately) with a working pull-bell, Downton Abbey coasters, and more.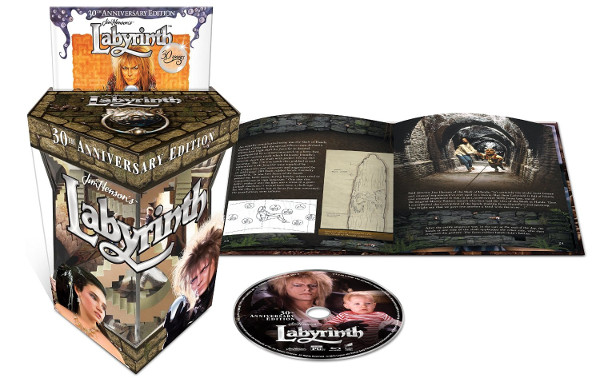 Labyrinth 30th Anniversary Limited Edition Gift Set (Sony)
The years following the Star Wars Trilogy was a time of curious experimentation for filmmaker George Lucas as 1986 saw two feature films with his executive producer credit: Howard the Duck and the much-less-despised Labyrinth. Director Jim Henson wove a mind-bending tale of a suburban teenager (future Oscar-winner Jennifer Connelly) who must rescue her baby brother from a realm of goblins, led by their malevolent king (David Bowie).
The ILM-enhanced visuals are trippy with characters and humor displaying the sort of Muppet-esque quirkiness that has been entertaining legions of fans for generations. Sony has spared no expense for this occasion, with a spectacular remaster and remixed Dolby Atmos (TrueHD 7.1 core) soundtrack. Absent the late Messrs. Henson and Bowie, much of the new bonus material is built around interviews with The Henson Family and Ms. Connelly in addition to wonderful legacy content. The package itself is a work of art, with a handsomely digi-booked Blu-ray tucked in behind a scaled three-dimensional recreation of a memorable Escher-inspired scene, complete with strategically placed mirrors to make it even more confusing.

The Beatles: Eight Days a Week – The Touring Years 2-Disc Special Edition (Universal Music)
With his new documentary, eclectic Oscar-winner Ron Howard sheds some light upon The Fab Four's too-short stint as a touring rock-and-roll band. The music is the star naturally, and we are given plenty of restored tidbits from various performances—with PCM Stereo and DTS-HD Master Audio 5.1 options—alongside new interviews with Paul and Ringo, each offering a unique perspective on Beatlemania. One significant takeaway: The lads' frustrations with the live experience were part of what drove them back to the studio where they did their most groundbreaking work. Eight Days also lends context to the world that was changing all around them, ultimately yielding a program that's far more than a fly-on-the-wall chronicle.
The disparate bits on Disc Two play like more of the same, which is fine, although perhaps drifting away from the core subject of The Beatles' time on stage. The five full-song performances here are well worth the time and effort it takes to swap discs in the player. A 64-page book is full of black-and-white photos, an introduction by the director, and an essay by music journalist Jon Savage.
Fittingly, Universal has also reissued The Beatles: Live at the Hollywood Bowl as a companion disc (also on vinyl) to the movie/Blu-ray. This is a 2016 Giles Martin remix from the original three-track tapes, expanded with four bonus tracks, three previously unreleased, all a slick sonic snapshot of raw rock bedlam.