2016 Blu-ray (plus 4K!) Holiday Gift Guide Page 2
Game of Thrones – The Complete Seasons 1-6
(HBO)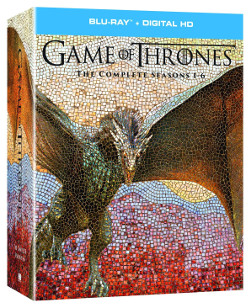 I don't generally recommend big boxed sets of TV series that have not yet completed their run, but, I've been reminded lately that there are still great unindoctrinated masses who have never journeyed to Westeros, and that's a problem that needs to be addressed sooner rather than later. Collected here are six seasons that have garnered more Emmy awards for a primetime series than any other. The show's famously stratospheric budget has accommodated one of finest casts ever to grace the screen, large or small, along with top-notch writers, directors, costume and set designers, special affects artisans… yes, it really is as good as you've heard.
This dense 27-disc box lands concurrently with the Blu-ray release of Season Six, which wrapped up on HBO this past summer, taking us into uncharted territory as the original source books by George R.R. Martin have come to a halt (for now). I wouldn't dare spoil a moment of the plot, except to say that "Battle of the Bastards" is one of the show's finest hours. The set is resplendent with audio commentaries, featurettes, interactive bonus content, and soundtracks mixed in Dolby Atmos. An UltraViolet code that unlocks the entire series on Digital HD is also included, which is how a friend recently went from zero to caught-up in a couple of weeks; iTunes is also supported.

Independence Day "Attacker Edition" Blu-ray Gift Set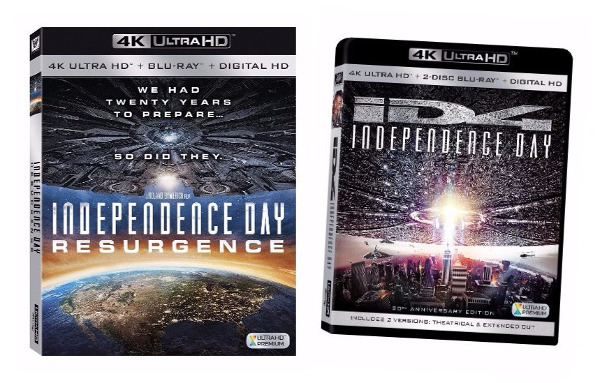 Independence Day 4K Ultra HD
Independence Day: Resurgence 4K Ultra HD (Fox)
Gift Guide readers have no doubt heard the term "Christmas in July" to describe a big savings opportunity if not an outright present. Well, thanks to Fox we can now shuffle the calendar a bit and celebrate "Independence Day in December" in a few different ways. Independence Day is one of those movies that defies logic, yet still manages to suck me in. Dean Devlin & Roland Emmerich's event picture portrays mankind's final (or so we thought) push for survival against alien invaders, conjuring enough charm and momentum to carry audiences through to victory. The film has been meticulously remastered in 4K and HDR and remixed in DTS:X for its 20th anniversary as well as expertly presented in standard Blu-ray and paired with a bonus disc that includes a new half-hour retrospective.
To make the holiday extra special, Fox has packaged a limited-edition Blu-ray with a replica of an alien fighter ship in the "Attacker Edition" gift set. It looks great on a shelf without being obnoxiously large, although I was half-expecting the discs to be housed inside the round base (they're not). A booklet of ambitious pre-production artwork rounds out this nifty set.
But, of course, the aliens have returned, and what Resurgence lacks in originality (and Will Smith) it seeks to make up for in mayhem, exploiting the latest special-effects technology, aided by as bombastic a Dolby Atmos soundtrack as we're likely to hear.
Independence Day "Attacker Edition" Blu-ray Gift Set, $49.96 on Amazon.com
Independence Day 4K Ultra HD, $26.16 on Amazon.com
Independence Day: Resurgence 4K Ultra HD, $24.90 on Amazon.com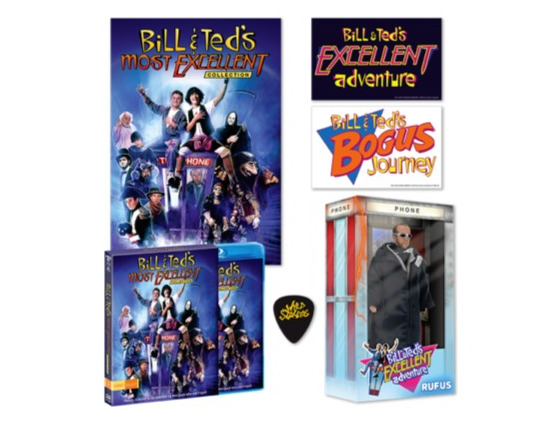 Bill & Ted's Most Excellent Collection – Limited Edition (Shout! Factory)
Bill & Ted's Excellent Adventure and its unlikely follow-up Bill & Ted's Bogus Journey remain clever, unapologetically goofy, and even a bit inspirational. We're invited to tag along with a couple of bodacious dudes aided by benevolent time traveler Rufus, who empowers them to learn about history by witnessing it firsthand, thereby enabling them to fulfill their destiny. And then they go to Hell. Shout! Factory tends to do a terrific job on all of their titles but for their premium "Shout Select" line they totally bring their A-game.
Both movies look and sound fantastic in their late-'80s/early-'90s way, and each receives two audio commentaries. A third disc serves up extras, including a separate, substantial retrospective for each film. Honestly, I love seeing Keanu Reeves—whose career skyrocketed the same year the sequel hit—wax nostalgic about a cult comedy from his youth. Archival content can be accessed here as well. Those who order directly from ShoutFactory.com can score an otherwise unavailable action figure of Rufus (the late, great George Carlin), smartly accessorized and sporting a layered cloth outfit, although the uncanny likeness might be a little too accurate.

Trilogía de Guillermo del Toro (Criterion Collection)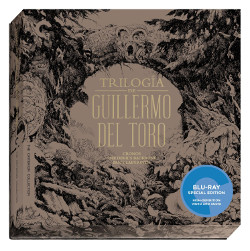 The dark, beautiful and sometimes crushingly sad works of Guillermo del Toro are certainly not for everyone, but if you have the temperament for it, Pan's Labyrinth (2006) is one of the most affecting movies you'll ever see. It's joined here by two thematically similar works, The Devil's Backbone (2001) and Cronos (1993), Spanish-language tales of children in peril showing bravery in the face of myths, monsters, and magic.
Del Toro's profound love of filmmaking is laid bare in the exhaustive supplements: audio commentaries, extensive interviews, detailed studies of his notes and artwork (including interactive and picture-in-picture selections), deleted scenes, personal introductions, "making of" documentaries, and even a short film he began in 1987 then completed 23 years later. All offer best-ever picture and sound, including an alternate DTS-HD Master Audio 7.1 track for Pan. In further fete of the staggering creativity, this deluxe box packs a 100-page hardbound book with a preface by Neil Gaiman plus collected essays, production notes, and sketches.

Star Trek Beyond – Amazon-Exclusive Gift Set (Paramount)
Star Trek 50th Anniversary TV and Movie Collection (Paramount/CBS Home Entertainment)
Produced by J.J. Abrams and directed by Fast & Furious series veteran Justin Lin, Beyond finds Kirk, Spock, and the crew of The U.S.S. Enterprise a long way from home and facing one of their most ruthless enemies yet in this mostly enjoyable threequel. Available via Amazon.com, this package is unique in that it brings together the 4K Ultra HD, Blu-ray 3D, and Blu-ray disc versions of the movie, in addition to a Digital Copy. Even more fun, Quantum Mechanix has provided a not-too-small plastic rendition of the U.S.S. Franklin—a refreshing switch-up from yet-another Enterprise pack-in. QMx is a respected collectibles brand, and this solid-quality model comes perched on its own custom magnetic stand.
Whether you're old enough to remember the weekly TV show from its first airing in September 1966, grew up watching the reruns, or were born somewhere in between like I was, Star Trek 50 is truly momentous. The semi-centennial gift box includes not only a set of (City on the Edge of) Forever postage stamps but a sort of all-in-one Blu-ray bundle from CBS/Paramount. It begins with every episode of The Original Series and adds the newly remastered 1973-74 Animated Series, which is a vital companion to the originals if you've never had the pleasure. This eventually gave way to six feature films, including Star Trek II: The Wrath of Khan, provided here with the theatrical and director's cuts of the recent remaster.
While there's also a mostly-new multi-part documentary about the history of the movie franchise, plus hours of previously released supplements, the greatest allure of this massive slab might be its inspired aesthetic. The box and its contents call out iconic imagery; a commemorative Starfleet insignia pin carries a subtle golden anniversary logo; funky mini-posters reimagine key art for the motion pictures; and the discs themselves have been redesigned with colorful artwork.
Star trek Beyond Gift Set, $39.99 on Amazon.com
Star Trek 50th Anniversary TV and Movie Collection, $129.99 on Amazon.com