2019 Blu-ray Gift Guide: 10 Box Sets to Give...& Get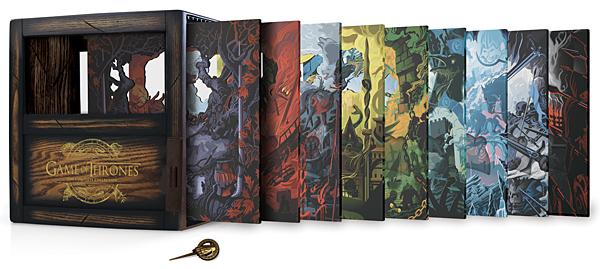 The time has come to not only celebrate the holidays, but also our favorite movies and TV shows, in high- or ultra high-definition, with Atmos sound (where available), and with extras galore. Once again, we invite you to sit back and peruse our picks of the year's most exciting boxed sets to give and to receive.
Game of Thrones The Complete Collection (HBO)
Chances are by now you've seen HBO's signature series, Game of Thrones. But if you've watched all 73 episodes/eight seasons only once, you haven't fully appreciated the genius of author George R.R. Martin and GoT's adoptive TV dads, showrunners David Benioff and D.B. Weiss. Watch a few of their interviews—there are many throughout this massive set—and you'll soon understand that Benioff and Weiss have a deep respect for, and encyclopedic knowledge of, the elaborate fantasy world that they inherited. Their obvious love for this saga can't help but become ours as we journey to every far-flung corner of Westeros in search of justice, an effective defense against the army of the dead, and by the old gods and the new, a worthy ruler for the seven kingdoms!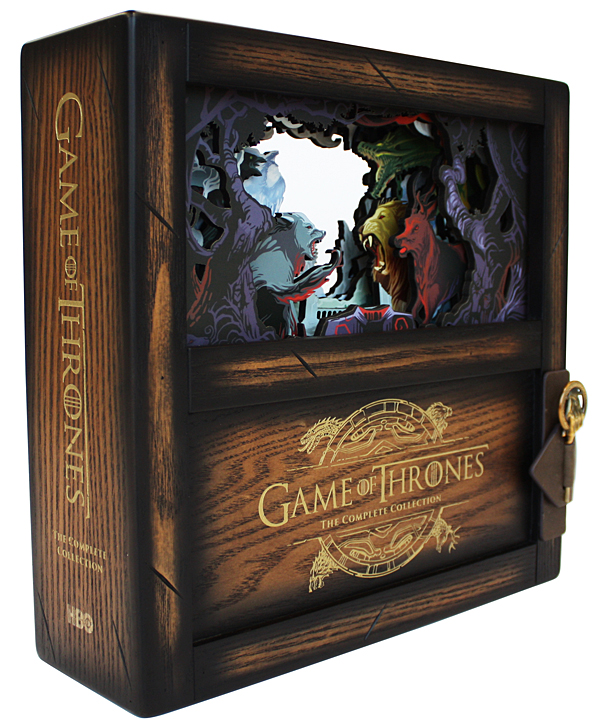 Although Martin's final two A Song of Ice and Fire volumes remain unpublished, the show's creators had a clear vision from the beginning of the complete story they wanted to tell. Upon repeat viewings, their long game is revealed as a masterclass in foreshadowing, as what seem like throwaway lines take on new meaning when we know what's to follow years later. Within the intricacy of this dramatic construct is, of course, pure entertainment. Every episode is packed with multiple storylines featuring some of the most engaging characters and complex relationships to ever appear on television, as well as the looming suspense that anyone could be permanently dispatched at any moment.
Each chapter leaves us wanting more, so we can't be blamed for wanting to binge, and all of the sumptuous costumes, sets, and cinema-worthy visual effects positively slay on Blu-ray. We can rediscover the ambitious 5.1 surround sound mixes, and appreciate the Dolby Atmos remixes, in the various battles, dragon attacks, wildfire explosions, and the bustling streets and back alleys of the capital city, King's Landing. Exclusive to the full-eight-season sets (there's a fancy one with a multi-layered wooden shadowbox case and Hand of the King pin, plus a more affordable "Complete Series") is a new cast reunion special featuring both the winners of the Game as well as the dearly departed. Also on Blu-ray is an interactive mode that thankfully helps us track who's who and what's happening. Even after two beginning-to-end viewings, I still have a few questions....
---
Godzilla The Showa-Era Films, 1954-1975 (Criterion Collection)
The fifteen classics produced during the reign of Japan's Emperor Shōwa (Hirohito) are here together in HD for the first time, looking crisper and cleaner and with a punch of color long-absent from cheesy weekday afternoon TV broadcasts. An allegory for the atomic age, the debut Godzilla (a.k.a. Gojira) is considered by many to be the dawn of the kaiju eiga ("giant-monster movies") genre, presented here with the Americanized Godzilla, King of the Monsters, both cuts with an archival audio commentary. Over the next two decades, the series saw some drastic shifts in tone, from dark to juvenile and back again (don't worry, he's there in all of them, even if he's not in the title): Godzilla Raids Again, King Kong vs. Godzilla (the U.S. version plus the Japanese original, the latter with a 4.0 surround soundtrack!), Mothra vs. Godzilla, Ghidorah, the Three-Headed Monster, Invasion of Astro-Monster, Ebirah, Horror of the Deep, Son of Godzilla, Destroy All Monsters (11 of them!), the kid-centric All Monsters Attack, Godzilla vs. Hedorah, Godzilla vs. Gigan, Godzilla vs. Megalon (a ludicrous favorite: remember Jet Jaguar?), Godzilla vs. Mechagodzilla and Terror of Mechagodzilla. The kaiju king then took a well-earned vacation.
---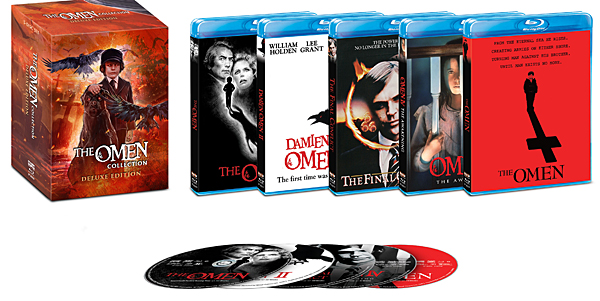 The Omen Collection (Shout! Factory)
The Antichrist has arrived, and he's adorable! It all begins in 1976, with Gregory Peck and Lee Remick playing the unsuspecting adoptive parents of the little guy before all hell eventually breaks loose. With a clever script by David Seltzer and taut direction by Richard Donner, The Omen effectively terrified us into believing that the forces of good just might not be enough to defeat the alternative. The first Omen is still the best, and it gets presented here in a new Donner-approved 4K remaster from the original negative. In Damien: Omen II, the A.C. of the title discovers his destiny, which is TMTH for a 13-year-old (like, OMG), while in the so-called Final Conflict, Damien—now looking like a young Sam Neill—realizes his full power, and in Omen IV: The Awakening, the evil returns as a young girl, all before the 2006 remake. Every movie except IV has at least one commentary (The Omen now has four of them) alongside a smattering of new interviews plus ample archival extras, including a feature-length documentary from 2001, The Omen Legacy.