2019 Blu-ray Gift Guide: 10 Box Sets to Give...& Get Page 2
The Big Bang Theory The Complete Series (Warner Bros.)
Creator Chuck Lorre understood perhaps better than anyone the inherent humor of people so arrogantly book-smart yet socially oblivious as roommates Sheldon (four-time Emmy-winner Jim Parsons) and Leonard (Johnny Galecki). After 279 consistently hysterical episodes, the gang still managed to walk away on top, thanks in large part to the show's uncannily accurate deep dive into geek culture—a welcome change from the typically patronizing treatment by the main- stream. In addition to the accumulated bonus content from twelve seasons, an exclusive disc serves up new featurettes including a "greatest hits" mega-edit spanning the entire series. There's also a complete printed episode guide and a big photo/info-packed coffee table book that will look nerd-tastic parked between your Star Trek technical manuals and Flash java mug.
---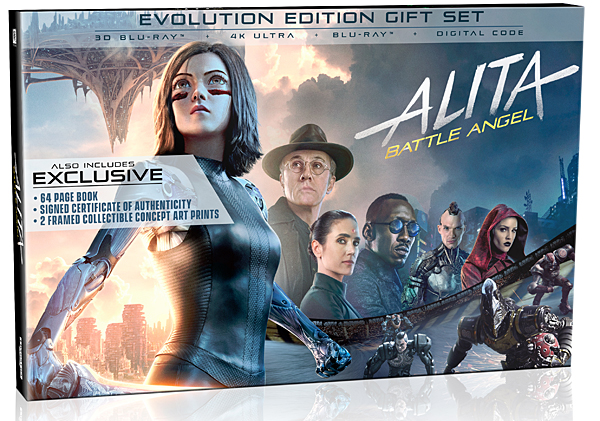 Alita: Battle Angel Evolution Edition Gift Set (Fox)
The collaboration of filmmakers/cinema-tech pioneers Robert Rodriguez and James Cameron was cause for jubilation, no matter if their choice of subject—a relatively obscure Japanese graphic novel ("manga") and anime character—was unexpected. The resulting mega-budget adventure of the jumbo-eyed cyborg proved to be a thrilling audio-visual feast, released in a winning Dolby Vision/ HDR10+/Dolby Atmos 4K edition plus a rare Blu-ray 3D companion disc. But Fox didn't stop there, charting the transformation of the heroine to her ultimate big-screen incarnation across a lavish, artwork-filled hardcover book plus a pair of dynamic art prints, matted and suitable for framing.
---
Scarface "The World is Yours" Limited Edition Gift Set (Universal Pictures Home Entertainment)
Despite a brilliant script by Oliver Stone, bold direction by Brian De Palma, and a legendary performance by Al Pacino, the 1983 remake of Scarface took a while to find its audience but is today rightly regarded as a classic, not to mention a longtime favorite of the hip-hop community that's routinely referenced onMTV Cribs. John A. Alonzo's shadowy cinematography, which has benefited from each new disc format's upgrade in picture quality, is now a welcome entry in 4K, paired here with an immersive DTS:X soundtrack. Happy couple Tony and Elvira Montana (Pacino and Michelle Pfeiffer, that is) are also reunited in a new retrospective featurette. The restored Howard Hawks black-and-white original Scarface makes its Blu-ray debut here, and to make it giftier still, the set arrives with a scaled replica of the if-you've-got-it-flaunt-it statue that adorns the foyer of Tony's palatial home.
---
007: The Daniel Craig Collection (Fox/MGM)
Just as Daniel Craig brought super-spy James Bond into the modern age with his techno-savvy, no-nonsense take on the character, so too does Fox's new set bring his movies to state-of-the-art Ultra HD with Dolby Vision HDR. These are the first Bond movies to be released on 4K disc and they are currently available exclusively in this set, which is comprised of Casino Royale (2006, including the unrated, extended version, tweaked primarily to curtail the violence), Quantum of Solace (2008), Skyfall (2012), and Spectre (2015). Although the bonus content is a subset from previous releases, the movies are also supplied on HD Blu-ray and as Movies Anywhere digital copies. The rule so far with Mr. Craig is that his odd-numbered entries are better than the even...so next year's No Time to Die should be a good one!
---
Abbott & Costello: The Complete Universal Pictures Collection (Shout! Factory)
Following live stage and radio success, the world's most adored comedy duo went to Hollywood and produced the bulk of their theatrical canon at Universal Studios. The 28 films they made, gathered now for the first time in high definition, effortlessly cross periods and genres with the boys' often-copied, never-equaled brand of merriment. Supporting roles in 1940's One Night in the Tropics promptly transitioned to the leads in the wildly popular Buck Privates, then continuing the armed forces theme with In the Navy, Keep 'Em Flying (all 1941) and Buck Privates Come Home (1947). 1948's Abbott and Costello Meet Frankenstein kicked off a successful run of horror-comedies and saw their names added to the actual title. They scared again with Abbott and Costello Meet the Killer, Boris Karloff (1949), Bud Abbott and Lou Costello Meet The Invisible Man (1951), Abbott and Costello Meet Dr. Jekyll and Mr. Hyde, and ultimately Abbott and Costello Meet The Mummy (1955). A total of 16 audio commentaries round out this set, ten of them new, along with fresh featurettes and archival extras.
---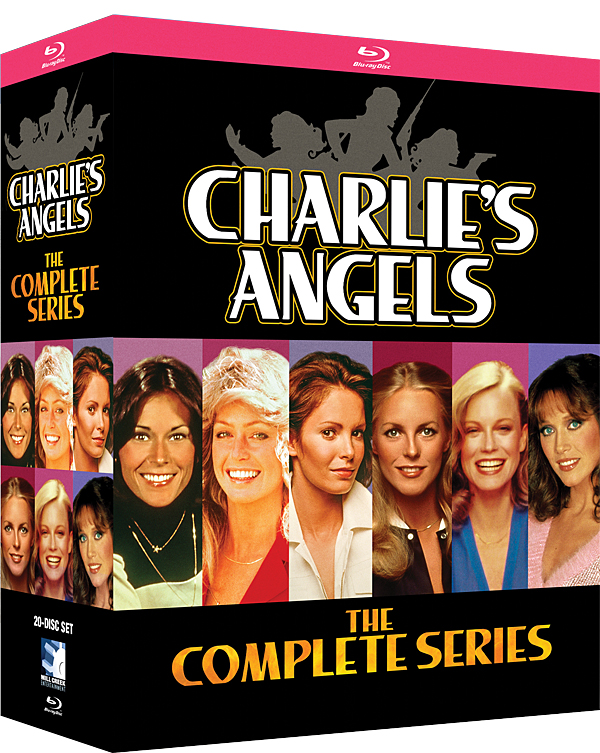 Charlie's Angels The Complete Series (Mill Creek Entertainment)
A microcosm of '70s pop culture and women's liberation, Charlie's Angels endures as an iconic and influential phenomenon in primetime television. Tough, smart, and fearless, this trio of private eyes may have been eye candy for much of their demographic, but they also became role models for generations. The entire lineup is here, from the inaugural 1977 class of Farrah Fawcett-Majors, Kate Jackson, and Jaclyn Smith (the only Angel to see the entire series through all five seasons and 110 episodes), and then replacements Cheryl Ladd, Shelly Hack, and Tanya Roberts. A glorious roster of guest stars joined the angels as well, from Tommy Lee Jones and Tom Selleck to Kim Basinger and Barbara Stanwyck. By way of bonus, we're also given the entire 2011 reboot series, and all of it in HD!
---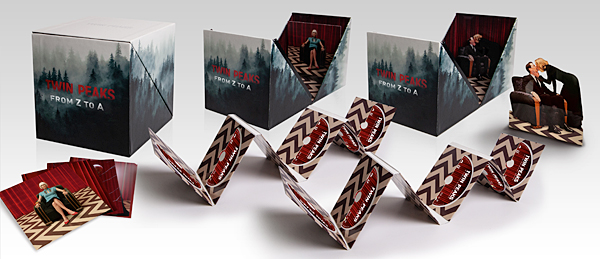 Twin Peaks From Z to A (CBS/Paramount)
The murder of a seemingly perfect girl in an ostensibly idyllic small American town set the scene for one of the twistiest, most unconventional mysteries in television history. Too bizarre to go the distance on network TV at the dawn of the '90s, but too damn good to disappear, David Lynch's long-form opus is now collected in a comprehensive and quite beautifully designed limited edition box. All three seasons (two from ABC plus Showtime's 2017 The Return) and the 1992 theatrical prequel movie, Fire Walk with Me, are here along with extensive legacy bonus content, hours of new featurettes, exclusive interviews, and extended musical performances from The Roadhouse bar. But the real carrot here might be a bundled 4K disc that carries both the pilot (the first series was shot on 35mm film) and the new series finale (captured on film/video), which suggests that Twin Peaks on disc won't be fading away anytime soon.