Star Trek: The Great Rewatching Marathon Page 11
Star Trek VI: Legerdemain and Intrepidity (Also, Racism)
Kirk and McCoy accidentally kill a Klingon chancellor, except not really, get sent to Canada for punishment. Spock comes to the rescue with the reluctant help of Samantha.
Geoff: I adore this movie. Not only is it one of the best in the series, it's a brilliant big-screen farewell to the original crew, something TNG never got.
Like IV, VI is a departure from the tone and style of the other movies. Sure, it's a sci-fi action adventure, but it's also a murder mystery and jail break movie. Taken as a movie of its time, the political and racial overtones work great.
Taken now, a few decades later, they seem a bit heavy handed. Not the message, mind you, but I feel like a skilled filmmaker in 2016 would handle this a bit more subtly but with greater effect.
Most of all, it's fun. There's witty banter, clever twists, great action, and one of the best space battle scenes of the entire series (OMG that torpedo went THROUGH the saucer!).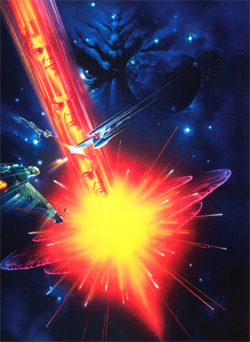 This is one of the few movies of the series that I feel stands on its own. You could show it to a newcomer without explanation and they'd enjoy it.
I will admit that Beyond is a better movie, just taken as a movie. But my nostalgia won out and I put this one third after the ones that I'm sure you would also rate 1st and 2nd. I am OK with all of these things.
Rank: 3rd
Carolina: Directed by Nicholas Meyer (same director as Wrath of Khan) we return to a thrilling Star Trek movie. From the moment it starts you're sucked into the plot. We got a mystery on board, the clock is ticking (literally, watch the clocks on the bridge), and they have to use their brains to figure it out. At the same time we get an exciting escape from prison and new characters to enjoy.
The plot in this movie is an allegory about racism, quite obviously. Some sci-fi movies can't really handle such a subject since it could be misused, but it's handled nicely, almost as well as they handled the environmental message in the 4th movie.
This movie is very enjoyable and exciting, I don't have much to say about it except that this is one movie you can't skip.
Rank: 4th