Sony XBR-65Z9D LCD Ultra HDTV Review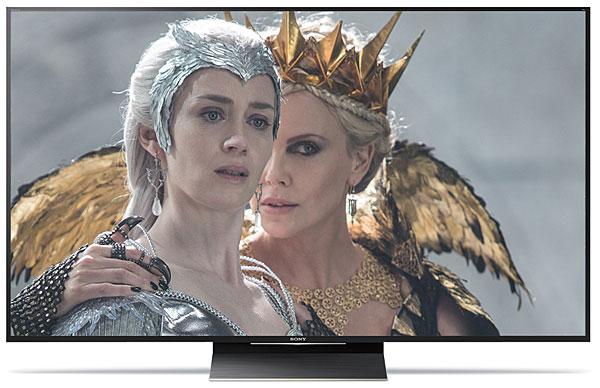 PRICE
$5,500
AT A GLANCE
Plus
State-of-the-art local dimming
Class-leading HDR brightness
Above average off-center viewing
Minus
Price
THE VERDICT
With the top manufacturers jostling for a view from the top of the Ultra HD pyramid, Sony has taken an express elevator and is racing fast for the checkered flag. But enough with the mixed metaphors. If this TV isn't today's best LCD UHD/HDR set (and perhaps the best of any type), it's not for lack of trying. Sony has given us their best technology here, and it shows.
At the Consumer Electronics Show in January 2016, Sony demonstrated a prototype of a future LCD TV design incorporating what the company called Backlight Master Drive. We found it dazzling, as did most of the show-goers with whom we spoke. Nevertheless, we all looked at it as a "show car"—something that might appear in a store near you in a couple of years, if ever.
Sony has cried wolf before: Do a Web search for "Crystal LED, CES 2012." But while that remains a dream (at least for consumers), Backlight Master Drive is here today. (Just this past July, on soundandvision.com, we reported about its launch.) The technology is featured in Sony's XBR Z9D series of LCD Ultra HDTVs, available in three sizes: 75-inch-diagonal at $10,000, 100-inch at $60,000 (yikes), and for the…ah...more budget conscious, the 65-incher at a more attainable $5,500—the subject of this report.
Design and Features
The sleek XBR-65Z9D is actually a bit fatter than the XBR-65X930D we reviewed in our September 2016 issue, though not in an obtrusive way. Its back panel is well finished and can be fitted with removable covers (included) to conceal the cable mess that's common to a TV installation.
As with most other premier LCD sets, this TV employs LED backlighting with full-array (not edge-lit) local dimming, for superior blacks and shadow detail. In most local-dimming sets, the LEDs are controlled by zones. Sony also uses this technique in the XBR-65Z9D, but with a major difference: Each LED backlight is controlled individually and is therefore its own zone, offering finer control over dark and bright areas of the picture. The number of LEDs isn't specified, though at our private briefing at CES, it was implied that Sony had calculated that approximately 1,000 individual light sources could be used to provide about the same local-dimming benefits as a pixel-specific emissive display.
The set's Backlight Master Drive consists of this LED backlighting array together with Sony's new 4K HDR Processor X1 Extreme. The latter is said to have 40 percent more processing power than the company's best previous core processor. It also provides 4K upscaling for 1080p and lesser material, 14-bit internal processing to minimize color banding, and other services. Sony is close-lipped about the bit depth of the LCD imaging panel itself, but if I had to guess, I'd say it's 10 bits, tops. An incoming source, generally no more than 8 or 10 bits, must be upconverted for the higher bit depth of the video processing, then downconverted to match the panel.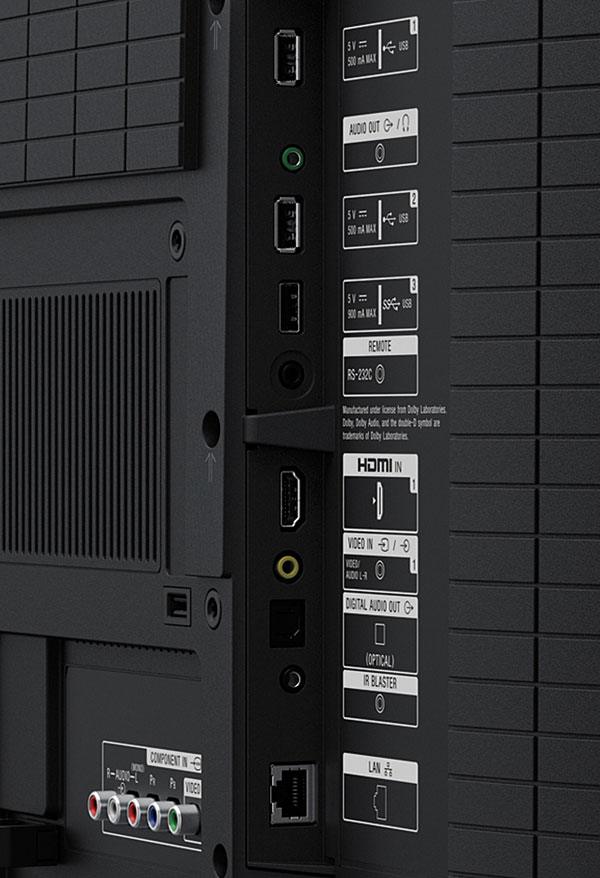 The Sony's four HDMI inputs are all HDCP 2.2 compliant. But only HDMI 2 and HDMI 3 can convey the full bandwidth (18 gigabits per second) required to pass Ultra HD with all of its key features intact (4K resolution, high dynamic range, and wider, deeper color). The set has three USB ports (one of them 3.0, the others 2.0), as well as two audio outputs: Toslink digital optical and analog on a minijack (the latter usable with a subwoofer or headphones). You also get an antenna connection and an Ethernet LAN port.
Picture controls are similar to those in the XBR-65X930D, but not identical. They include the usual assortment of useful adjustments plus a blizzard of others, most of which many videophiles (myself included) will leave off. X-tended Dynamic Range, which analyzes the frame and addresses the LEDs to boost highlights or dim dark areas, is used mainly with HDR sources but may be engaged to produce a pseudo-HDR effect with standard dynamic range content. I tested it but ultimately left it off. (See "Comparisons" below.) And as in the company's other 2016 sets, Sony now calls its Brightness control "Black level" (good) and its Backlight control "Brightness" (potentially confusing).
There are both 2-point and 10-point Adv. color temperature (grayscale) controls, along with something called Color Gamma Adjustment Points. I only used the 2-point controls. Sony's version of motion-blur compensation, Motionflow, offers a number of settings of varying effectiveness (including one setting that has separate Smoothness and Clearness options, whatever they mean). But I still dislike what any sort of motion compensation does to the look of film-based material, so I left Motionflow off.
For smart TV features, Sony has adopted Google's Android TV. I found it a bit too thorough and more than a little intimidating, in that it attempts to please everyone's taste for Internet content. Fair enough, and I did get good results wirelessly streaming a variety of material from Netflix and YouTube. The set can also perform all the gymnastics you might demand, such as playing music and videos and screening photos stored on your home network; mirroring the screen on your tablet, mobile phone, or computer, and much more. The multifunction remote lacks backlighting. It does offer voice recognition, but I couldn't get it to work. Meanwhile, the navigation controls are too close to the buttons surrounding them; I often hit the wrong one.
Although the set's promotional materials talk about its audio capabilities, I didn't find its sound, in any of its modes, to be particularly special. The optical Toslink output carries twochannel Dolby Digital and DTS from the set's onboard tuner or streamed apps to your AVR, though not discrete 5.1. But you can use ARC (audio return channel) on HDMI to access the latter, if your AVR also offers ARC.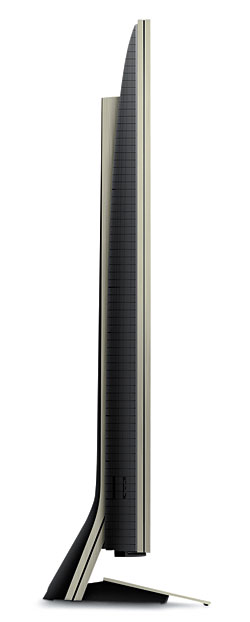 When I reviewed Sony's XBR65X930D, I encountered and reported on a few control freeze-ups. I had some similar experiences with our Z9D sample, which either cleared them on its own or with a few random button pushes on the remote; on three occasions, I had to unplug it briefly and restart it. Fortunately, this wasn't a prominent issue (the set operated normally 99 percent of the time), and these are the sorts of glitches that manufacturers often address in firmware updates if they prove to be widespread.
Full HD
I chose the Cinema pro Picture mode for 1080p and lower-resolution standard dynamic range (SDR) sources. The Sony passed all of our standard video tests as long as the Cinemotion control was set to Low. (When it was set to Off, the TV wouldn't properly deinterlace 480i and 1080i sources.)
The Sony's backlighting worked as advertised. Fades to black were totally black (with rare exceptions, likely due to the source), as were the black bars on widescreen films when viewed in a totally dark room. But this was highly dependent on the correct setting of the Black level control. If you set it just one step too high, you'll see a very dark gray instead of total black. In other important respects—color, resolution, brightness—the Sony held its own (on 1080p sources) with any other set I've yet reviewed, and its upconversion to 4K was excellent. With the proper control settings, and even before a full color calibration, it exceeded expectations with everything I threw at it, particularly when I played good Blu-rays. After calibration, its SDR technical performance was nearly flawless (see Test Bench).
To really tell the tale, however, I found that a direct A/B comparison with another flagship set was more meaningful than any flowery words I could spin here. Luckily, the Samsung UN65KS9800FXZA LCD Ultra HDTV we reviewed in our October 2016 issue was still on hand. It's also a high-performing design with fullarray backlighting. You'll find my comparison between these two sets in a separate section, below.
4K and High Dynamic Range
All of the 4K content for this report came from HDR-equipped Ultra HD Blu-rays via Samsung's UBD-K8500 player. The TV won't let you enter different menu settings for SDR and HDR in the same Picture mode. According to Sony, the set automatically adjusts for this when you switch to HDR; however, any adjustments it might have made during my audition didn't alter the numbers that appeared in the setup menu. Unwilling to assume that any correct auto adjustment was taking place, I chose a different picture mode (Custom) for HDR setup and viewing. The only downside to this was that I had to manually switch between Picture modes when going between SDR and HDR sources.