Sony XBR-65Z9D LCD Ultra HDTV Review Test Bench
Test Bench
Full-On/Full-Off Contrast Ratio: Unmeasurable
Measurements were made with SpectraCal CalMAN 2016 software, Photo Research PR-650 and Klein K-10A color meters, and pattern generators from AVFoundry (VideoForge, for 2K) and Murideo/AVPro (Fresco Six-G, for 4K/HDR).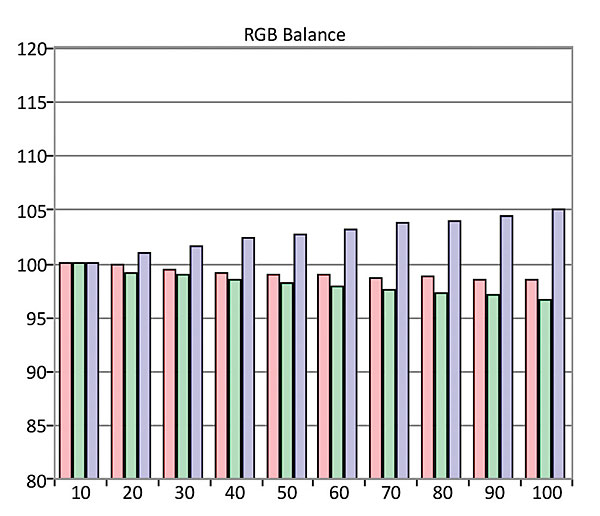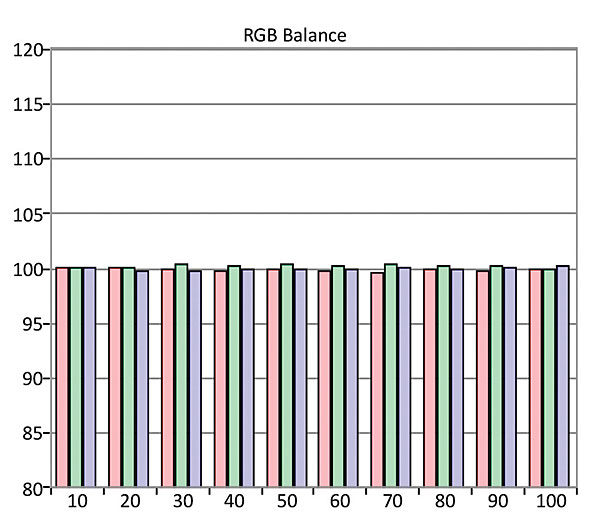 Except as noted, the measurements were performed with 1080p sources in SDR. With the Black level set to 50, Brightness (backlight) on 12, Contrast on 80, Gamma at –2, and Auto local dimming on Medium, an 18% white window measured peak white at 53.9 foot-lamberts, or 185 nits. Full-frame black was unmeasurable at center screen with these settings, even with a white pause bug displayed in the corner of the screen. But when I called up the picture adjustment menu, which fills much of the upper left-hand zone of the screen but not the middle, I measured a center black level of 0.001 ft-L with the Klein meter roughly 18 inches from the screen. This indicates that there was at least a little flare or blooming from the upper left menu spilling over onto the black at the center of the screen, though it was too low to see by eye. Black level can be said to be effectively unmeasurable.
In the Expert 1 Color temperature and the above settings (with Brightness scaled back for a peak white of 43.6 ft-L or 149 nits), the average pre-calibration grayscale Delta E varied from a min 1.18 at 20% to max 4.36 at 100%. Post-cal, the Delta Es varied 0.25 at 20% to 0.49 at 30%. The post-cal color Delta Es varied from a min 0.24 (cyan) to a max of 1.43 (magenta). Typical for Sony, the XBR-65Z9D has no color management system (CMS) for tweaking color points, but the default was exceptionally accurate.
(Delta E is a figure of merit indicating how closely the color matches the D65 HD standard at each point in the brightness range. Values below 3 to 4 are generally considered to be visually indistinguishable from ideal. Above 4 but less than 10, the image will be visibly changed, but generally in unobjectionable ways for most viewers.)
With Gamma set to –2 and Auto local dimming at Medium, gamma averaged 2.38.
Measuring HDR10 test patterns in the Sony's Custom Picture mode default settings (apart from a small increase in the Black level to optimize it), the Z9D measured 1715 nits (511 ft-L) with a 10% window size, 1,433 nits (418 ft-L) with a 25% window, 945 nits (276 ft-L) at 50%, and 713 nits (208 ft-L) at 100%. Results that we've seen for similar measurements, from other sources, indicate that these numbers vary all over the map with different displays.
Other measured results in the default HDR settings weren't perfect but more than acceptable when judged together with the Sony's superb subjective HDR performance. The set put out the 29 ft-L (100 nits) at 50% brightness (one of the stated goals for HDR setup), and with a few small adjustments to the Adv. Color temperature control produced a respectable grayscale. But color gamut, measured against the P3 digital cinema standard, varied as the test pattern luminance increased. Red and green became marginally desaturated at higher luminance levels; blue was notice- ably overstaturated at low luminance and closer to correct at 100%. Magenta, up to 50% luminance, pushed strongly toward red (more like pink than magenta), but was much closer to correct at 75% and 100%. Again, the set has no color management system (CMS), but even if it did, such controls are usually limited to adjusting at one luminance level.
With my fully optimized HDR settings (Custom mode with minor changes from the defaults), these gamut variations were little changed. However, the peak white level with a 10% window dropped to 1,363 nits (397 ft-L), still an impressive figure, and the 10% white window luminance increased to 119 nits (34.8 ft-L) versus the desired number of 100 nits (29 ft-L).—TJN