Sony XBR-65Z9D LCD Ultra HDTV Review Page 2
While the color possible in Ultra HD is superior to what we're used to seeing from standard HD, the improvement is typically subtle. Ditto (and to an even more elusive degree) for resolution—particularly on the less-than-largest screens. The contribution from HDR, however, can't be missed. Still, whereas the Sony's default Custom mode settings measured reasonably well, something wasn't quite ideal with them. The image was definitely punchy as all get out, with stunning, bright highlights. But shadowed areas, particularly faces, looked too dark and even a little crushed. I ended up with different but partially subjective settings that solved this issue. The downside was that these adjustments produced measured results that were impressive in some areas but mediocre in others. Apart from these mixed technical messages, however, the Sony's HDR images were now so jaw-dropping that I went with the new settings.

I began with The Martian. In the opening scenes, the (CGI) camera pans across the Mars landscapes, showing a mix of bright areas and dark shadows. It then transitions to a scene of the astronauts conducting experiments. While a few of these scenes still looked a bit too dark, they've also looked that way on most of the other HDR sets I've reviewed. That said, they've never looked better than they did here. My main concern was that the new settings, which greatly increased the visible brightness, would produce images that looked more like a normal SDR source played in Vivid mode. In other words, I feared that everything would simply look too bright. But it didn't. The spectral balance was now near-ideal: Bright scenes popped, bright highlights in otherwise normal scenes did so as well, and normal scenes of average brightness looked average, and right.
One of my favorite new go-to discs for HDR is Oblivion. At first, I didn't expect much improvement in the visuals (the standard Blu-ray is excellent), but I was wrong. When the opening title pops up just as Jack approaches his helicopter, you can easily spot the mirror-like reflections in each letter. Later, as Jack gets caught in a thunderstorm, the bolts of lightning jump off the screen. And in the dark, underground library scene—as Jack is chased by the Scavs and as flashes from his rifle light and muzzle land in your lap, punctuating the gloom—you realize you're not in Kansas anymore.
Comparisons
I set up Sony's XBR-65Z9D side by side with Samsung's UN65KS9800FXZA. For 1080p sources, I used an Oppo BDP-105D Blu-ray player (with its Darbee features off). For 4K/HDR, I used the Samsung Ultra HD Blu-ray player. The two sets were linked through an AVProConnect AC-DA12-SUHD HDMI splitter. I adjusted the Samsung TV to match the look of the Sony as closely as possible (equalizing their peak outputs by meter), in both 1080p and UHD/HDR, but I didn't fully recalibrate the Samsung (it had been calibrated during its review). These altered settings (Backlight, Contrast, Brightness, and Gamma) very likely shifted the Samsung's older color calibrations off the mark, but I went with them because the visible differences in color between the two sets after tweaking the Samsung were negligible. (With one exception. Read on.) The sets were comparable in their off-center viewing (typically an issue with LCD TVs). They were good for up to 20 degrees, watchable but very slightly faded by 30 degrees, and clearly heading for the door at 45 degrees (though even then, a non-critical viewer might not have noticed).
With a 1080p sharpness pattern, the Sony showed some artificial edge enhancement, subtle but visible even with its Sharpness control at midpoint and Reality Creation turned off. (Midpoint is Sony's neutral Sharpness setting—though with many brands, including Samsung, it's zero.) The Sony also slightly softened the resolution lines in the pattern. The Samsung's pattern was crisp and clean, with no visible edge enhancement even at low settings of its Sharpness control. None of these pattern differences were directly visible from the viewing seat, but the Samsung did look marginally but consistently sharper (without visible enhancement) with 1080p source material. These differences were minor, however, and would never have been obvious without a side-by-side comparison.
It was a surprise to find that with 1080p material, the Samsung ran neck and neck with, or even marginally ahead of, the Sony in black level and shadow detail. On the opening star fields from Avatar (at about 2:16 minutes into the film), the stars were a little dimmer on the Sony and more noticeably so as the brighter ship moved to occupy more of the screen (this will be a function of how a set's local dimming is configured). The difference wasn't dramatic, but always favored the Samsung. To improve on this, I tried several different settings on the Sony. None made any significant change in the brightness of the stars, including activating X-tended Dynamic Range at Sony's recommendation. As noted, this control turns on the Sony's pseudo-HDR mode. X-tended Dynamic Range did, however, make larger bright areas pop dramatically (particularly a few scenes later in a shot of Pandora, a life-supporting moon, with its host planet behind it). Oddly, the two sets were much closer in the star fields that appear early in Prometheus. And both sets ran neck and neck in that film's cave scenes.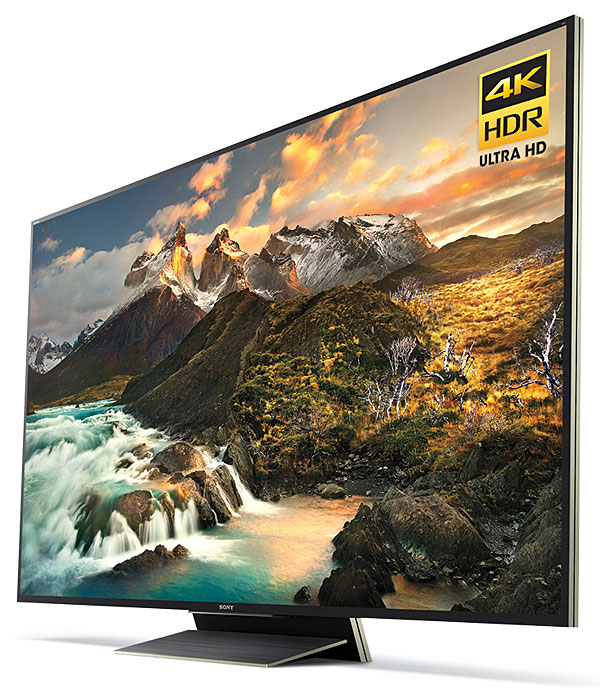 In chapter 9 of Harry Potter and the Deathly Hallows: Part 2, as Neville leads Harry and friends through a dark tunnel and the camera angle shifts to a long shot of the subjects, the Samsung went nearly black in the gloom surrounding them while the same areas on the Sony were a shade or two lighter gray. Ditto for a number of other scenes in this dark movie. It was close, however, and the setting of each set's black level control (Brightnes on the Samsung, Black level on the Sony) were critical in getting the best from each of them. But as with the sharpness discussion above, short of a direct A/B comparison, most viewers would find the differences between the two sets in both black level and shadow detail insignificant. Both sets are clearly pushing the state of the art in these qualities. The Sony did have the upper hand, however, in its reproduction of red. It was deeper and less orangey than on the Samsung, particularly in a shot of a red Ferrari from an old Pioneer Blu-ray demo disc.
One of the claims made by Sony is that the tightness of the XBR-65Z9D's LED zones, and their superior collimation (your word of the day!), dramatically reduces the flare or blooming often seen on TVs (particularly, backlit local dimmers) when a bright white or solid color object is set against an otherwise black or very dark background. Visibly, however, the flare on both of these TVs looked about the same, and only marginally better than on most respectable local dimmers.
Moving on to HDR material, I had to make considerable alterations to the Samsung's controls to achieve a close subjective match to the Sony. After that, it was very much a toss-up. Reds were still somewhat richer on the Sony, which was significant in the landscape scenes from The Martian. The planet's red desert look was appropriately saturated on the Sony, but it was more like a lightly singed Sahara on the Samsung.
The sets appeared equally crisp in 4K, with no visible resolution differences between them. And while my reference discs for HDR black level and shadow detail are fewer than my discs for 1080p, that underground library scene in Oblivion, with its dark shadows and bright highlights, was equally impressive on both displays.
Searching for other UHD/HDR differences between the two sets would be a fool's errand. I will say, however, that whereas the Sony still had 10 steps of Brightness (backlighting) and 13 steps of Contrast remaining after I entered my preferred settings, I had to max out the Samsung's Backlight control and do nearly the same with its Contrast (with only two steps to spare) to get it to be toe-to-toe with the Sony's visible punch. The Sony is clearly the brighter TV—though in a home setting, I'm not sure how much this will add up to a usable advantage. It might depend on the amount of ambient light in your viewing environment.
Except perhaps for 3D. The Samsung doesn't do 3D, but the Sony still does. It comes with two pair of active glasses. And its 3D is brilliant, thanks largely to the set's high available luminance. In scenes from Avatar and Tangled, I found the 3D fully satisfying, with no visible ghosting. When properly set up, the TV boasted a 3D brightness level that was as pleasing as a good SDR 2D presentation. It's not, of course, anywhere near as dynamic as HDR, but 3D offers its own rewards.
Conclusions
Apart from some minor critiques, the Sony XBR-65Z9D performed superbly on 1080p material. When it comes to HDR, we're still wandering around a bit in the calibration wilderness, but nevertheless I was seriously impressed by what this TV could do with HDR sources—and you'll be as well. True, it's really too early for any of us to know if what we're seeing from UHD with HDR sources, on any set, is what the filmmakers intended as they graded their movies in those formats. All I can say for certain is this: What I see in HDR is very different from what we're accustomed to seeing in SDR, but after a brief acclimatization, it looked supremely real on this Sony TV. I want more of it.