Sonos Move 2 Portable Bluetooth Speaker Review
PRICE:
$449
AT A GLANCE
Plus
Stereo sound from dual tweeters
Battery life up to 24 hours
Support for wired audio sources
Upgraded Wireless Charging Base
Wi-Fi and Bluetooth capabilities
Minus
Stereo soundstage is limited
Cannot be paired with Sonos subwoofer
Proprietary USB-C Line-In Adapter not included in box

THE VERDICT
With long battery life, a robust build, powerful bass, and superior connectivity options, the Move 2 is a compelling upgrade that's ready for both indoor and outdoor use. While it might be on the pricier side, for the quality and features offered, it's an investment that delivers.
Sonos, a brand synonymous with wireless multi-room audio audio, unveils its latest: the Sonos Move 2. This speaker is not just a sequel but a significant upgrade from its predecessor.
Features
The original Sonos Move was already a formidable entry in the portable audio space. Now, meet its evolved successor—the Sonos Move 2. At first glance, the Move 2 retains the familiar aesthetics of its predecessor, retaining its dimensions and portable form. However, Sonos introduces an olive shade, adding to the original Move's black and white options.
The Move 2 has capacitive touch controls; you can play, pause, skip, replay, adjust the volume, mute your voice assistant, and group or ungroup Sonos products using these controls.
Like the Move, the Move 2 works with voice assistants. It supports Sonos Voice Control and also Amazon Alexa. The privacy control is a switch that disengages the built-in microphone at the hardware level.
The setup process is very easy, especially if you already have a Sonos account. This is definitely a strong suit, Sonos is known for user friendly products. And if you get into any trouble, it also has excellent customer support.
A new battery promises up to 24 hours of playback, doubling the stamina of the original. Charging is streamlined with an upgraded Wireless Charging Base, and its IP56 rating assures resilience against dust and water, making it a great choice to take outdoors and on the road.
Wi-Fi 6 support, Bluetooth 5.0, and a new line-in capability via USB C adapter offer versatile connectivity. You can also charge the Move 2 via USB C. The Sonos app remains intuitive, and the speaker seamlessly fits into the Sonos ecosystem. However, its inability to pair with a Sonos subwoofer might be a letdown for some. Another no-can-do is using Move 2s for surround-sound in a home theater system.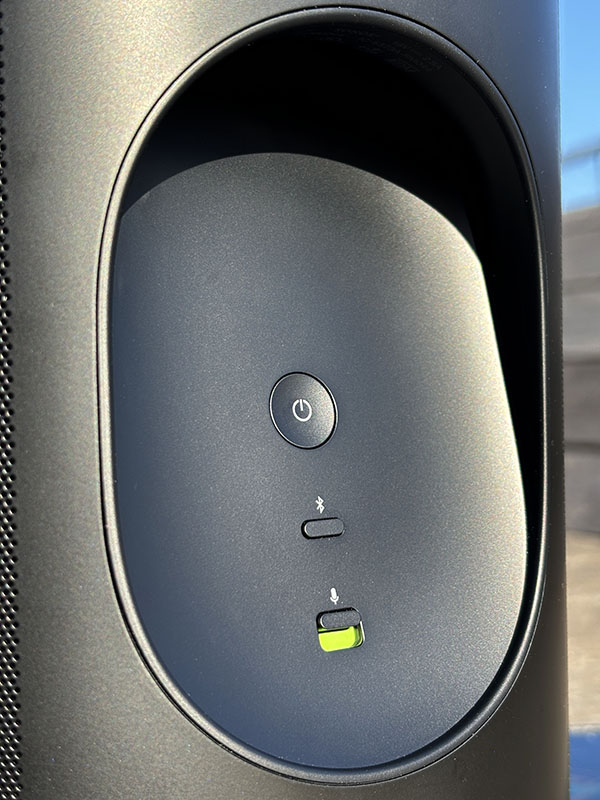 If you are watching video content with an iOS device, you can use the AirPlay 2 functionality that provides a low latency connection for enhanced quality audio that's sync'd with the video.
My hands-on experience was limited by the fact that I only had one speaker to work with. But it's easy to see how a pair of them reproducing stereo would result in a compelling stereophonic listening experience. However, it's worth noting that this speaker is not designed for use with TVs as a soundbar replacement, due to Bluetooth latency issues.
Performance
Listening impressions are highly favorable within the context of a device this size and type. The reason for this is the tuning and the adjustability. The speaker adapts to the environment as well as offering tone controls and a classic loudness feature that boosts bass when the volume is low. You'll get sound that pleases you out of it.
The Move 2's sound quality and output is impressive considering it is cordless—not merely wireless—and the fact it is a single, compact, and portable unit. The inclusion of an additional tweeter gives it a little bit of stereo, giving it a broader soundstage than the original monophonic Move. Still, the stereo soundstage is modest and the majority of the sound appears to come from the speaker itself. This is not the same experience as a two-speaker stereo system, or even a soundbar that uses beamforming like Sonos' own Beam.
The bass is tight, deep, and well-balanced. The Automatic Trueplay room tuning feature ensures the sound remains surprisingly consistent regardless of where the speaker is placed. For example when I place the speaker in a corner it compensates for the change in bass response (a result of the boundary effect) as compared to when it's sitting out in the open.
Those familiar with Sonos' tuning will find the Move 2 aurally fits in with the rest of their speakers. Those not familiar with Sonos will find the sound clear and natural in character.
While the Move 2 is not going to replace a high-end bookshelf speaker, performance is highly favorable for a speaker of its size and type. It manages to consistently impress with its output, particularly when playing genres like rock, pop, and electronica. However, it may falter a bit when pushed hard with certain recordings of genres like jazz or classical, it is best to keep the volume levels modest when a recording has a very wide dynamic range.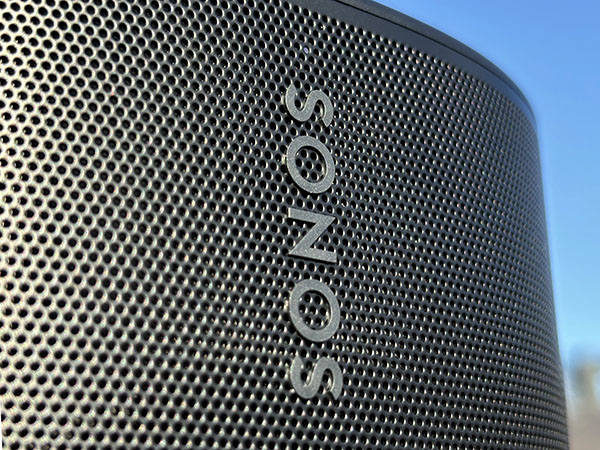 My subjective and anecdotal test of Sonos Automatic Trueplay's efficacy involved playing the album The Music of Grand Theft Auto V Volume 2, The Score. This is one of my favorite instrumental albums, and its music can sound congested if a speaker cannot effectively parse through the layers. In this test, I found that the speaker adapted well to various placements while maintaining clarity.
It performed consistently whether it was out in the open in my loft living room, where the center channel speaker for my surround system usually resides, or in a corner next to the kitchen sink. The speaker also maintained similar tonality when placed on top of the refrigerator and on a bookshelf at the back of my living room.
By utilizing RoomEQ Wizard and sine wave test tones, I was able to track the bass response of the Move 2 and found that it extends down to roughly 36 Hz and does so cleanly. However, the bass rolls off incredibly quickly—practically a brick wall—so that by the time you reach 30 Hz, there is essentially no sound and no movement from the woofer. I deduce this speaker does not waste electricity on attempting to reproduce bass that it can't handle. Rather, it aims to faithfully reproduce music and AV content while avoiding the issues that come with pushing it past physical limits of amplification and driver excursion. It proactively reduces bass levels when the volume is increased, preventing the woofer from becoming overtaxed.
It's crucial to note that bass extension down to 36 Hz will cover the vast majority of music genres and worth reiterating that this speaker is not designed or marketed for home theater use.
What the Move 2 is designed for is traveling, so I tossed it in a backpack and scooted to one of my favorite urban outdoor spots, Philadelphia's Rail Park, where I enjoyed the new album Metallic Spheres in Colour by The Orb and David Gilmour. The music is ambient dub i.e. mellow paced and spacey, but with a heavy dose of Gilmour's guitar. Turn it up and the sound covers quite a large area, it could certainly handle a picnic or a backyard party.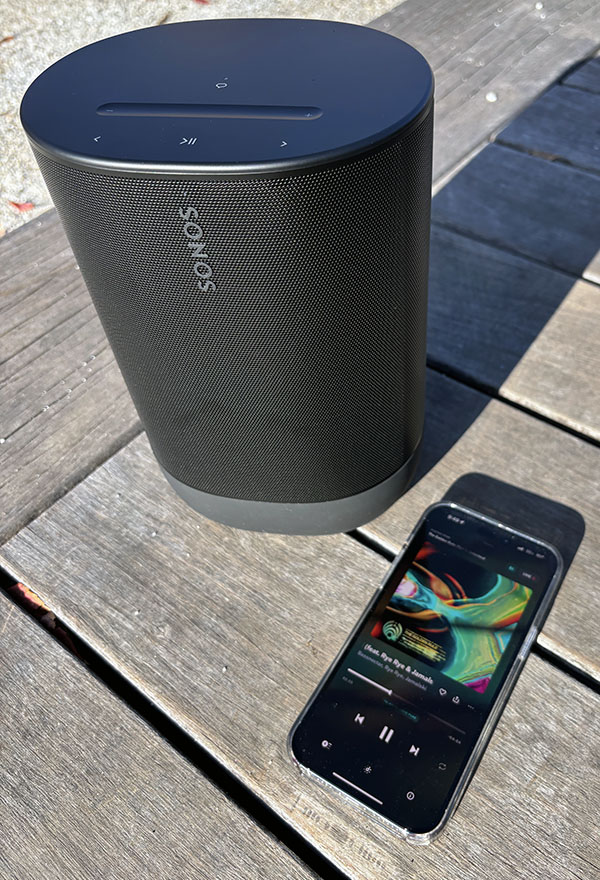 Outside, the main difference is there's no reinforcement of the bass like you get indoors. Large party speakers can overcome this with brute force but the Sonos does not have that luxury. It's no big deal though because the overall sound is so good, so clear, and to the extent it can, the speaker adjusts its tuning so music still sounds full and balanced. A change in tempo to the fat beats of Bassnectar's The Golden Rule: Part 1: Unlocked confirmed that the speaker's processing can find a way to "pump that bass" in a way that allows it to maintain composure, yet still deliver the sonic goodies in a convincingly solid manner.
Final Thoughts
The Sonos Move 2 is an important part of the brand's speaker ecosystem because while all Sonos speakers are wireless in the sense that they connect via Wi-Fi, they are not all cordless. Most need to be plugged in. Plus, it hits a sweet spot between small size and high performance.
The Move 2 is not a replacement for a high-end sound system, yet it offers an excellent listening experience for a portable speaker in its class. Its sound and build quality, feature set, and versatility make it well worth its $450 MSRP. And I can only speculate that a pair of them would deliver a fantastic true stereo listening experience.
From its long-lasting yet replaceable battery to its genuinely useful and effective Automatic Trueplay feature, Sonos has created a compelling compact, portable speaker that works great on its own or as part of a larger Sonos system.
Specs

Audio
Amplifiers - Three class-D digital amplifiers
Tweeters - Two angled tweeters for stereo
Woofers - One midwoofer
Microphones - Far-field microphone array with advanced beamforming and multichannel echo cancellation. Used for accurate voice control and Trueplay tuning
Adjustable EQ - Use the Sonos app to adjust bass, treble, and loudness
Automatic Trueplay - Software continually optimizes the speaker's sound for its environment and the audio content
Power and Connectivity
WiFi - Compatible with WiFi 6. Use any 802.11a/b/g/n/ac/ax 2.4 GHz/5 GHz broadcast-capable router
Bluetooth - Bluetooth 5.0, stream from any Bluetooth-enabled device
Battery - 44Wh battery, up to 24 hours of continuous playback on a single charge
USB-C - Charge your phone on the go, or connect to an audio source using an auxiliary cable and the Sonos Line-In Adapter. Connect your router with an ethernet cable and the Sonos Combo Adapter (accessories sold separately)
Apple AirPlay 2 - Works with AirPlay 2 on Apple devices iOS 11.4 and higher on WiFi
Hardware and Dimensions
IP56 - Protected from dust and high-pressure water streams
Dimensions - Height: 9.49 in (241 mm), Width: 6.3 in (160 mm), Depth: 5.00 in (127 mm)
Weight - 6.61 lbs (3 kg)
Colors - Black, White, Olive
Finish - Matte
Controls - Capacitive touch controls for play, pause, skip, replay, adjusting the volume, muting the voice assistant, and grouping or ungrouping Sonos products
Bluetooth Button - Press to pair with a Bluetooth device
Mic Switch - Use this switch on the back of the product to disconnect all power to the microphone
LEDs - Lights on the product indicate connection, microphone activity, and mute status